All Access
Dear Emma Watson
Candymag.com Correspondent Athena writes a letter to her biggest girl crush.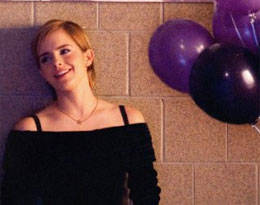 photo courtesy of Summit Entertainment (The Perks of Being A Wallflower)
Dear Emma Watson,
I was 7 years old when I first watched you play the role frizzy-haired, textbook-quoting Hermione Granger in Harry Potter and the Sorcerer's Stone. And like every other kid in my generation, I became a fan and follower of the Harry Potter series and saw you evolve—from the little girl playing the role of "the brightest witch of her age" into the young lady that you are now, in my opinion, the perfect role model to every teenage girl.
You've been starring in films for more than a decade now, and I truly think that you're an undeniably great actress. You and Hermione are often thought of as one entity and I admire how you've stepped out of Hermione's shoes and made an effort to show your versatility as an actress by playing Pauline Fossil from Ballet Shoes and Princess Pea in The Tale of Desperaux even when the you were still filming Harry Potter.
ADVERTISEMENT - CONTINUE READING BELOW
After the last installment of the Harry Potter movies, I was curious about what kind of roles you'd be taking on next. The last time I saw you on the big screen, you played the role of Lucy in My Week With Marilyn, a movie which immediately became one of my favorites. I honestly can't wait to see you as Sam in Perks of Being a Wallflower this September! I'll definitely be one of the first in line when it hits the cinemas. I also look forward to see you as Nicki in The Bling Ring next year. :)
CONTINUE READING BELOW
Recommended Videos
You've spent more than half of your life under the scrutinizing eye of the public. I think you've done an excellent job growing up gracefully in front of the camera. Unlike some of today's young stars, you never did something that would shock your fans just to gain publicity. And you also let your fans know more about your passions and who you are. I was in awe when I found out that you're an artist not only in film, but also in dance and the visual arts as well. Really, is there anything you can't do? :)
ADVERTISEMENT - CONTINUE READING BELOW
The biggest thing that I admire about you is that you're equally passionate about acting and education. I think that it's very admirable that you still pursued your education and went to university even though you're already a successful actress. Being open and firm about your attitude towards school and studying sends a positive message to a lot of young people. It shows that nothing can truly match the value of having an education, not even a successful showbiz career or legions of fans.
Aside from being my ultimate "life peg," you are also one of the people I take inspiration from when it comes to fashion. I adore your personal style because, to me, it is the perfect combination of classic and edgy. And I've constantly wondered how you always manage to look so chic and classy in anything you wear, be it a simple and casual outfit or one that's trendy and daring. And speaking of daring, I love how you cut your hair into the cutest pixie cut in 2010. Seeing how lovely you looked in such a bold hairstyle made me want to cut all of my hair off, too!
ADVERTISEMENT - CONTINUE READING BELOW
I think I've been rambling for too long, so I guess I better end this letter by saying thanks. Thank you for being someone who I can look up to, for being a wonderful inspiration for me and other teenagers alike. :)
With fan girl love and respect,
Athena
Alden is using his quarantine hobby for a good cause.
Before becoming the actress that she is now, Anya Taylor-Joy started out as a model.
Honestly, are you even surprised?
"I still failed so many more times after that, but I kept going."
UP placed 69th, beating out over 600 other universities in Asia.
Plus loads of Korean content!
Yup, the award-winning Filipino chocolate brand!
Remember Tiffany Grace Uy?
You can still donate to the cause.
He was a topnotcher, not once, but twice.
From The Candy Bulletin Community