All Access
Dear Darren Criss
Our Correspondent Rizzi writes a letter to Glee's Blaine Anderson. If you could write to your favorite celebrity, what would you tell them?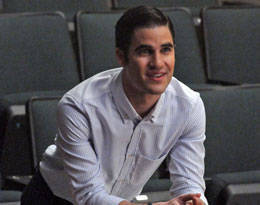 photo courtesy of FOX Broadcasting Co. (Glee)
Dear Darren Everett Criss,
On October 5, 2012, you wrote this heart melting note for all of your fans.
Today, let me share a bit of my heart to you and the Candy Girls.
You are my Disney Prince. With your curls, pretty eyes, and drool-worthy physique, you truly are the man of my fairytale dreams.
Your smoldering hazel eyes transport me to a world of unicorns and magic, to a place where nothing is amiss.
Sometimes, I wonder if you're a real person or a robot sent to frustrate us all. I mean, hello.You can play the violin, the mandolin, the cello, and so many other musical instruments. On top of that, you have this beautiful voice that we hear a lot especially on Blee- er, I mean, Glee. You've been writing songs since you were 15. Most of them are really funny like the ones you wrote for Starkid Productions and some of them make me cry like my personal fave, "Not Alone".
ADVERTISEMENT - CONTINUE READING BELOW
When you sang "It's Time" on Glee, you reminded me that I should be following my dreams. Actually, your journey from singing Disney songs in your room to where you are now tells us that hard work, passion, and persistence are what gave you number 1 hits and a career like yours.
CONTINUE READING BELOW
Recommended Videos
Like all Disney Princes, you taught me to believe in love. Portraying Blaine with so much confidence and gusto, you taught me that love is love whether you're straight, gay, or a dinosaur.
You aren't afraid to wear your heart on your sleeve, whether showing how proud you are of your family, how much you miss Starkid, or how much you admire fellow actors and actresses.
Plus, we can't deny that you are one effortlessly stylish man who looks good whether your hair is slicked back with gel or all over your face. Because, to be honest, more than the boyish charms and the lovely bod, it is who you are that makes me and the rest of your fans love you. On top of all of this, you never forgot where you started.
ADVERTISEMENT - CONTINUE READING BELOW
We fell in love with you the moment we saw you in your dapper Warbler blazer singing "Teenage Dream" and when we saw you sing it again with so much raw emotion on The Break Up. I literally wanted to rip my heart out and offer it to you. (Okay. That's a morbid metaphor, but you get the point.)
When Starkid fans claimed, they love you more than your Glee fans, you said you loved all of us equally. Because of you, I met so many amazing people who I grew to admire and respect.
Dear Darren, when we, your fans, fell in love with you, we became better people, because that is what you inspire us to be. You spread gold dust that turns everyone into kind, loving, and rocking individuals who collectively support you—whether you're in bowties or dressed as Harry freakin' Potter. I am enamored by how you accept everything like a blessing. If only people see the world the way you accept it, everyone will be an ounce happier. Darren, you deserve to live your Teenage Dream.
ADVERTISEMENT - CONTINUE READING BELOW
Oh, and just like Kurt to Blaine, I am never saying good bye to you.
Just another Teenage Dreamer,
Rizzi <3
Take your pick from this list of self-care apps and mood trackers.
It's happening in stores and online!
It isn't an easy feat even for the regular students like us.
In case you're curious about what kind of jobs are currently available in the market.
For when you're feeling adventurous.
You can spend Happy Hour watching the sunset!
He majored in Civil Engineering and wants to build a big home for his family.
As well as students of state colleges and vocational schools.
Maybe get one for yourself, too?
Looks like Anthony Bridgerton will be the focal point of the new season.
Need a bit more scandal and intrigue in your life?
From The Candy Bulletin Community