Seeing the amazingly deranged movie Gone Girl (now showing but it's rated R-16 so watch with caution if you're already of age!), which is based on Gillian Flynn's novel about love and other ugly-beautiful human emotions, made me think of the other ways that crazy stupid love has been depicted on the big screen.
Who can forget the tragic story of Romeo and Juliet, played by BBs Leonardo DiCaprio and Claire Danes? She fakes her death without his knowledge, he fatally poisons himself upon finding out about her "suicide," and she follows him into the dark.
We saw a different kind of sacrifice in Guardians of the Galaxy, when Groot cocooned his fellow Guardians with his twigs and leaves to save them from a fatal crash—and he just met most of them a few days ago! We get a (spoiler alert!) happy ending, though, when Baby Groot rises from the ashes and shakes his tushie to "I Want You Back."
ADVERTISEMENT - CONTINUE READING BELOW
Meanwhile, She's the Man has high school student Viola sneaking around and pretending to be a boy all for the love of soccer. The coach at her school wouldn't let her join the boys' team so she assumes the identity of her twin brother, who goes to the rival school of her soccer team. All's well that ends well, though, because she gets first string and Channing Tatum.
For the love of clothes and the toxic satisfaction she gets with every swipe of her credit card, Rebecca from Confessions of a Shopaholic whips up the most elaborate schemes. Most of them blow up in her face, but the Girl with the Green Scarf learns her lesson in the end.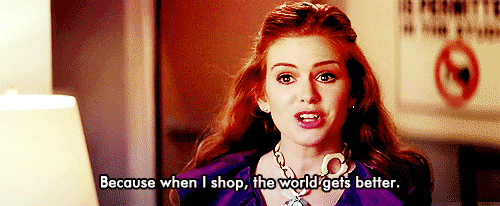 via sarcasticherbfarm.tumblr.com
Perhaps the longest-running scheme I've ever seen is from the classic movie Gone with the Wind. Not counting the four-hour running time, the lengths that Scarlett O'Hara goes to for who she thinks is her soul mate is i n s a n e. They both get married to other people and the war turns their lives upside down, but she never stops trying to win his love. It's only in the last five minutes that she finally lets him go, making room in her heart for her OTL, who at this point has gotten sick of her drama. But as Scarlett says, "Tomorrow is another day."
Where else have you seen crazy stupid love? Tweet us @candymagdotcom or leave a comment below!