All Access
These 7 Coachella Tweets Got Way Too Real About Music Festivals
Vanessa Hudgens is the music festival queen.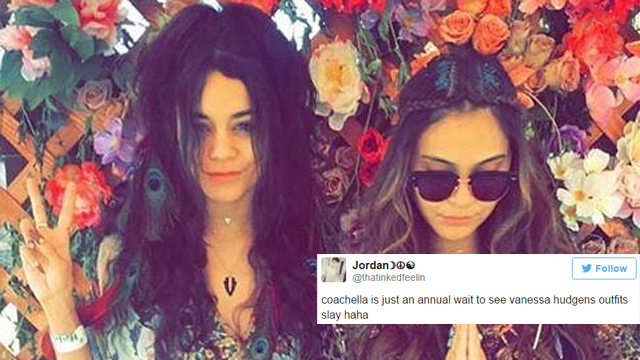 COVER PHOTO Instagram (@vanessahudgens)
So the first Coachella 2016 weekend just happened. And while we're here and badly wishing we were in Los Angeles right now watching some of our favorite artists play their songs live, we're also having a few LOLs going through the trending topic on Twitter because they remind us of how we feel about most music festivals. He he he. Check out some of our favorite tweets below!
Inviting your family and your friends is hard because...

[blockquote:0]

Yup, this happens 80% of the time. But it's a nice way to discover new artists to love, too!

[blockquote:1]

Because tickets are too pricey, we have to rely on Snapchat filters sometimes. LOL!

[blockquote:2]

TRUTH. Vanessa Hudgens is the queen of music festival fashion.

[blockquote:3]

Looking for friends is hard because the crowd is huuuge.

[blockquote:4]

An entire day or days is too much. The mind is willing but the body is weak. :(

[blockquote:5]

And this happens 99% of the time when you're planning to go to a music festival with your friends. Until next year, we guess?

[blockquote:6]
Have you been stalking the Coachella topic on Twitter? Which tweets made you LOL? Let's talk in the comments! :)
\\\\\\\\\\\\\\\\\\\\\\\\\\\\\\\\\\\\\\\\\\\\\\\\\\\\\\\\\\\\\\\\\\
Get the latest updates from candy!
subscribe to our newsletter!
////////////////////////////////////////////////////////////////
You don't even have to leave the house!
From digital art to photography to mixed media, Filipino artists show that creativity is never lost in our people.
Skip a makeup step with these beauty goodies!
Take pretty notes and study effectively with these tips!
Wait for a love like this. A love that is good to you, for you.
Are you up for this challenge?
Can't wait to see the actual gowns!
The up-and-coming musicians and childhood friends talk about their music, creative process, and why it's important to be woke.