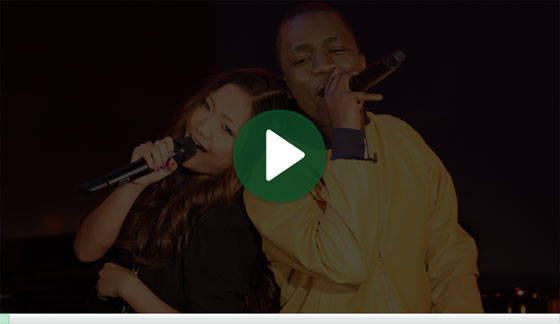 Charice has a lot of reasons to celebrate. Aside from her 18th birthday which she celebrated last May 10, the pint-sized international singing sensation is reaping huge success with the remix version her single "Pyramid" currently #1 on the Billboard Dance/Club chart, toppling Rihanna's "Rude Boy." The studio version of "Pyramid" on the other hand, is at #47 (overall) and #29 (pop songs) on iTunes USA at the time of writing and continues to make its way up the charts. She made her fourth guesting on Oprah (along with Justin Bieber) last May 11th to launch her international self-titled debut album. The album is currently #1 on the Pop Albums chart and #4 overall on the Top Albums chart on iTunes.

Charice's birthday wishes for herself are for her first pop/R&B album to be a hit, good health, and for more blessings from God.

♥ Charice and Justin Bieber met each other when they taped the Oprah show. Justin gave Charice a hug and later tweeted: "Charice is amazing and a sweetheart too." Charice is a Belieber and can do a spot-on voice impersonation of Justin. Charice also covered Justin's hit song Baby exclusively for Perez Hilton. Watch it here.

♥ Despite having traveled all over to sing with Andrea Bocelli, Celine Dion, and other hugely successful singers, Charice says that the best feeling in the world was when she brought her mother to Tagaytay one Mother's Day and gave her two keys—one to their new car, and another to their dream house.

♥ Charice spent her birthday in the US, but she comes back to the Philippines later this month to have her birthday celebration with children from World Vision (of which she is a sponsor), Bantay Bata, and an orphanage in Laguna (the province she grew up in).

♥ "Reset," one of Charice's new songs on her new album, is a modern, upbeat track with a few lines of Tagalog rap.
ADVERTISEMENT - CONTINUE READING BELOW