(via totidirectioner.tumblr.com)
High expectations can spoil even the best movies. Thankfully, The Hunger Games: Catching Fire met all of my expectations, and then some (more on this later). It's fast-paced yet it lingers just enough for the audience to appreciate the all the little details. Some scenes hit too close to home in light of typhoon Yolanda—the destruction and the despair, but also the hope in spite of it all. Taking everything in, the two and a half hours just fly by. It doesn't feel rushed, but it leaves you wanting more, as a good movie should.
ADVERTISEMENT - CONTINUE READING BELOW

(via elthio-bird.tumblr.com)
Everyone in the cast has his or her chance to shine. Jennifer Lawrence kills it as Katniss, particularly when her PTSD from the first Games kicks in, when she finds out she's going back to the arena, when she addresses Rue's family, when the guards torture Cinna, when the jabberjays echo her loved ones in pain—basically every single one of her scenes.
ADVERTISEMENT - CONTINUE READING BELOW
Josh Hutcherson is as dependable as ever, hitting all the right notes when Peeta tells Katniss, "If you stop treating me like a wounded animal, then maybe I'll stop acting like one." (P.S. Not a direct quote because I was too busy melting to jot it down.) Liam Hemsworth is still bidding his time as Gale waits in District 12, but he does get some QT with Katniss—more than once, I might add.

(via suchasugarcube.tumblr.com)
ADVERTISEMENT - CONTINUE READING BELOW
Sam Claflin is a revelation as Finnick, the poster boy of the Capitol; I see the swag and the gravitas that the producers were raving about when everyone had something to say about who should play Finnick. Victor Johanna was always kick-ass in the books, but I didn't realize she could be so darkly funny until Jena Malone came along. Basically, everyone was on fire.
A bonus for me: I've been on Team Gale from the start, but Catching Fire has made me accept that Katniss and Peeta are the endgame. Katniss and Gale have so much history, and their beliefs do intersect at some points, but they're ultimately too different. He's a revolutionary through and through—we're starting to see that here—and she's the reluctant symbol of the rebellion. They've talked about running away, but never for the same reason, at the same time. It's not him, it's not her—the odds were just never in their favor. Still, I would've appreciated a little Gale in the epilogue, Suzanne Collins!
ADVERTISEMENT - CONTINUE READING BELOW
ADVERTISEMENT - CONTINUE READING BELOW
(via mellarkablejosh.tumblr.com)
I cannot wait for Mockingjay Part 1 in November 2014. In the meantime, we've prepared the perfect post-movie companion for you.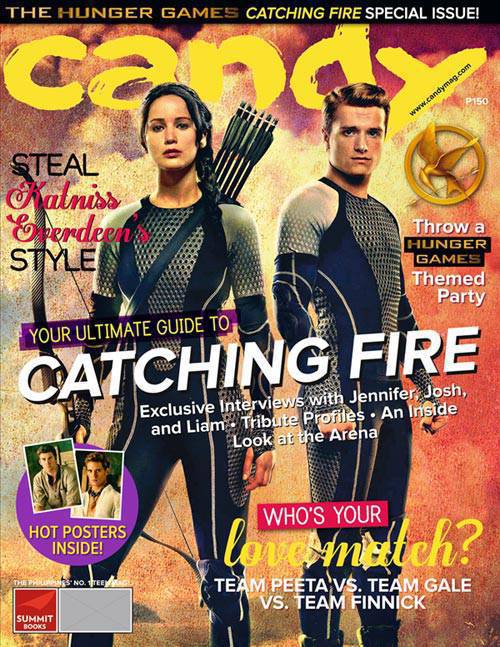 Catching Fire is now in cinemas.