There's nothing quite like watching a young celebrity couple blossom. Many Gen Z celebs have been caught up in various dating rumors lately, but one couple we particularly find promising is Cassy Legaspi and Darren Espanto. Fondly known as CassRen to their fans, these two stars are undoubtedly one of the most adorable real-life pairings today.
Curious to learn more about them? Here's everything we know so far about their rumored romance:
1. According to an interview with PEP, Cassy first met Darren in May 2015 through the show ASAP Natin 'To. Apparently, they've been friends since that joint guesting.
2. Five years later, Cassy stated that she and Darren are simply "enjoying each other's company." Meanwhile, Cassy's twin jokingly referred to Darren as his "brother-in-law."
3. A few days before Valentine's Day last year, Darren posted a poll on Twitter to ask if it's okay to give Cup Noodles to someone you like. After most netizens responded yes to his question, Cassy also replied, "I would, in a heartbeat." 
ADVERTISEMENT - CONTINUE READING BELOW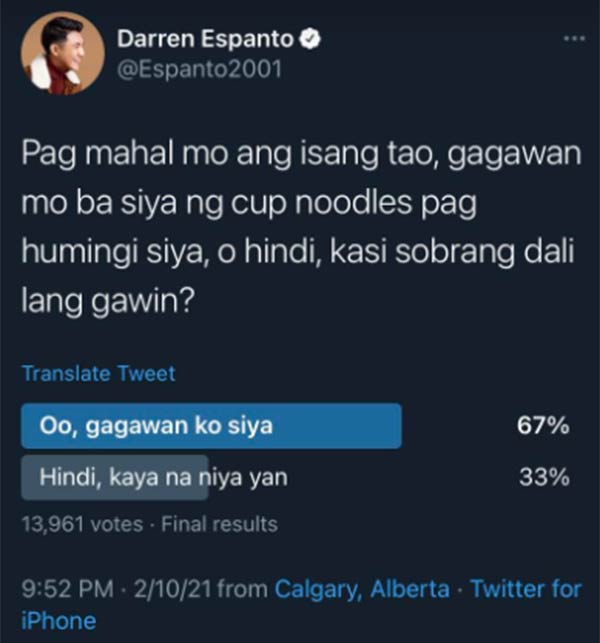 ADVERTISEMENT - CONTINUE READING BELOW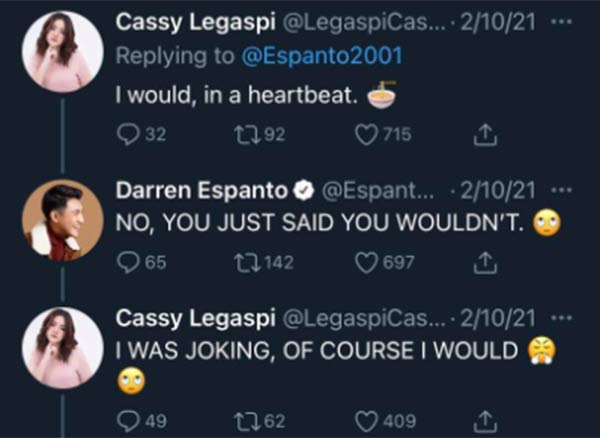 ADVERTISEMENT - CONTINUE READING BELOW
4. A day after, Cassy brought back the Cup Noodles issue with a witty tweet that seemingly referred to Darren. Darren also left a hilarious comment that left fans speculating about their relationship further.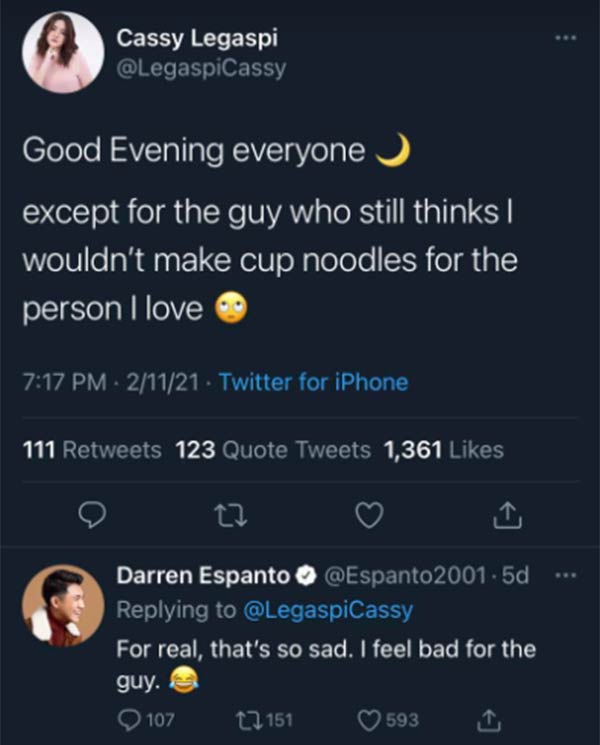 5. Come Valentine's Day, Cassy posted a photo of a flower bouquet and Cup Noodles. "Happy Valentine's Day everyone! Wag na maging tampo, gawa nalang kayo ng cup noodles for the person you love," she captioned. Although Cassy didn't directly mention Darren in her Instagram post, she thanked him for sending over pizza via Instagram story later that day. Eagle-eyed netizens pointed out that the sunflowers from her original post could be seen in the photo's background, causing them to assume that it was also Darren who gave Cassy the flowers and the Cup Noodles.
ADVERTISEMENT - CONTINUE READING BELOW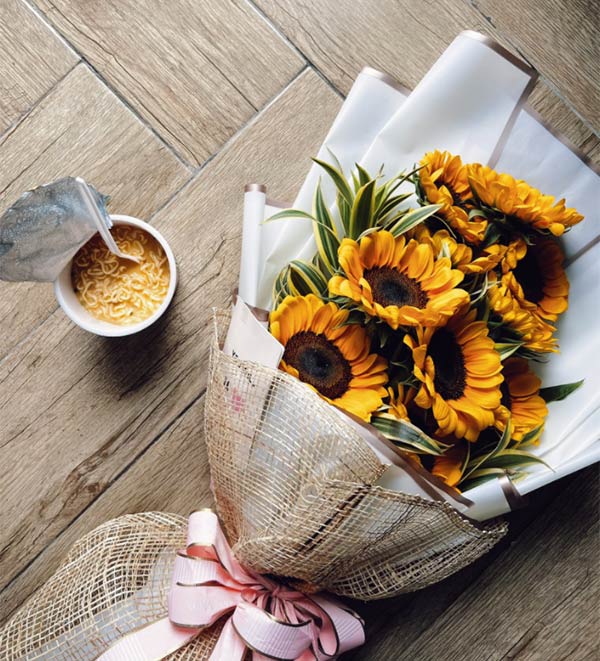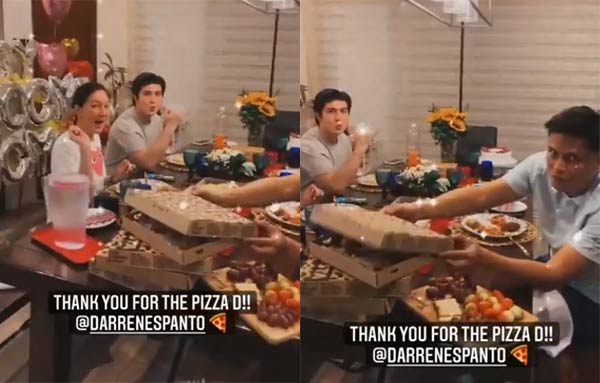 ADVERTISEMENT - CONTINUE READING BELOW
6. Cassy posted a sweet birthday greeting for Darren a few months later. While she referred to him as her friend, CassRen fans still felt kilig over the exchange.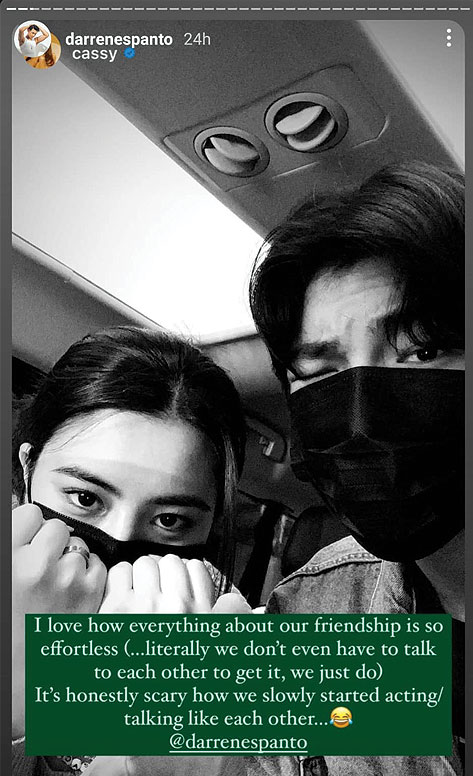 7. Earlier this year, Darren confirmed in a Lyric and Beat press conference that he's "single and pretty happy." He also likened his bond with Cassy to his friendship with his on-screen partner AC Bonifacio.
ADVERTISEMENT - CONTINUE READING BELOW
8. In July, Cassy's father Zoren Legaspi also secretly took a video of Cassy and Darren eating together at home. He captioned the post, "@cassy sino itong D WHO....last night shhhhhhh." Darren and Cassy also updated their IG stories with a photo together.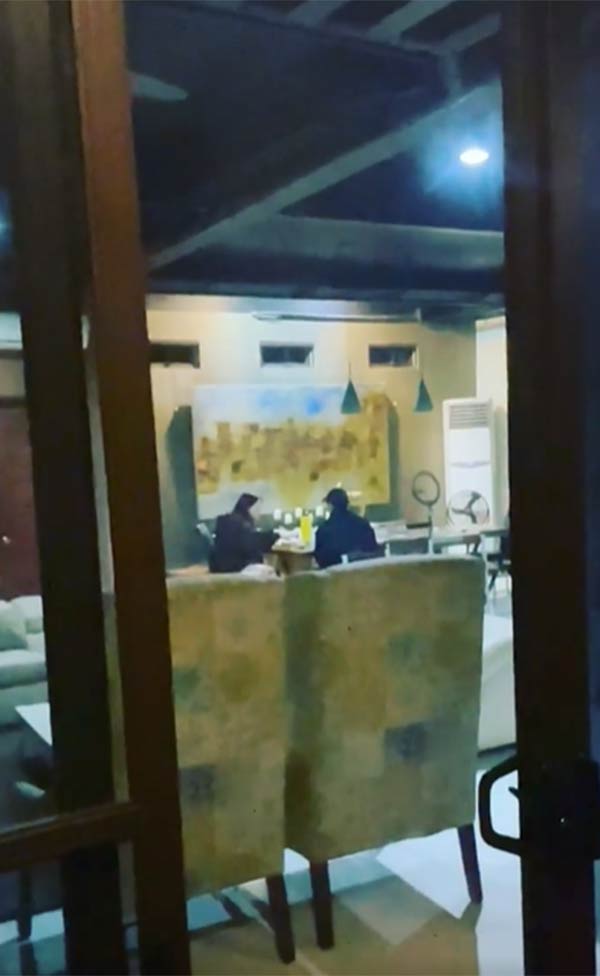 9. The two were then spotted vacationing on a beach in Batangas last August. They even posted matchy-matchy pics on their feed! 
ADVERTISEMENT - CONTINUE READING BELOW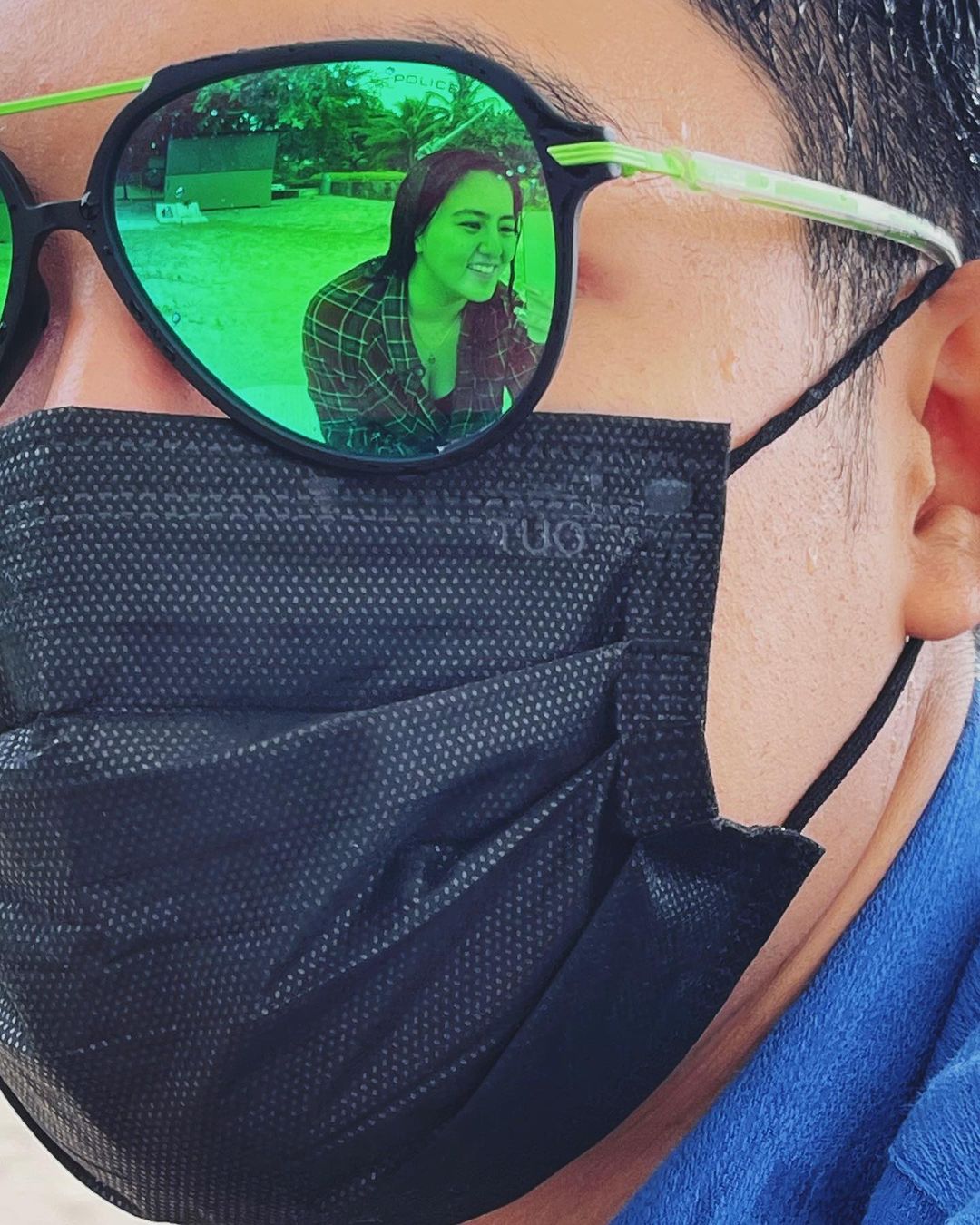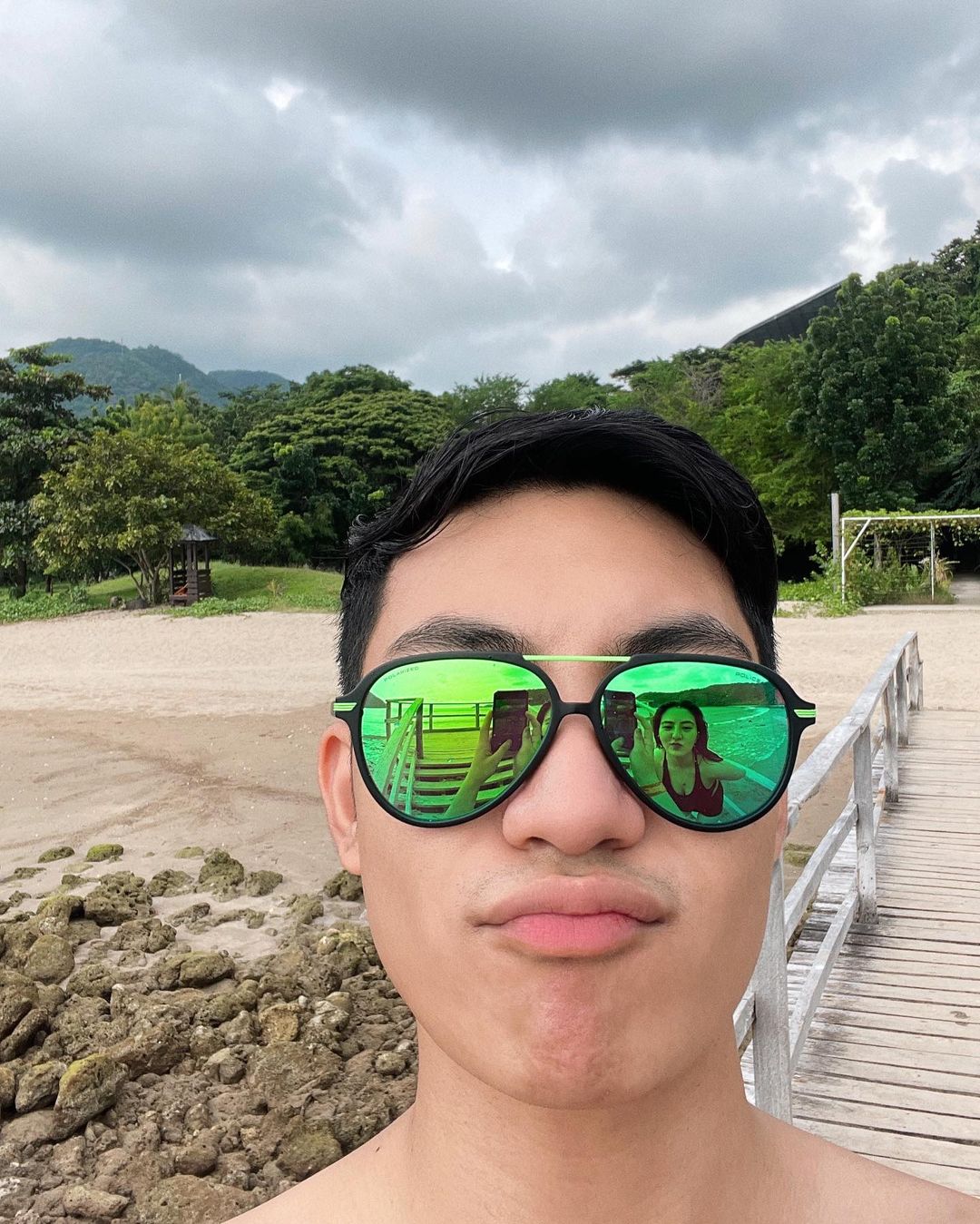 ADVERTISEMENT - CONTINUE READING BELOW
10. Following their trip, Darren thanked Cassy's parents for trusting him. Similarly, Cassy's mom Carmina Villarroel confirmed that she already approves of Darren for Cassy.
11. Recently, Cassy and Darren graced a Viu event together and looked so adorable!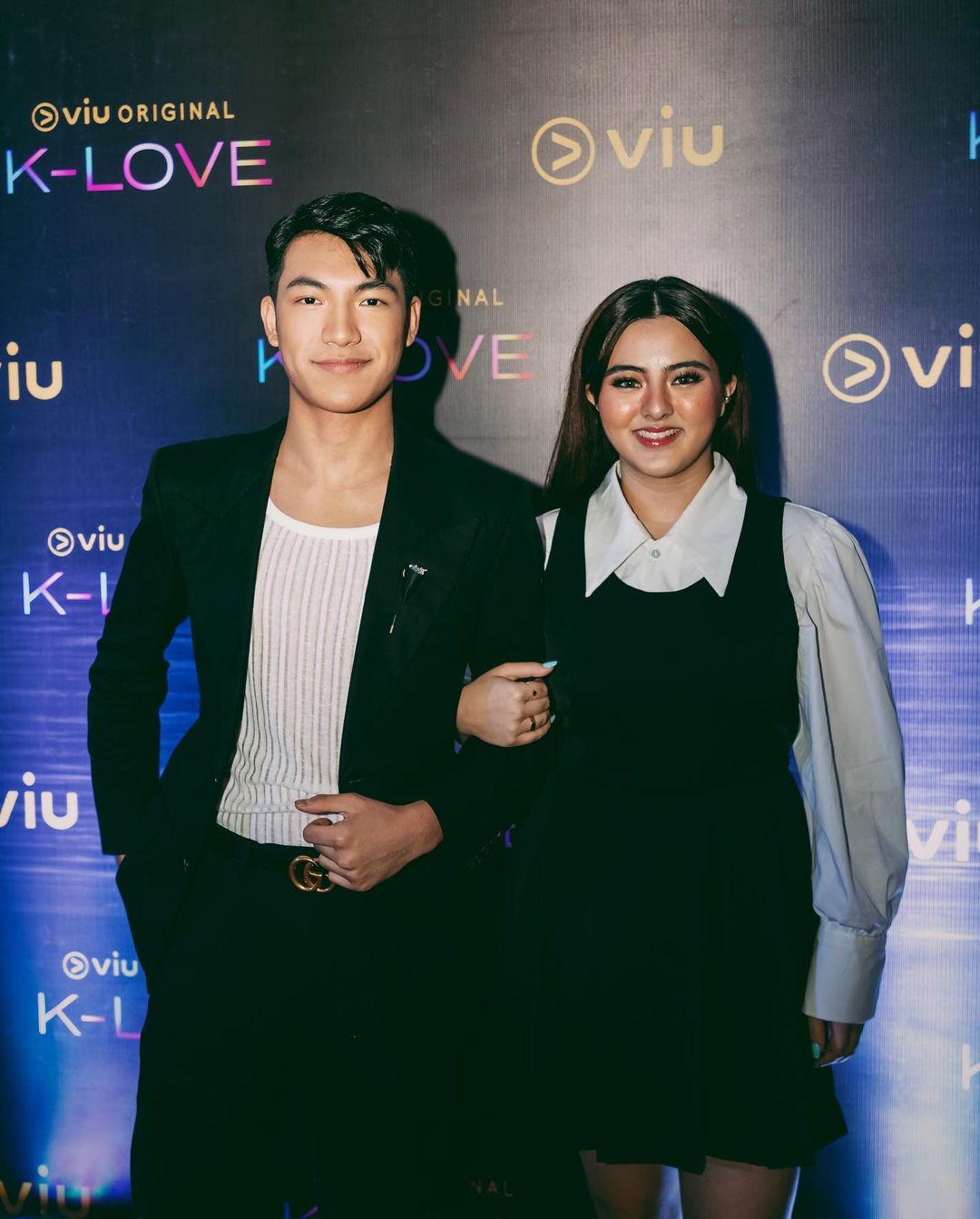 READ MORE: 
Darren Espanto on Relationship With Cassy Legaspi: "She's definitely one of my go-tos"
ADVERTISEMENT - CONTINUE READING BELOW
OMG, Cassy Legaspi and Darren Espanto Were Just Spotted at the Beach Together
So Cute! Darren Espanto Wants to Thank Cassy Legaspi's Parents For *Trusting* Him With Their Daughter
So Cute! Carmina Villarroel Already Approves of Darren Espanto For Cassy Legaspi