All Access
How Cara Delevingne Dealt With Rude Interviewers
And what we can learn from her.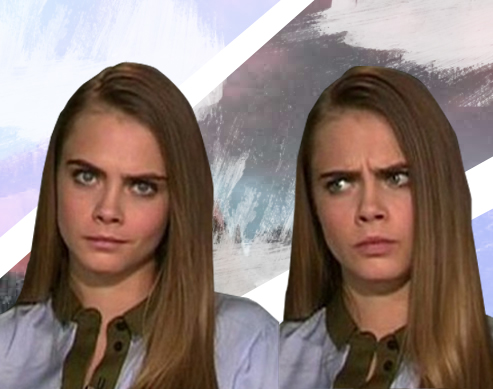 COVER ART Trixie Ison PHOTOS Good Day Sacramento
Cara Delevingne has been the subject of news reports lately, and it's not just because of her amazing performance as Margo Roth Spiegelman in Paper Towns. The model-actress has also been making the headlines because of an interview she did with Good Day Sacramento which went horribly wrong. The hosts were rude to her and as we all know, Cara isn't the type of person who doesn't fight back. Watch the video and see for yourselves.
READ: WATCH: Cara Delevingne's Bathroom Fall Captured in Her Instagram Video
She's been getting mixed reactions from people but mostly, they're messages of support. The latest person to express one is none other than Paper Towns author and Cara's friend John Green who wrote in a blog post that Cara "doesn't exist to feed your narrative or your news feed—and that's precisely why she's so f***ing interesting." Since the incident, she has also tweeted about her position regarding the issue.
Some people just don't understand sarcasm or the British sense of humour

— Cara Delevingne (@Caradelevingne) July 29, 2015
I am soooooo lucky and anyone who thinks I am unappreciative or ungrateful clearly doesn't know me

— Cara Delevingne (@Caradelevingne) July 30, 2015
I work really really hard and love what I do, I don't feel like I need to apologize for being human #sorrynotsorry

— Cara Delevingne (@Caradelevingne) July 30, 2015
Isn't she admirable? No one really has time for rude people and if the rudeness is just a little too much (like when it's being done over and over again on national TV), then it's time you step up. Here are the things we learned about dealing with rude people and even rude questions from Cara herself—because there are just days when you can't be bothered with rudeness.
ADVERTISEMENT - CONTINUE READING BELOW
READ: Cara Delevingne Talks About Paper Towns and Playing Margo in the Movie
1 With your facial expressions.
The moment Cara was introduced as "Cara Deveen," we knew the interview was going downhill a bit. We saw how surprised the actress was, but she tried to keep her cool. Not that Cara was being arrogant, but what kind of interviewer goes on an interview without even knowing what his interviewee's name is, right? And sure, you can let that pass, but if you keep asking questions that seem to belittle a person, then that's it. That's more than enough. Ever been in a class where your someone keeps calling you with the wrong name and tells you things you don't really want to hear?
2 With humor.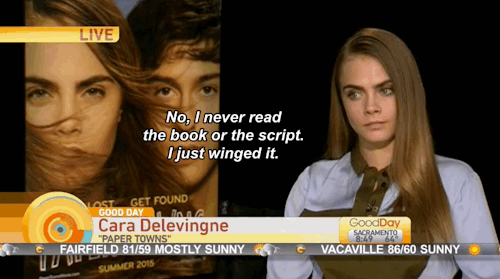 ADVERTISEMENT - CONTINUE READING BELOW
via Medium.com
When Cara was asked if she's read Paper Towns, the actress responded with sarcasm and said that no, she hasn't read it. Not even the script. She just winged it. Of course, we knew she was joking! We all know how all actors who star in a movie adaptation take their time to read the book because that's how they research about the story they'll be in and the character they'll be playing. The question actually sounded like it was belittling Cara. Dealing with rude questions and rude people with humor is a way to lighten the mood and let them know they're being ridiculous without being rude in return.
3 With silence.
But when all's been said and done, the best way to deal with this kind of situation is probably to stay silent and walk out of it. When Cara was told that she needs to take a nap because she seemed tired on TV, that was it. Instead of wasting her words, Cara stayed silent and cut herself from the situation because who has time for rudeness? No one.
ADVERTISEMENT - CONTINUE READING BELOW
READ: 9 Things You Should Know About Nat Wolff and Cara Delevingne
How do you deal with rude people, Candy Girls? Share your tips in the comments! :)
What if CLOY is really based on a Pinoy teleserye?
Have you tried this internet-famous drink?
The local brand has partnered with charity organization Give PH to help with the donations.
If you're desperate for a cut, YouTube is your best friend.
She recently sang it again during an Instagram Live with husband Taylor Goldsmith!
They also had a short jam session!
"I was genuinely afraid I would die, because that is what it felt like."
If you haven't already picked up on that.
It'll be just like the good, old days-except now, you can watch it any time, anywhere.
Molo has since posted his public apology online via Instagram stories.