Now on its fourth year, a new batch of Candy Rookies is ready to take on 2021 and showcase what they're capable of. From creative content creators to fervent advocates of causes relevant to today's youth, this new batch of fresh faces will represent #GenerationCandy in the coming year.   
Meet the 2021 Candy Rookies: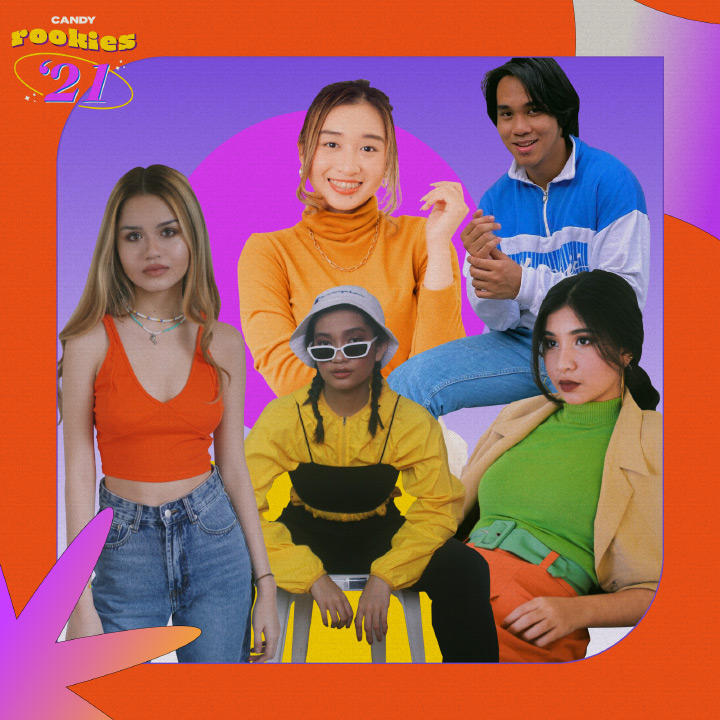 ADVERTISEMENT - CONTINUE READING BELOW
(L-R, T-B)
Anya Graf 
Anya knows that being an influencer is also about accountability, and she walks the talk by using her platform to talk about her biggest advocacy: "the planet, our planet." As a writer and model (who speaks FOUR languages), Anya has a personal style and aesthetic that allows her to freely express herself.
Follow @anyafsc on Instagram.
Kaye Nicerio
At 19, Kaye, a fashion design and marketing student, has already launched two successful brands--a feat that can only come with a lot of hard work and heavy lifting. After a succesful stint behind the scenes as CEO and creative director, becoming a Candy Rookie is her time to be in front of the camera.
Follow @keanicerio on Instagram.
Cyril Sanchez
Now more than ever, Cyril Sanchez believes in changing for the better, but still being yourself. Amid the pandemic, Cy has upgraded his plantito lifestyle into a self-managed business, sharing his passion with people one delivery at a time. As a proud moreno, Cy is an advocate of self-worth, ready to share his journey with the Candy community.
ADVERTISEMENT - CONTINUE READING BELOW
Follow @buhaynicy on Instagram.
Jewel Ann 
Candy Rookie Jewel Ann is all about shooting your shot, whether it's to hit a goal or to reach out to your heroes. While she loves being centerstage and taking control, this fiercely fashionable content creator always goes back to her roots and lets herself get vulnerable with writing.
Follow @fiercelyjewel on Instagram.
Aanaan Singh
An aspiring beauty queen and lawyer, Aanaan Singh is bound to make her mark as another Gen Z multi-hyphenate. Hailing from Pangasinan, the home of the Hundred Islands, this AB Legal Management major is all about community, living with purpose, and exploring what life has to offer.
Follow @aanaanrsingh on Instagram.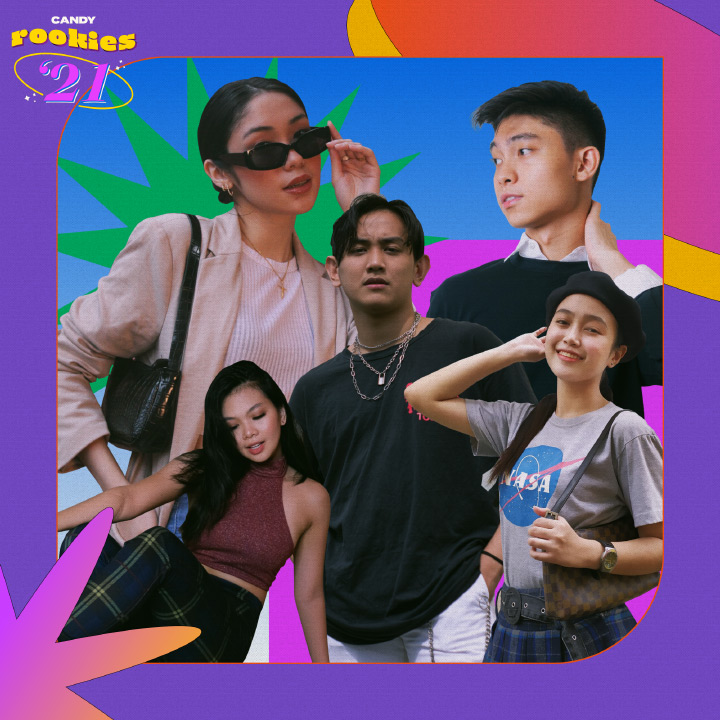 ADVERTISEMENT - CONTINUE READING BELOW
(L-R, T-B)
Brigette Reyes
This Communications major was born and raised in Saudi Arabia before she moved to the Philippines for senior high school. Breaking out of her shell, Brigette has since discovered (and explored) her passion for fashion, modeling, dancing, and more.
Follow @brigettereyes on Instagram.
Vinz San Juan
A cheerleader not just by sport but IRL, Vinz has the energy you need to get through 2021. Aside from being a member of the Ateneo de Manila University Pep Squad, Vinz is also a photographer, part-time Tiktoker, and most importantly, a strong supporter and member of the LGBT community.
Follow @vinz.sanjuan on Instagram.
Josh Roque
If film is your passion, Josh Roque is your guy. Aside from being a director, this CIIT College student is the former president of student film org 24 Frames. With his experience in production, Josh is the Candy Rookie to watch for if you're an aspiring filmmaker looking to step out of your comfort zone.
ADVERTISEMENT - CONTINUE READING BELOW
Follow @thejoshroque on Instagram.
Sofia Rodelas
Born and raised in Quezon province, Sofia Rodelas is an aspiring journalist and a certified member of #GenerationCandy. She's not afraid to speak her mind and to encourage others to do the same. Aside from Candy, you can catch her mad hosting and producing skills on UST TigerTV.
Follow @sofiarodelas on Instagram.
Tori Lindsey 
With an eye for design and visual storytelling, this Tourism major from PUP is also a vlogger and content creator, inspiring fellow Tourism majors to power through in this tough time for the industry. Whether you follow her on IG, YouTube, or Tiktok, you're in for quality content, as well as Tori's distinct aesthetic.
Follow @torithevampire on Instagram.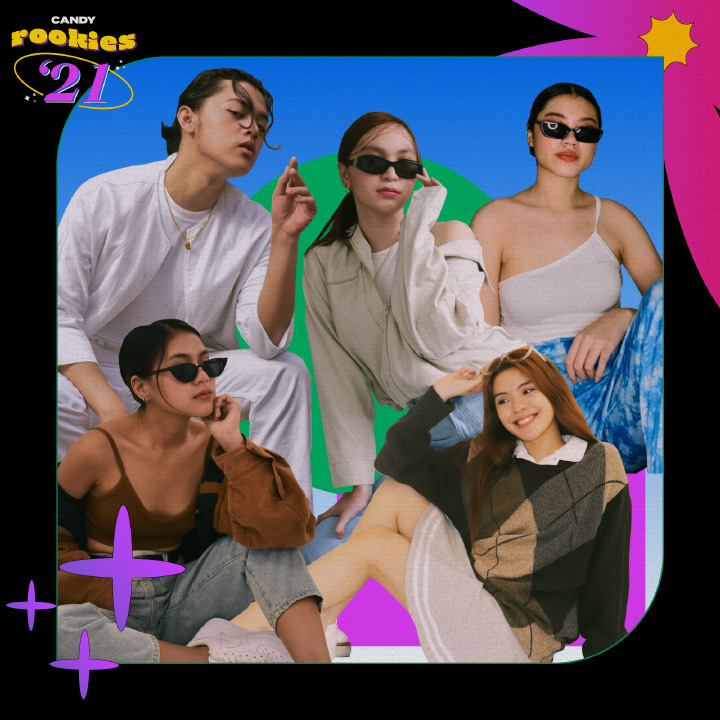 ADVERTISEMENT - CONTINUE READING BELOW
(L-R, T-B)
Ace Bolo
Ace Bolo is experiencing the best of the best of college as a transferee, scholar, BS Org student with a thriving social life (even in these physically-distanced times). Ace's 3 Ps to get through college are passion, purpose, and partying, and we couldn't agree more. This BS Management major can talk a mile a minute, but you'll find yourself clinging to every word. 
Follow @boloace on Instagram.
Krystal Dispo
Krystal Dispo is an all-around foodie, extrovert, and college life hacker. Currently a junior at PUP, this Bulacuena proves that the simple life is anything but boring, making the most out of her passion for fashion, beauty, lifestyle, modeling, and of course, food.
Follow @imkryystal_ on Instagram.
Dana De Leon
DLSU student Dana de Leon is quite the all-arounder. You can count on her to style you an Insta-worthy 'fit but also to remind you that it's okay to take a break every now and then and put your mental health first.
ADVERTISEMENT - CONTINUE READING BELOW
Follow @danaaadeleon on Instagram.
Cheska Adriano
Passionate and confident in her own skin, Cheska is a true-blue Leo who's in love with life and everything it has to offer, whether it be food, fashion, beauty, and fitness, and everything in between.
Follow @cheskaadrno on Instagram.
Keanna Pajarillaga
This inspiring Archi student is currently attending Holy Angel University and is an aspiring artist and model. She's a natural-born performer--not just for crowds and followers, but her barkada and family, too. Get ready to learn more about Keanna in her year as a Candy Rookie.
Follow @keannapajarillaga on Instagram.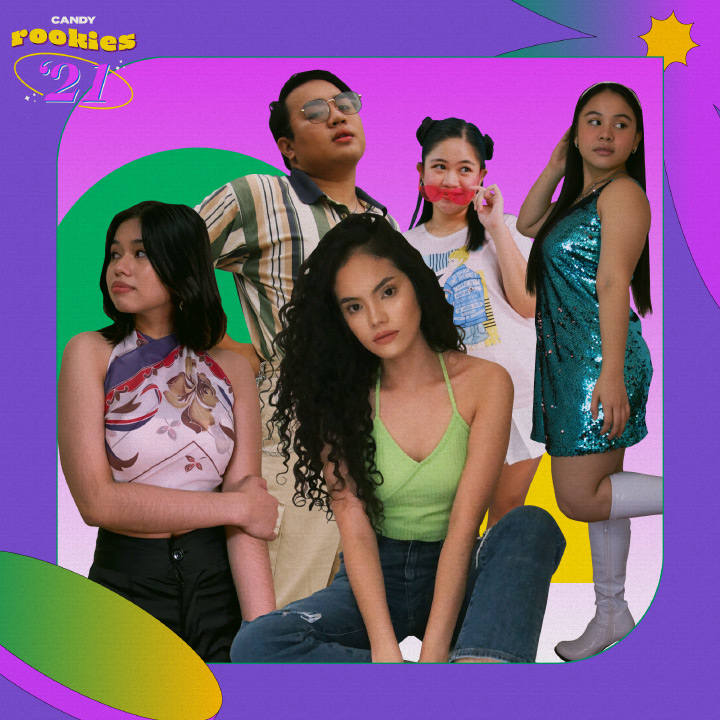 ADVERTISEMENT - CONTINUE READING BELOW
(L-R, T-B)
Bea Javate
Sophomore Bea Javate is living that BS Org life. As part of several organizations in school, she's all about serving others and connecting with the community. When she's not busy, you'll probably find her watching her favorite films or listening to her go-to artists (She's a Swiftie and an Arianator!).
Follow @biancajavate on Instagram.
Marvin Cadapan
Marvin Cadapan is your resident student leader with a heart for empowering the youth and advocating for causes close to home. With a knack for makeup and skincare, the Management Accounting major is also a beauty enthusiast, both on the outside and the inside.
Follow @mrvcadapan on Instagram.
Jana Legaspi
Communications major Jana Legaspi is a self-confessed pabebe who's always down to try new things. From interviewing Shawn Mendes to supporting advocacies about environment and marine conservation, nothing can stop Jana from pursuing the things she's passionate about.
ADVERTISEMENT - CONTINUE READING BELOW
Follow @janalegaspii on Instagram.
Aash Suaco
Nursing student Aash Suaco is Blair Waldorf personified in terms of her fashion sense, but her personality sets her apart from the Upper East Side diva. This Davaoeña is out here to tell you that it's okay to be happy and comfortable in your own skin, regardless of what others have to say.
Follow @aashsuaco on Instagram.
Nicole Hansalie
From being a Thomasian to becoming a Green Archer, Nicole isn't afraid to take risks and change directions in life, especially if it's for the better. The Entrepreneurship major is a proud kulot ready to make waves in whatever path life takes her on.
Follow @nicolebeatrize on Instagram.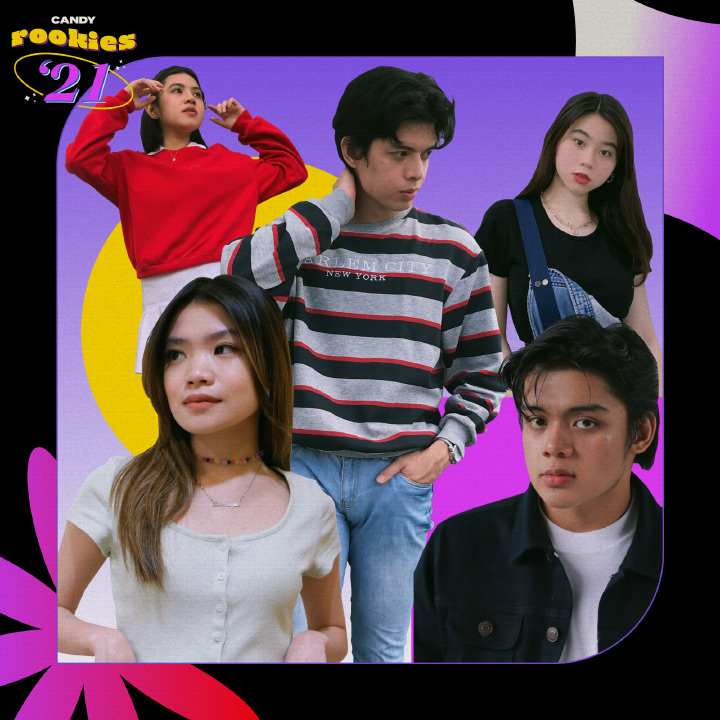 ADVERTISEMENT - CONTINUE READING BELOW
(L-R, T-B)
Franchesca Jurado
Engineering major Franchesca Jurado is the go-getter we aspire to be. From highlighting her love for fashion and beauty to showcasing her real and raw everyday life, Franchesca is ready to show everyone that it's okay to 100 percent be true to yourself.
Follow @juradochesca on Instagram.
Stephen Legaspi
Ball is life for San Beda student Stephen, but there's always room for other things, especially when it involves hunting for good coffee shops. If he's not dribbling his heart out, Stephen is surrounding himself with law books, hoping to one day enter the court not just as a basketball player but as a full-fledged lawyer.
Follow @stephenlegaspii on Instagram.
Thea Lescano
Thea is an Iskolar ng Bayan using Gen Z's platforms to fight for the causes she believes in, particularly the youth's right to education. On the side, you'll find Thea bopping to the latest K-pop hits or fangirling over the hottest K-dramas.
ADVERTISEMENT - CONTINUE READING BELOW
Follow @thealescano on Instagram.
Dominique Reine
From a shy freshman to a BS Org student, Dominique is continuously finding growth and making the most out of her college life. Whether it's fashion, beauty, travel, relationships, or pop culture, you'll never run out of things to talk and hype about when you're with Dominique.
Follow @dominique.reine on Instagram.
Napoleon Andrei
UP student Napoleon Andrei Dizon is all about living the healthy life, and no, it doesn't just mean being physically fit. For him, health is holistic. This mental health advocate knows that as much as physical health is vital, a healthy mind is also just as essential.
Follow @andreidizonn on Instagram.
#WATCHCANDY: Subscribe to Candy Magazine on YouTube and follow @candymagdotcom on Tiktok for guides to college life and beyond.