Finding it hard to get over a heartbreak? Don't you worry because we asked for some help from the Candy Girls over our Facebook page, and asked them what song lines help them get through tough times like that. We rounded up 20 of our favorites and put them together for you below. Not enough? Go over here to read the rest of their comments. Dry those eyes now, girl, because you can get through this and we'll always be here for you.
1 Kryst Felicity Zaquero: "Let's drink to memories we shared. Down one for all the hopes and cares." —"One Man Drinking Game," Mayday Parade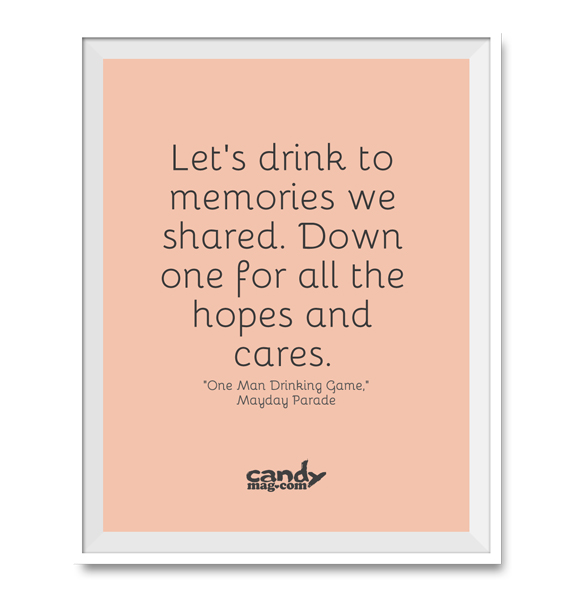 2 Chloe Talla: "Stop there and let me correct it, I wanna live a life from a new perspective." —"New Perspective," Panic! At the Disco
3 Diane Cruz: "Love will remember you, and love will remember me. I know it inside my heart forever." —"Love Will Remember," Selena Gomez
ADVERTISEMENT - CONTINUE READING BELOW
4 Junella Madarang: "No more crying to get me through. I'll be dancing 'til the morning with somebody new. Tonight I'm getting over you." —"Tonight I'm Getting Over You," Carly Rae Jepsen
5 Yen Kyla Noche: "So, so what? I'm still a rock star, I got my rock moves, and I don't need you! And guess what? I'm having more fun. And now that we're done, I'm gonna show you tonight! I'm alright, I'm just fine, and you're a tool so, so what?" —"So What," Pink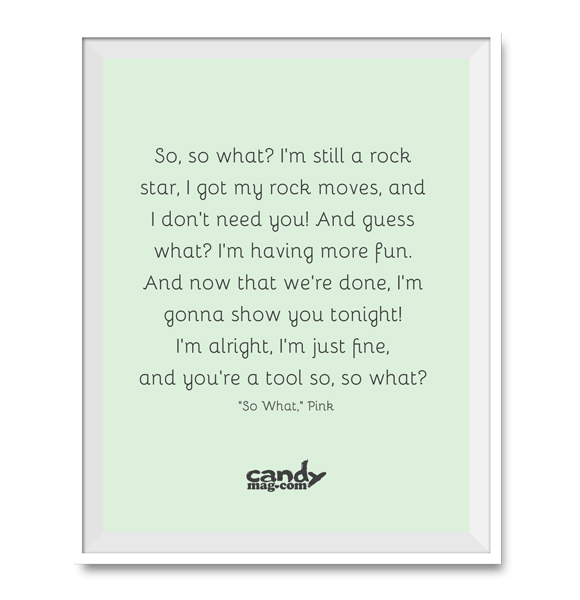 6 Katharina Santiago: "Thanks for the memories, even though they weren't so good." —"Thanks For the Memories," Fall Out Boy
7 Cristy Ballesteros Edrial: "Thanks to you I got a new thing started. Thanks to you I'm not the broken hearted. Thanks to you I'm finally thinking about me. You know in the end the day you left was just my beginning." —"What Doesn't Kill You (Stronger)," Kelly Clarkson
8 Dianara Lynne Nicdao: "Can we learn to love again? Can we learn to feel again? 'Cause we're too young to feel this old." —"Too Young To Feel This Old," You Me At Six
READ: Candy Girls Speak Up: 20 Song Lines That Will Give You Major Feels
9 Jerrish Zara Salac: "Baby, we're the new romantics. Come on, come along with me. Heartbreak is the national anthem, we sing it proudly." —"New Romantics," Taylor Swift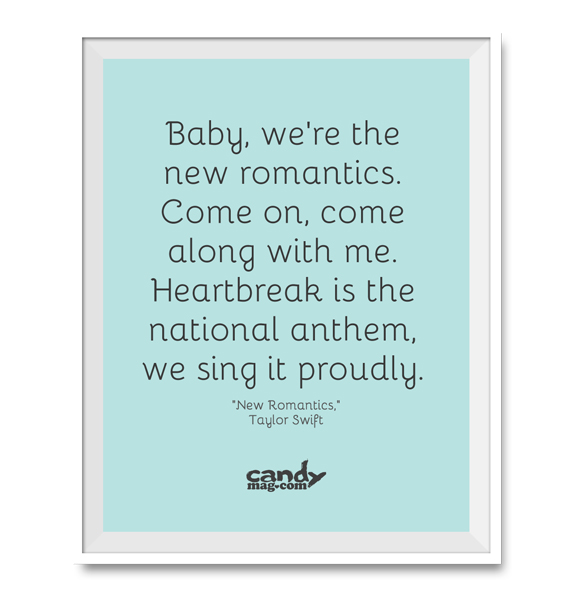 10 Margie Lou Ardiente: "But I gotta dry these tears tonight 'cause I'll prove you wrong that I can move on through this song." —"12:51," Krissy and Ericka
11 Shen Zerna: "You can take everything I have. You can break everything I am. Like I'm made of glass. Like I'm made of paper. Go on and try to tear me down. I will be rising from the ground like a skyscraper." —"Skyscraper," Demi Lovato
12 Pauline Celerio: "This is the part when I say I don't want it, I'm stronger than I've been before." —"Break Free," Ariana Grande
ADVERTISEMENT - CONTINUE READING BELOW
13 Frances Gladys Avila Reboldela: "Sometime in the future maybe we can get together, maybe share a drink and talk a while, and reminisce about the days when we were still together. Maybe somewhere further down the line, and I will meet you there. Sometime in the future we can share our stories when we won't care about all of our mistakes, our failures, and our glories. But until that day comes along, I'll keep on moving on." —"Moving On," Kodaline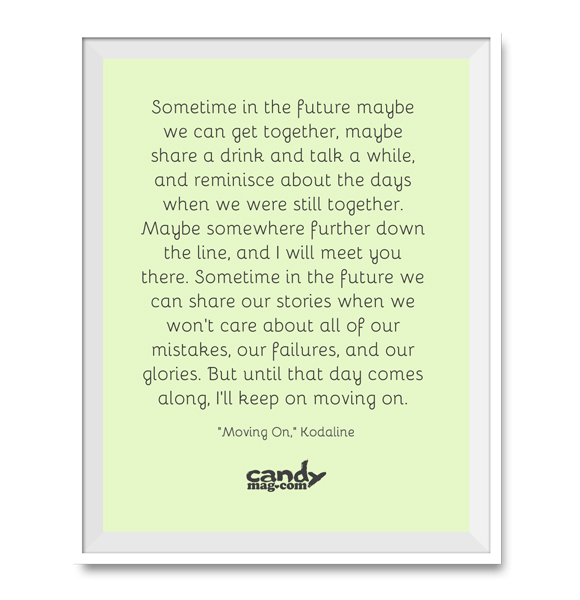 14 Anna Rose Sangcarola: "Nobody said it was easy. It's such a shame for us to part. Nobody said it was easy. No one ever said it would be this hard. Oh take me back to the start." —"The Scientist," Coldplay
15 Maria Victoria Pascual Barawed: "There's somebody out there who's looking for you. Someday he'll find you, I swear that it's true." —"Somebody Out There," A Rocket To the Moon
16 Angel D. Espanto: I'll never be that girl again, no oh. My innocence is wearin' thinm but my heart is going strong. So call me, call me Miss movin' on." —"Miss Movin' On," Fifth Harmony
17 Jamie Dantes Andrada: "We'll find a way to fix these broken pieces and let go." —"Broken Pieces," 5 Seconds of Summer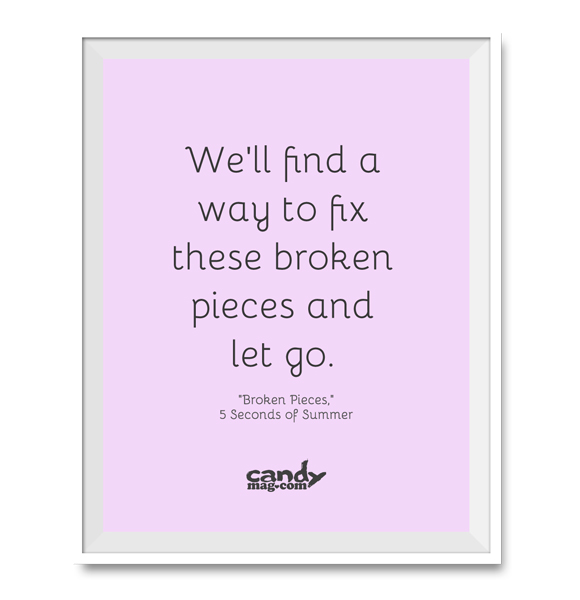 18 Gentlee Mayoo Beltrann: "Everything was wrong with you so breaking up was easy to do." —"Breaking Up," Charli XCX
19 Ryneth Escobio: "I'm over this, I'm over you. I'm not gonna waste my life away. This is my independence day." —"Independence Day," 5 Seconds of Summer
20 Châÿ Âz: "It's like I loved you so much. Now I just hate you. Feeling stupid for all the time that I gave you." —"Black Widow," Iggy Azalea feat. Rita Ora
What song lines make you feel better after getting through a heartbreak?
ADVERTISEMENT - CONTINUE READING BELOW