A few days ago, we asked you over our Facebook page (OMG, why are you still not following us???) what lines from songs give you the heartbreak feels. We loved all of the song lines you've written in the comments, Candy Girls, but we've rounded up 20 of our favorites over here. 20 heartbreaking song lines not enough? Go to our post about it over here and share your own in the comments.
1 Maria Jenievel Ligutan: "It's like we never happened, was it just a lie? If what we had was real, how could you be fine? 'Cause I'm not fine at all." —5 Seconds of Summer's "Amnesia"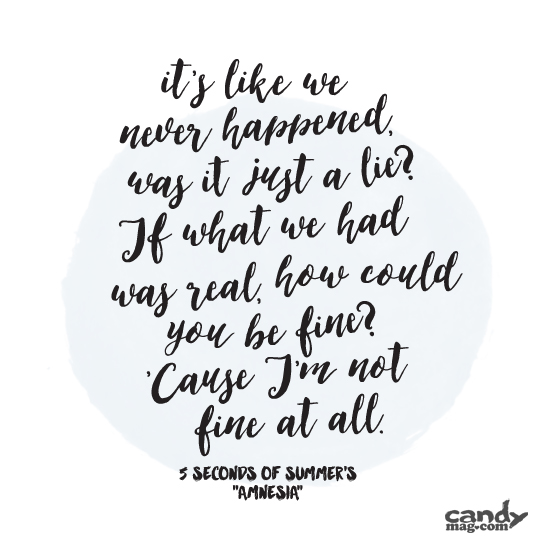 2 Eds Aquino: "Almost, almost is never enough. So close to being in love. If I would have known that you wanted me the way I wanted you. Then maybe we wouldn't be two worlds apart, but right here in each other's arms." —Ariana Grande and Nathan Sykes's "Almost Is Never Enough"
ADVERTISEMENT - CONTINUE READING BELOW
3 Pepper Canar: "And at last all the pictures have been burned, and all the past is just a lesson that we've learned. I won't forget. Please don't forget us." —Demi Lovato's "Don't Forget"
4 Shanine Sherwood: "The scars of your love remind me of us. They keep me thinking that we almost had it all. The scars of your love, they leave me breathless. I can't help feeling, we could have had it all." —Adele's "Rolling In the Deep"
5 Joanna Roussety-Pothegadoo: "I never want to see you unhappy. I thought you'd want the same for me." —A Fine Frenzy's "Almost Lover"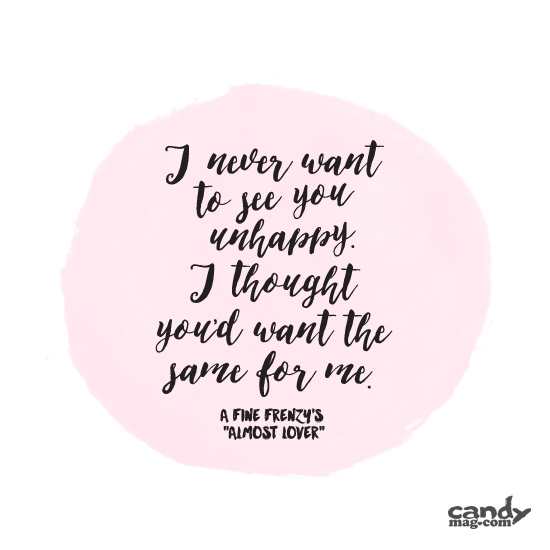 6 Lynn Tejada: "Take my hand and my heart and soul. I will only have these eyes for you. And you know, everything changes but we'll be strangers if we see this through. You could stay within these walls and bleed or just stay with me." —Ed Sheeran's "One"
7 Monica Gigantone Caño: "Who would have thought it would end up like this? Where everything we talked about is gone." —The Script's "Before the Worst"
8 Denise Agatha Donato: "We were almost there." —Tamia's "Almost"
9 Chastine May Mercado Mooc: "But maybe this thing was a masterpiece 'til you tore it all up." —Taylor Swift's "All Too Well"
10 Sherna Tesara: "I'll make sure to keep my distance, say 'I love you' when you're not listening." —Christina Perri and Jason Mraz's "Distance"
11 Nicole Andrade: "I know it gets hard for you to stay, but do you really wanna throw it all away?" —All Time Low's "Cinderblock Garden"
12 Pauline Amandy: "Walk through the park, in the evening air. I heard a voice and I thought you were there. I run away, but I just can't escape. Memories of you everywhere. They say that time will dry the tears, but true love burns for a thousand years. Give my tomorrows, for one yesterday. Just to know that I could have you here." —Chrisitina Millian's "Until I Get Over You"
ADVERTISEMENT - CONTINUE READING BELOW
READ: Candy Girls Speak Up: 20 of the Most Beautiful Lines From Songs
13 Cassandra Mallari: "My love for you was bulletproof but you're the one who shot me." —Pierce the Veil's "Bulletproof Love"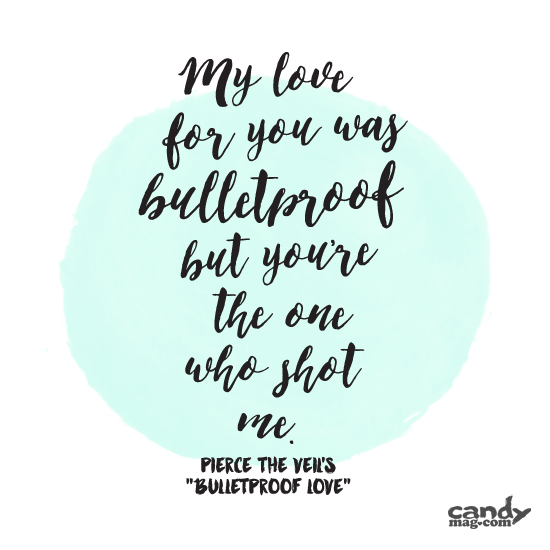 14 Kurt Perales: "Never planned that one day I'd be losing you. In another life, I would be your girl. We keep all our promises, be us against the world. In another life, I would make you stay so I don't have to say you were the one that got away." —Katy Perry's "The One That Got Away"
15 Corinne Martinez: "It should've been us. Could've been the real thing, now we'll never know for sure." —Tori Kelly's "Should've Been Us"
16 Marjorie Jalmasco Delos Santos: "We finally find this then you're gone. Been chasin' rainbows all along. And you have cursed me when there's no one left to blame, and I have loved you just the same. And you have broken every single f***ing rule. And I have loved you like a fool." —Keira Knightley's "Like a Fool"
17 Chloe Ayn Collano: "There's a million reasons why I should give you up, but the heart wants what it wants." —Selena Gomez's "The Heart Wants What It Wants"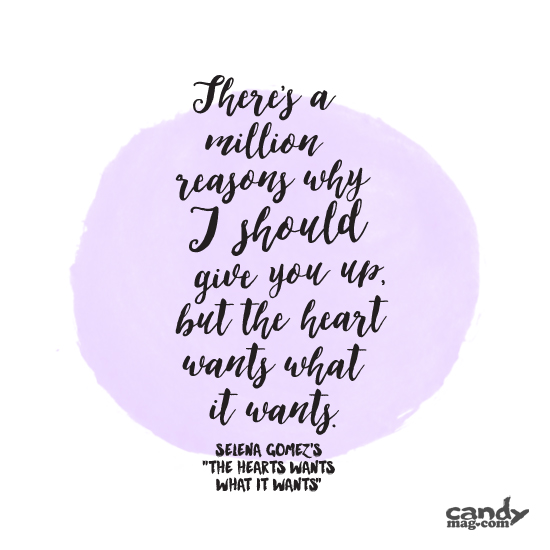 18 Camille G. Bautista: "Someday, someone's gonna love me the way I wanted u to need me." —Nina's "Someday"
19 Lizette Frances Cruz: "Set me free, leave me be. I don't wanna fall another moment into your gravity. Here I am, and I stand so tall, just the way I'm supposed to be. But you're on to me and all over me." —Sara Bareilles's "Gravity"
20 Thea Kryshna Duclayan: "Let me hold you for the last time. It's the last chance to feel again." —James Morrison and Nelly Furtado's "Broken Strings"
What lines from songs give you all the feels, Candy Girls? Share them with us in the comments. :)
ADVERTISEMENT - CONTINUE READING BELOW