Feeling like you're having a series of bad days lately? Or you're just not feeling that great these past few days? Maybe these movie lines from our Candy readers can help you. A few days ago, we asked you via Facebook which movie lines make you feel better during a bad day. After getting a lot of comments, we're writing down 20 of our favorites below. But if you want to read more, go here and make sure to follow us on Facebook after.
1 Roxanne Mae Romero: "We accept the love we think we deserve." —The Perks of Being a Wallflower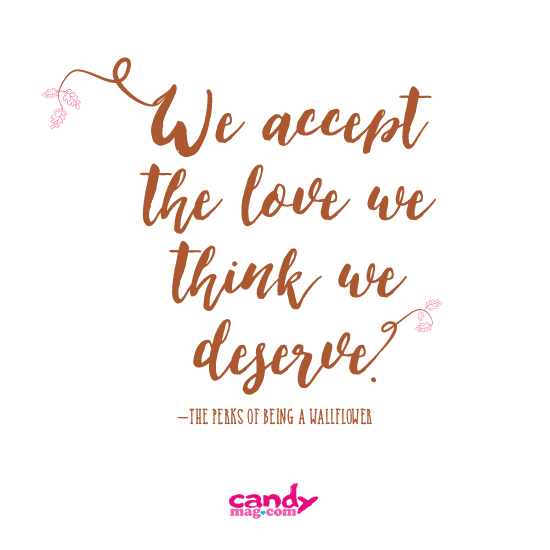 2 Kaira Saga: "We're all pretty bizarre, some of us are just better at hiding it that's all." —The Breakfast Club
3 Chrstn Bngcy: "All is well." —3 Idiots
4 Danna Mae Rivera: "Sometimes you don't see that the best thing that's ever happened to you is sitting there, right under your nose." —Love, Rosie
ADVERTISEMENT - CONTINUE READING BELOW
5 Macky Arugay: "Maybe God has a bigger plan for me than I have for myself." —A Walk to Remember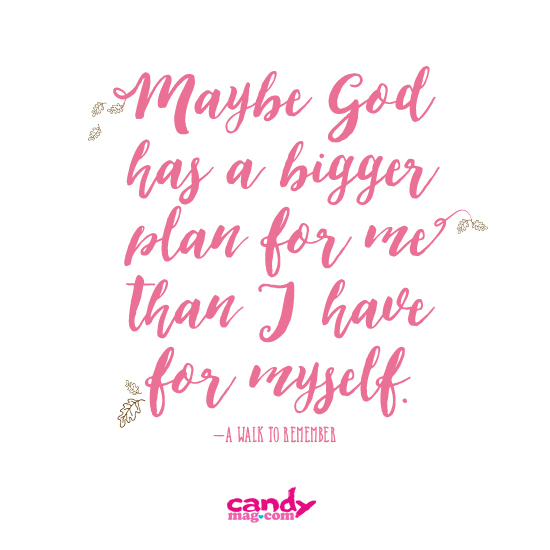 6 Jessa Guia: "Just keep swimming." —Finding Nemo
7 Regine Benedicte Navarro Vidal: "Ohana means family. Family means nobody gets left behind or forgotten." —Lilo & Stitch
8 Krisha Estanislao: "The only person standing in your way is you." —Black Swan
READ: Candy Girls Speak Up: 20 Song Lines That Will Give You Major Feels
9 Rizzel Anne Dimalanta Escaño: "Don't ever let somebody tell you you can't do something, not even me. Alright? You dream, you gotta protect it. People can't do something themselves, they wanna tell you you can't do it. If you want something, go get it. Period." —The Pursuit of Happyness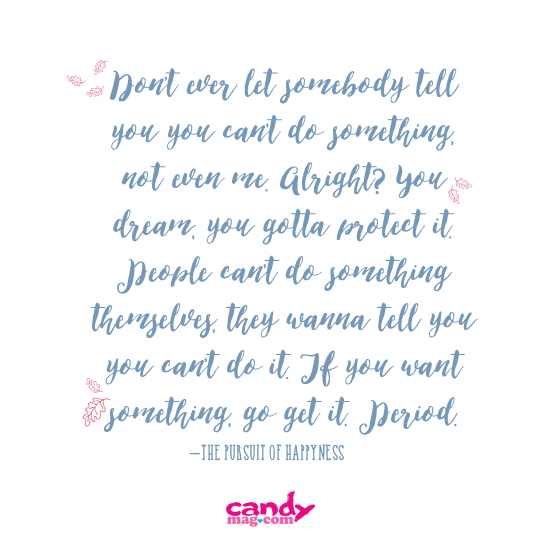 10 Regine Benedicte Navarro Vidal: "You must not let anyone define your limits because of where you come from. Your only limit is your soul." —Ratatouille
11 Sotes Jerrinna Bianca: "It is alright to cry. Crying is a natural response to pain." —Big Hero 6
12 Angeline Marie Yntig Dapat: " "Nothing is stronger than the heart of a volunteer." —Pearl Harbor
13 Kha Yeen: "If I fail, I fail, but because I wasn't good enough, not because I didn't have the guts." —Ice Princess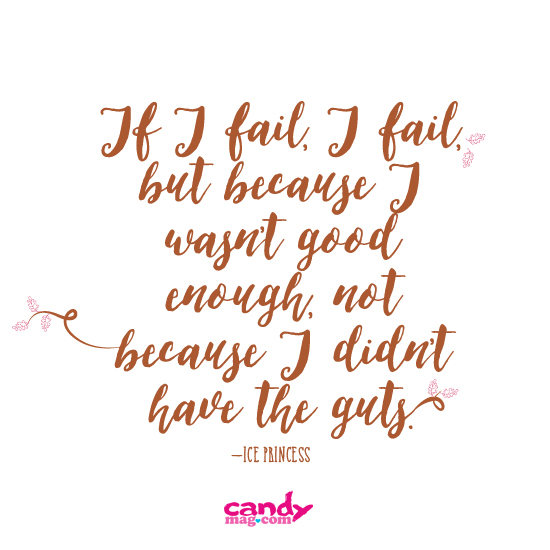 14 Ayee Rhies: "Hakuna matata." —The Lion King
15 Jessle Ann Gamazon Dawa: "You are too concerned with what was and what will be. There is a saying: yesterday is history, tomorrow is a mystery, but today is a gift. That is why it is called the present."— Kung Fu Panda
16 Mai Lopez: "There is a difference only you can make." —Barbie and the 12 Dancing Princesses
ADVERTISEMENT - CONTINUE READING BELOW
READ: Candy Girls Speak Up: 20 of the Most Beautiful Lines From Songs
17 Marj Rodriguez: "Life will knock us down, but we can choose whether or not to stand back up." —Karate Kid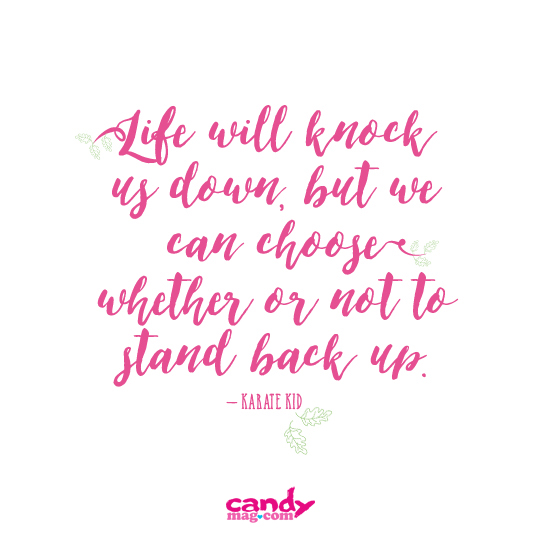 18 April Oliver: "Sometimes, the simplest answer is the right answer." —Gone Girl
19 Chen Dayag: "No one can make you feel inferior without your consent." —The Princess Diaries
20 Zel Veluz Beltran: "It is not our abilities that show what we truly are… it is our choices." —Harry Potter and the Chamber of Secrets
What are your favorite movie lines, Candy Girls? Let's talk in the comments!