Barely five minutes into the interview and we've already called it. We love Angelina Isabele Montano and people are going to love her, too. Not that we didn't see it coming the moment we met her at 7107 Culture + Cuisine on the day of our shoot. We just waited for the shy 15-year-old to warm up a bit. And when she did, we discovered that she's sweet, polite, pretty—both inside and out, and with great skin to boot! But what sealed the deal was her candor.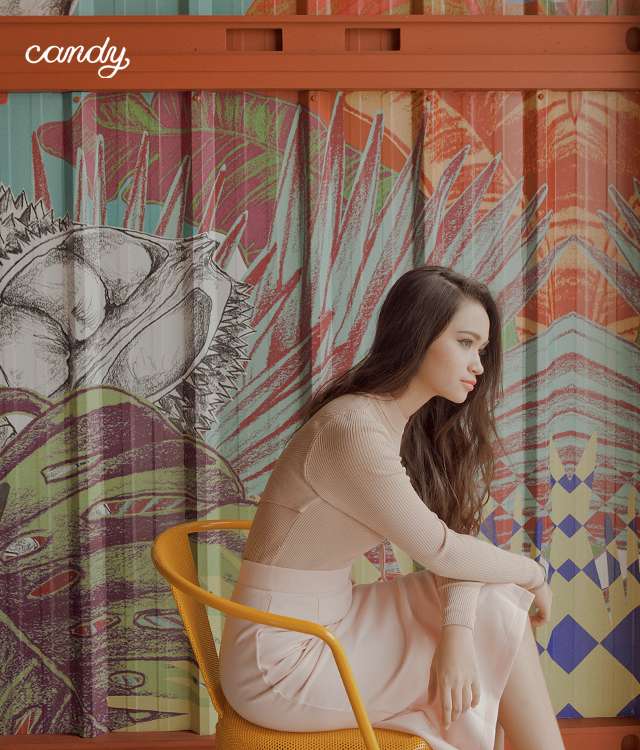 ADVERTISEMENT - CONTINUE READING BELOW
In a world of often disregarded or overlooked "How to be you po?" and "You're so pretty" comments on Instagram, Angelina Isabele Montano had us when she admitted to feeling kilig over comments like those. Because in this day of downplaying the enthusiasm over one's number of followers and likes even if it's obvious that it's the only thing that matters to them, it's refreshing to know that someone admits to liking the feeling and owns up to it. "I'm really thankful about that. I'm flattered by those comments. There are also people DM-ing me stuff and I answer them with, 'Oh thank you, thank you.'" And we totally get her! We can only imagine how exciting it is to have 145k Instagram followers without a serious attempt to do so, such as devoting five lines on an IG caption for hashtags alone or commenting #likeforlike or #ROW on Kylie Jenner's Insta. It's quite a feat for a "regular" 15-year-old who's not an actress, a blogger, or a famous YouTuber (yet!).
ADVERTISEMENT - CONTINUE READING BELOW
And by "regular," we mean she's a typical teenager who goes to school, is a fangirl, likes being on social media, and the like. It just so happens that her parents are talented celebrities Sunshine Cruz and Cesar Montano.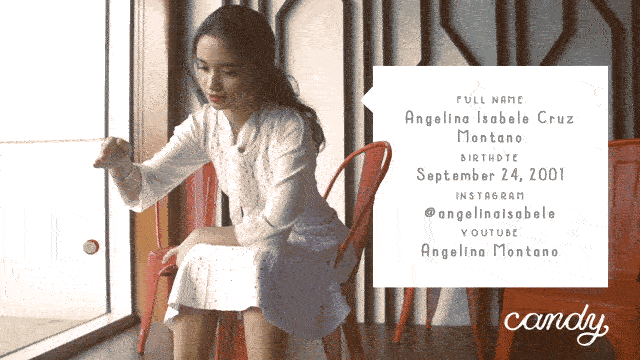 Angelina was quite young when she realized that her parents are famous. "There was this one time my parents and I went shopping and then a mob of people went up to them [to take pictures] and I'm like 'Oh, okay'."  In a way, she's gotten used to it, but not to the point where she doesn't get excited about the social media attention she's getting anymore. In fact, she counts her following as one of the pros of being a celebs' daughter. "Because of them, I get a lot of followers on social media. I'm thankful that I have fans, actually. Thanks to my parents," she admits. The con, unsurprisingly, is having little to zero privacy. "There are some situations when people tend to ask about your private life [to the point that they overstep the bounds]." That and the bashers that come with being Instagram-famous. "I noticed that the more followers I have, the more bashers I get." But instead of letting the negativity get to her, she found an antidote in the form of the best advice her mom has taught her: "To be myself, and 'Don't be bothered by what other people think of you because whatever you do, you're doing it for yourself and for God'." So whenever she comes across horrible comments—not that she pays attention: "I usually just ignore them, 'cause the positive comments are really overwhelming that I tend to overlook that negative ones"—she blocks and deletes them right away.
ADVERTISEMENT - CONTINUE READING BELOW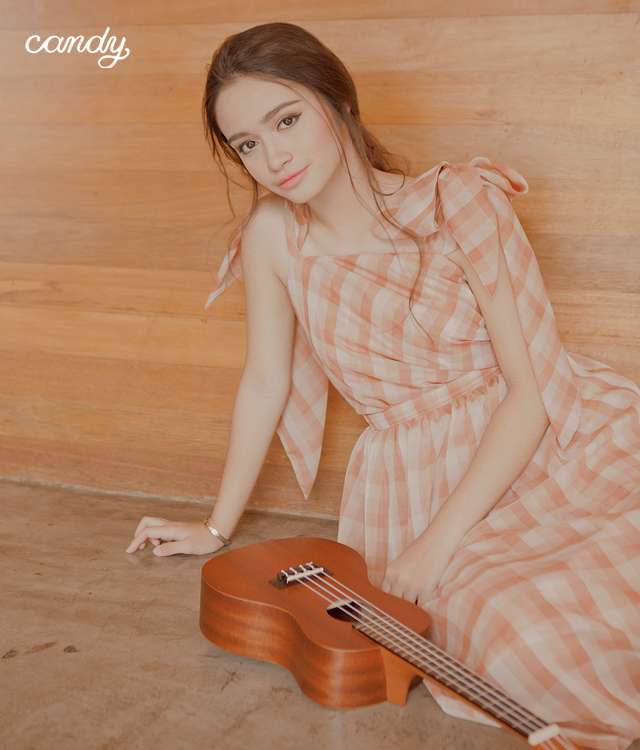 Bashers and haters aside, Angelina is enjoying her newfound fame and uses it as an avenue to share her other talents. She posted about an artwork once and revealed to us that she really likes the craft. "I really like painting. I've been doing it since I was really little. And I usually practice during class. If there's nothing to do, I usually just doodle on my notebook." Unfortunately for us, that's the only artwork she's ever posted (aside from some WIPs on Twitter). The upside though is that it's not her only talent—she also sings and plays the ukulele and, yay for us, she posts about it more often!
ADVERTISEMENT - CONTINUE READING BELOW
It was only last year when she really started singing and playing the ukulele. "It took me a while to come out with my singing because I'm kinda shy 'cause my sister Sam's very good at it. She's so good. She's a belter, and I'm just...new," she says and adds that Sam and their younger sister Chesca are used to performing in school talent shows while she isn't. Thanks to her mom and some YouTubers and 'grammers, Angelina found the courage to post her singing and ukulele-playing videos online. "I saw a few videos on the internet about people doing it and I'm like, 'Oh, so I'll just do it also,' and my mom also encouraged and told me, 'Don't be shy. Just do it, you're okay naman eh, you're good.'" And so when she finally posted it, the response from her followers was overwhelming! "They liked it. So I started making covers and decided to make a YouTube video." A few months later, she signed a recording contract with Universal Records.
ADVERTISEMENT - CONTINUE READING BELOW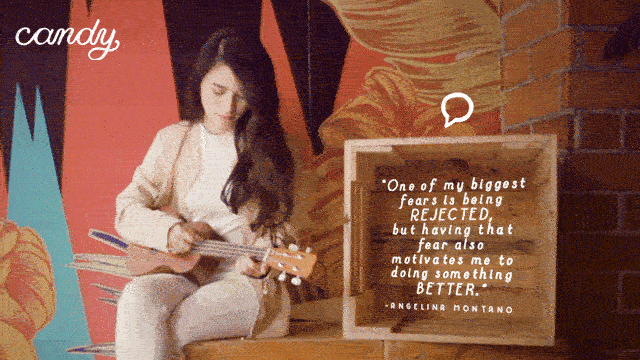 Painting, singing, ang playing a musical instrument aside, Angelina also models for a makeup brand, which she says came as a bit of a shock for her. She admits that she's never seriously considered the possibility of being a model. "I guess I did want to become one, but I didn't really expect it to happen." So when she got a text message from her mom asking if she wanted to endorse a makeup brand, she started screaming. In school. Which initially caused worry among her friends. 
ADVERTISEMENT - CONTINUE READING BELOW
Funnily enough, "I'm screaming" was also her tweet when she found out that the person she admittedly stalks the most on IG followed her back on Instagram, no less! "I really admire Liza Soberano! She's super pretty. She's perfect," she says. If you come to think of it, this whole thing could only be the beginning of their great working relationship together. Angelina looks forward to working with her (aside from her mom, of course) the most if ever she does decide to enter show business and now that Liza already follows her back, maybe she'd think the same, too. Oh, the possibilities are endless!
No wonder Angelina gets asked "How to be you po?" a lot. She's pretty, talented, and gets almost everything she secretly and openly wishes for. While it may be later rather than sooner before she finishes her studies and decides to join show business, we're pretty sure that Angelina Isabele Montano will always have a place in the industry, what with her talent, attitude, and good looks. To that we say, ready when you are, Angelina! 
ADVERTISEMENT - CONTINUE READING BELOW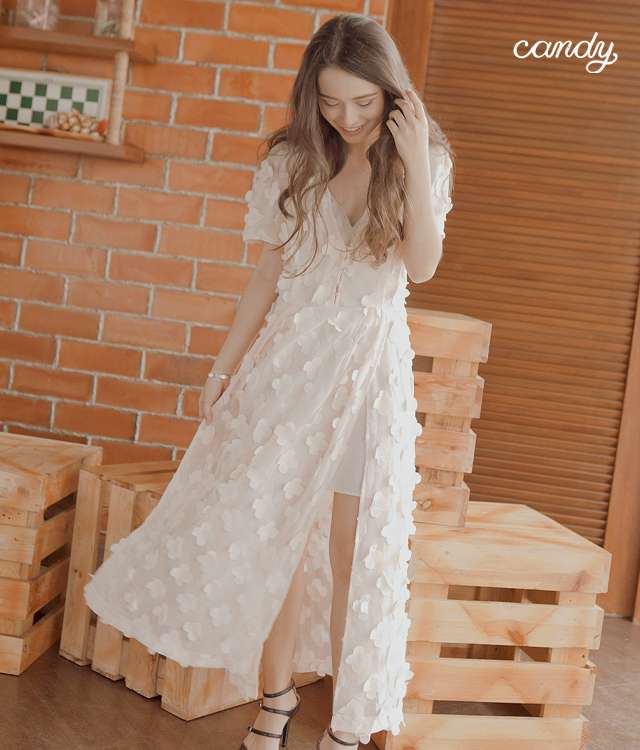 PHOTOS Shaira Luna HAIR Sher Pua MAKEUP Moriel Lim STYLING JL Crespo assisted by Joaquin Rodrigo and Tyrone See of Team Ryuji Shiomitsu CLOTHES LCP, Kashieca, Eustacia by Stacy Rodriguez, H&M SHOT ON LOCATION 7107 Culture & Cuisine at G/F Treston International College University Parkway District 32nd Street corner C5 Road Bonifacio Global City, Taguig City
ADVERTISEMENT - CONTINUE READING BELOW