A few months, ago JoJo sat down with Rap-Up to talk about her much-awaited album. Due to some issues she had with her label, her record took some time to be released. But the wait for JoJo's fans is finally over!
You can actually stream her first mixtape on Rap-Up.com and download it for free! Check out the cover art plus tracklisting below: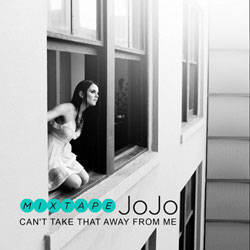 ADVERTISEMENT - CONTINUE READING BELOW
"Can't Take That Away From Me"
"Running on Empty"
"Pretty Please"
"Why Didn't You Call"
"Just a Dream"
"When Does It Go Away" featuring Travis Garland
"My Time Is Money"
"What You Like" featuring Jordan Gatsby
"In the Dark"
"Boy Without a Heart"
"All I Want Is Everything"
It's got a good mix of slow songs like "Just A Dream" and more upbeat songs such as "Pretty Please, " which was produced with NERD's Chad Hugo.
Read more about her thoughts about coming out with this record on her blog.
Give her mixtape a spin and let us know what you think of it. What's your favorite track? Spill in the comments below! :)