All Access
Callan McAuliffe, Lucy Hale, Sara Bareilles, And More Celebs Ask For Help For The Philippines
Check out these tweets from across the globe, sending us love, prayers, and help.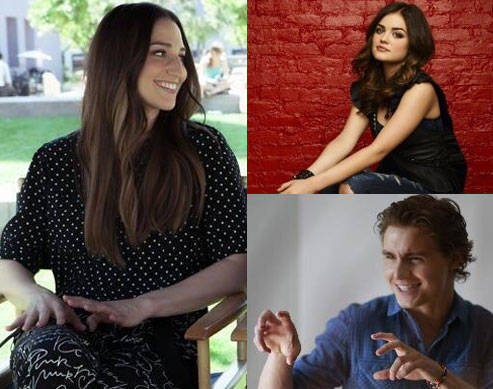 PHOTOS Twitter
In the wake of disaster, it's comforting to know that even celebrities who we adore on stage, television, and the movie screens take time to share prayers and encourage their fans to help out. Here are just a few of those celebrities and we are very grateful to them. You can help spread the word too! If you don't have the means to donate, you can actually help by letting people know (those who do have enough to share) how they can.
Tragedy has struck the Philippines...go to @philredcross or http://t.co/sTHooUiBG6 to learn more and donate. Every bit is going to help!

— Lucy Hale (@lucyhale) November 10, 2013
more than 10,000 people are feared dead after Typhoon Haiyan swept through the philippines. Please donate if you can: http://t.co/xfv514iu3e

— Callan McAuliffe (@CallanMcAuliffe) November 10, 2013
We live on the surface of a very fragile planet. My heart goes out to our human family in The Philippines. We are with you.

— Jason Mraz (@jason_mraz) November 10, 2013
In the wake of so much tragedy in the Philippines I take nothing for granted. Here's how we can help. http://t.co/j4Q8DBID1w

— Sara Bareilles (@SaraBareilles) November 10, 2013
Continuing to #PrayForThePhilippines .Your spirit is stronger. ❤️

— Shay Mitchell (@shaymitch) November 9, 2013
My heart goes out to the Philippines today! Your Amazing people full of hope and kindness.. Sending you our prayers! Big love. Mark.

— the script (@thescript) November 10, 2013
"Let's have a moment of silence for those effected by the tragedies in the Philippines. Help: http://t.co/HffKRmLRbg" - JARED on the EMAs

— MARS (@30SECONDSTOMARS) November 10, 2013
Navy please keep the people of The Philippines in your prayers!!! I was just there and this truly breaks my heart!!!

— Rihanna (@rihanna) November 9, 2013
PHILIPPINES RELIEF: donate today to @WFPUSA & help @WFP deliver emergency food relief in the Philippines http://t.co/L6JE1mlWPa

— max greenfield (@iamgreenfield) November 10, 2013
I would! ❤️🙏RT @eeennnaaa: @tprettyman Will you please come to Cebu, Philippines and do a benefit concert for the victims of the typoon??

— tristanprettyman (@tprettyman) November 10, 2013
Terrible news out of the Philippines. Massive devastation from typhoon #Haiyan. Please help where you can. http://t.co/WYZ8lP7H1j

— Avan Tudor Jogia (@ATJogia) November 10, 2013
It's so shocking how in one place everything is fine and in another people's world's are totally torn apart. #Haiyan #prayers

— Alicia Keys (@aliciakeys) November 10, 2013
Prayers going out to the Philippines. Such a tragic event. Love you guys over there!

— Phillip Phillips (@Phillips) November 10, 2013
My heart aches for the Philippines.. Just now seeing the wrath and aftermath of the typhoon. I can't imagine how scary this time must be :(

— Marie Digby (@mariedigby) November 9, 2013
For more ways to help, click here.
Looks like the Philippine Philharmonic Orchestra likes Captain Ri's music!
Iced, hot, and frapuccino-style!
Achieve that crunchy Chickenjoy skin.
What if CLOY is really based on a Pinoy teleserye?
Have you tried this internet-famous drink?
The local brand has partnered with charity organization Give PH to help with the donations.
If you're desperate for a cut, YouTube is your best friend.
She recently sang it again during an Instagram Live with husband Taylor Goldsmith!