All Access
Binge Watching Was Ruining My Life So I Did Something About It
What are your TV habits?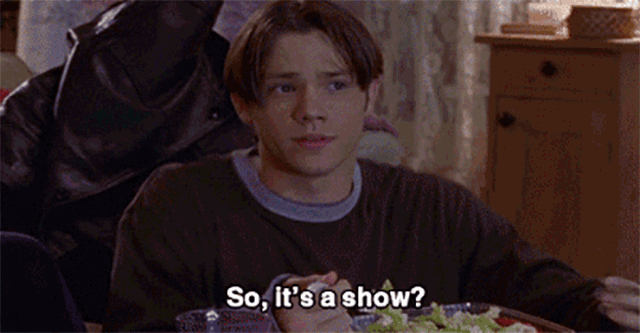 IMAGE WB | thelorelais.tumblr.com
Lights off, shows queued, popcorn freshly popped—we've all gone down the rabbit hole of binge watching, getting lost for hours and hours in new worlds, only to be yanked out by Monday mornings or ~adult responsibilities or real world interaction (a.k.a. Mom begging for us to at least take a shower).  
I've lost count of how many weekends (or nights, like when Stranger Things came out on Netflix) I spent binge watching my shows, a growing list that I keep track of using an Excel file. (Yes, I'm old school! Apps just don't do it for me, not since GetGlue discontinued its services.)
It was the ultimate me time, and I delighted in being updated on everything and ticking off episodes from my list.
I remember the weekend I binged on Downton Abbey and The Walking Dead. When Lady Sybil died and turned gray, I was fully expecting her to turn into a zombie and I was so worried about who would have to take her out. It took a few seconds for me to realize that no, that's a completely different story and all the binge watching must've turned my brain into mush.
ADVERTISEMENT - CONTINUE READING BELOW
On the other hand, there were also countless times when I couldn't remember the most significant details just a few days after binge watching a show. I remember plowing through Daredevil season one and wishing that I didn't because I lost most of the details along the way. It felt like 13 hours of awesomeness, but I couldn't even begin to describe it to other people to convince them it's worth 13 hours of their lives as well. 
Don't get me wrong—I'm absolutely grateful that bingeing on all six seasons of Gossip Girl is a reality with our third world country's internet speed. But taking shows one episode at a time is also something to be celebrated and returned to. It gives the viewer time to breathe and think about what just happened, and discuss theories and feelings with friends (see: the extremely polarizing Walking Dead season seven premiere).
It's tough when everything's a click away, but there's a reason why delayed gratitude tastes so sweet.
So now that's what I'm doing with new shows like Westworld (every episode is worth a second or third viewing!), Class (the Doctor Who spinoff with Sunny Dale vibes and a touch of Misfits' humor), This Is Us (perfect balance of drama and surprises every week), and No Tomorrow (the best rom-com on TV in a long time).
ADVERTISEMENT - CONTINUE READING BELOW
Taking time to savor every episode, like you would a meal, makes for a fuller and richer experience.
But don't get me wrong—binge watching is definitely still on the menu for special occasions, especially if it's been years since my last bite. You can bet I'll be in my rabbit hole when Gilmore Girls comes out this month and Sherlock next year!
Featuring Brown, Choco, and Cony!
Coffee is life, pero minsan, kailangan talagang mag tipid-tpid 'pag may time.
Aside from electricity and water, here are some essential subscription services you can divide among you and your dormmates.
#TalaNation on a different level!
Showing vulnerability doesn't make you less independent.
I was young, supposedly halfway through my first college degree, working several side hustles to pay the bills with zero savings.
You don't have to splurge a lot on an expensive model for its high-quality camera to get started with vlogging.
Straight from Lana Condor and Noah Centineo, no biggie!
Just like in your darkest times, your college friends were there with you during the best days of your life.
Pasig City government aims to allow more scholars to have free tuition and higher incentives.