All Access
Best Valley Girl Accent + More Movie Awards
Find out which movies we awarded Best Ending, Worst Prom Ever, and more! P.S. Spoiler alert!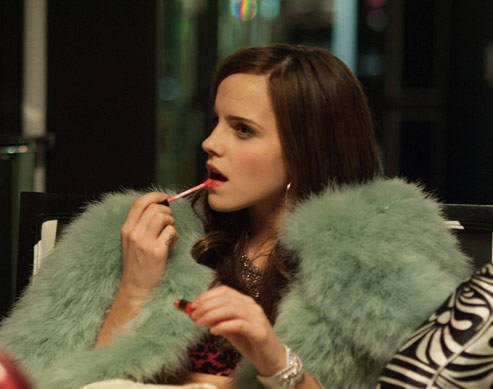 PHOTO Lionsgate, GIFs Tumblr
1. Best Valley Girl Accent: Emma Watson in The Bling Ring
Girl can do no wrong—not even the most annoying, grating accent in the world.

via kycb.tumblr.com
2. Best Give-Him-His-Own-Franchise-Already Villain: Loki
He's so well-loved by everyone, I don't even have to mention which movie he's from.
ADVERTISEMENT - CONTINUE READING BELOW
CONTINUE READING BELOW
Recommended Videos
3. Best Eyebrow Besties: Clary and Simon in The Mortal Instruments
In between rescuing and getting rescued, they manage to be totes on trend, you guys.
4. Best Fodder for Crossover Fanfics: About Time
ADVERTISEMENT - CONTINUE READING BELOW
This is Bill Weasley. Going inside a closet. (For Narnia!) His dad is Minister Rufus Scrimgeour, and the love of his life used to be called The Time Traveler's Wife. Plot bunnies, ready, set, go!
5. Most Likely to Drive You Nuts: Spring Breakers
I'm far from squeamish and I think that I'm pretty liberal, but I just could not stand Spring Breakers. I mean, I wasn't looking for the meaning of life, just some sort of rhyme or reason to the non-stop partying and grinding and crass YOLO-ing. And James Franco's incessant "Spraaang breaaak" did not help things. *shudder*
ADVERTISEMENT - CONTINUE READING BELOW

via jamesfrancoforever.tumblr.com
6. Best Use of 3D: One Direction: This Is Us
I'm sorry, superhero blockbusters, but my Directioner heart will have to give this one to the lads. Just a few hundred bucks to have 1D so near and lifelike you could almost reach out and touch them? SIGH.
ADVERTISEMENT - CONTINUE READING BELOW
7. Best Thing to Dream About During Rush Hour: This Scene from Pacific Rim
All together now: "Walking fast / Faces pass / And I'm home bound."
ADVERTISEMENT - CONTINUE READING BELOW
8. Best Scruff: Henry Cavill in Man of Steel
Look at that sweet, sweet mug.
9. Worst Prom Ever: Carrie
Doesn't get any suckier than this.

via weheartit.com
ADVERTISEMENT - CONTINUE READING BELOW
10. Best Ending: This Is the End
Because Backstreet Boys.

via slaughteringbunnies.tumblr.com
What movie awards would YOU give?
Did you know that Miss Universe Philippines 2020 is a licensed physical therapist?
Life is more fast-paced over there.
The actress is already considering her next project.
You can choose from two sets of cast members.
You can check out home decor, too!
The government agency says, "Suicide is a sensitive and complex issue."
Kakamiss manood ng games!
We got to talk to a public school teacher to share how students, teachers, and even parents are dealing with studying from home.
They basically do all the work for you!
He usually makes them during break time.
"It is not only about memorizing laws."
Where can your passport take you?
From The Candy Bulletin Community