All Access
Best of the Teen Choice Awards
Presenting the highlights of the fun awards show!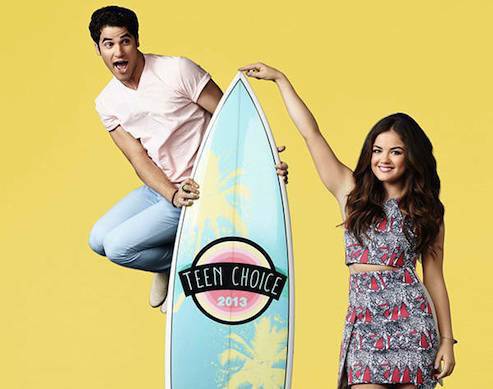 PHOTOS Fox/ETC/Tumblr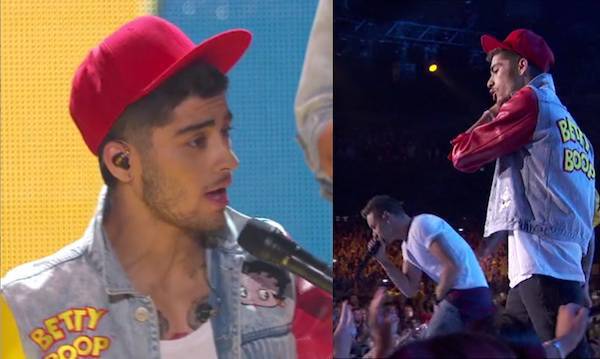 Choice Use of Denim: 1D, of course! Zayn's Betty Boop jacket is ridiculous and I want it.
Choice Outfit: Choice Comedy Actress Rebel Wilson's wetsuit and flip-flops. "I'm so happy I won, you guys, 'cause otherwise, it would've been embarrassing wearing this wetsuit."
Choice Tan: Shay Mitchell kept fidgeting with her PLUNGING white top but OMG, her skin is gorgeous. Maybe less side boobage next time, though.
Choice Replay: They showed the same footage of Ian Smolderholder blowing a kiss to the cam twice, right? I have no problem with this.
Choice Awkward Spiel: Fifth Harmony. Five girls and one mic is not a good mix.
Choice Self-Depreciating Spiel: Max Greenfield presenting the Choice Comedy Show: "Those are big TV shows up there. Glee, they sing so we don't really have a chance..." New Girl did lose to Glee but I'm fist-pumping with ya, Schmidt.
Choice Speech: I was in tears from the moment Lea Michele walked in. My thought process: I can't believe she's there! What a pretty dress. Aww, she's smiling again! Her Cory necklace! How can she be crying and smiling at the same time? Why am I doing the same thing except I look ridiculous? It's been what, a month since Cory's death? She's so strong.
Choice Advice: Chris Ashton Kutcher's whole acceptance speech, especially this part: "The sexiest thing in the entire world is being really smart and being thoughtful and being generous. Everything else is crap, I promise you."
Choice Performance: After all this time, I'm still into you, Paramore.
Choice Twerk: Well, hullo, Harry! I like the little stretch he did before twerking.
Choice Darren-ism: When he did the Smolderholder, he looked like one of those babies photographed tasting a lemon for the first time ever. Teehee.
Choice Throwback: Dude, where's my car? Where's my car, dude?
Catch the replay on August 18, 9pm on ETC.
Carlos Yulo, Filipino gymnastics superstar, comes from humble beginnings.
Knowing how to operate a vehicle is a good ~adulting~ skill to have.
Tom Riddle's diary not included.
They even beat this generation's music legends Taylor Swift and Ed Sheeran!
"You both acknowledge that growing individually doesn't mean growing apart."
Wait... she has a sister?!
Even the optional plastic bags in supermarkets.
"She's like my sister," Jacob shares.
Not too keen on blinding your prof with a very extra highlight? This Claudia Sulewski-approved trick might help.
GLG holds various workshops for the different aspects of comic making, like writing, storyboarding, drawing, coloring, and paneling.
Merry Christmas, K-drama fans!
The official opening of the 2019 SEA Games was graced by none other than Filipino Olympian gold medalists we used to read about in grade school textbooks!