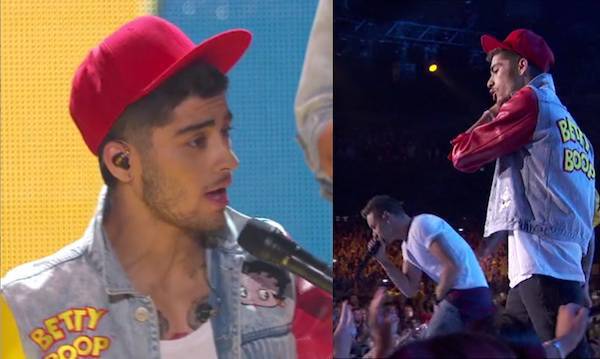 Choice Use of Denim: 1D, of course! Zayn's Betty Boop jacket is ridiculous and I want it.
Choice Outfit: Choice Comedy Actress Rebel Wilson's wetsuit and flip-flops. "I'm so happy I won, you guys, 'cause otherwise, it would've been embarrassing wearing this wetsuit."
Choice Tan: Shay Mitchell kept fidgeting with her PLUNGING white top but OMG, her skin is gorgeous. Maybe less side boobage next time, though.
Choice Replay: They showed the same footage of Ian Smolderholder blowing a kiss to the cam twice, right? I have no problem with this.
Choice Awkward Spiel: Fifth Harmony. Five girls and one mic is not a good mix.
Choice Self-Depreciating Spiel: Max Greenfield presenting the Choice Comedy Show: "Those are big TV shows up there. Glee, they sing so we don't really have a chance..." New Girl did lose to Glee but I'm fist-pumping with ya, Schmidt.
Choice Speech: I was in tears from the moment Lea Michele walked in. My thought process: I can't believe she's there! What a pretty dress. Aww, she's smiling again! Her Cory necklace! How can she be crying and smiling at the same time? Why am I doing the same thing except I look ridiculous? It's been what, a month since Cory's death? She's so strong.
Choice Advice: Chris Ashton Kutcher's whole acceptance speech, especially this part: "The sexiest thing in the entire world is being really smart and being thoughtful and being generous. Everything else is crap, I promise you."
Choice Performance: After all this time, I'm still into you, Paramore.
Choice Twerk: Well, hullo, Harry! I like the little stretch he did before twerking.
Choice Darren-ism: When he did the Smolderholder, he looked like one of those babies photographed tasting a lemon for the first time ever. Teehee.
Choice Throwback: Dude, where's my car? Where's my car, dude?
Catch the replay on August 18, 9pm on ETC.
ADVERTISEMENT - CONTINUE READING BELOW
ADVERTISEMENT - CONTINUE READING BELOW