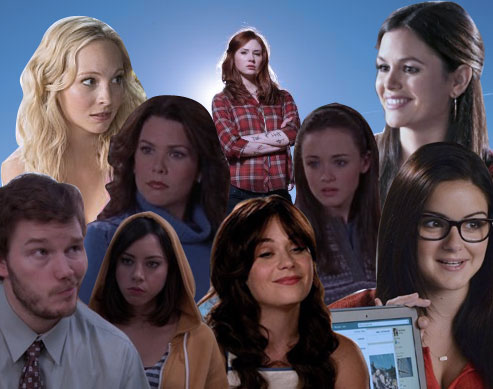 | | |
| --- | --- |
| | Zoe Hart forever! Also Bernadette of The Big Bang Theory because hello, height twinsies! —Marla, Editor In Chief |
| | My TV BFF is Jess of New Girl. She's quirky and funny and I think we'd get along well. —Steph, Art Director |
| | I'd probably get along really well with Alex Dunphy of Modern Family. We're similar in the sense that we're both good in school but awkward around boys—and we have a love-hate relationship with our crazy siblings! —Angel, Managing Editor |
| | This is such a hard question because I watch more than 50 shows! I can't pick just one so I'll be like Taylor Swift and have a bunch of besties: Riley from Girl Meets World (I could learn from her unapologetically YOLO attitude), Felicity from Arrow (teach me your techie and lippie ways!), Carrie from The Carrie Diaries (she's a true friend and true fashion icon), Tamara from Awkward (no one can match her wit and puns), Jake from Brooklyn Nine-Nine (we can both snack on nuts), and Amy from Doctor Who (who will probably be my best-est friend of all because she's my favorite ginger #sorrynotsorry). TL;DR: everyone! —Dyan, Entertainment and Features Editor |
| | April and Andy from Parks and Recreation. I think my personality matches both of theirs! —Kaye, Editorial Assistant |
| | I think I'd be super BFFs with Rory from Gilmore Girls. —Macy, Web Managing Editor |
| | Caroline from The Vampire Diaries! She would totally be my BFF because she's never afraid to speak her mind and she's also really funny and loyal. —Erin, Web Fashion and Beauty Assistant |
| | Lorelai Gilmore of Gilmore Girls! I just started watching the show and I really think (HAHA!) I'd get along with mommy Gilmore. Her sense of humor is wicked! —Ayessa, Web Editorial Assistant |
What about you? Leave us a comment or tweet us @candymagdotcom to join the conversation!
ADVERTISEMENT - CONTINUE READING BELOW