All Access
Ansel Elgort Is Perfection in Baby Driver
You can call him Baby. B-A-B-Y, Baby.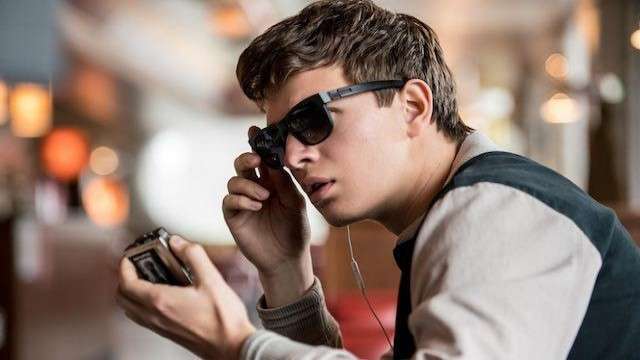 IMAGE Columbia Pictures
Baby, the insanely talented getaway driver in the movie Baby Driver, is a role that feels like it was made for Ansel Elgort. For one, the actor sells the childish nature of the nickname with his signature smirk and playful eyes, opening up a world of puns and setting the tone: Yes, this is a sleek heist film, but don't you think we take ourselves too seriously. We are going to have a lot of fun, just you watch.
Buckle up: The opening scene of Baby Driver is the bomb.
Baby spends most of his waking hours with music playing in his ears. What started out as a way to drown out the ringing in his ears, a condition that developed because of a car accident that made him an orphan, has become a way of life. He simply cannot function without music. Successful getaways can only be accomplished with the perfect song playing at the perfect moment. Coffee runs have their own soundtrack, too, turning an everyday routine into a musical montage. Not a minute goes by when he's not lip-syncing, playing air guitar, or simply tapping his feet to the music. Ansel, with his extensive music and dance background, shines in these moments, when his graceful moves, expressive eyes, and singular swagger come together seamlessly.
ADVERTISEMENT - CONTINUE READING BELOW
CONTINUE READING BELOW
Recommended Videos
Baby doesn't talk a lot, but his actions sure speak volumes. There is a stiffness to him when he rolls with fellow criminals played by legends like Kevin Spacey, Jon Hamm, and Jamie Foxx. Compare that to the ease and natural rhythm he has with his ride-or-die: Joseph, his foster dad, and Debora, the love of his life played by Cinderella's Lily James. The high-speed car chases will leave you breathless, but it is his scenes with them that will melt your heart. You'll leave the theater on a giddy high, scrambling to find that banging soundtrack on Spotify. (Here you go.) 
ADVERTISEMENT - CONTINUE READING BELOW
Baby Driver just goes to show what a smart guy Ansel is. It's been a while since the heyday of The Fault in Our Stars and the Divergent series, and what a comeback this movie is—if we can call it a comeback. Ansel never really left the scene; he just took his time picking meaty roles while working on his music as Ansolo and traveling the world with girlfriend Violetta Komyshan. He made a conscious effort to look for roles that were different from what he'd already done, and when he found it in Baby Driver, he went all in. Asked to lip-sync a song he knew by heart for his audition, Ansel chose "Easy"—and his performance was so good that director Edgar Wright wrote it into the script.
Baby wasn't a role specifically made for Ansel, but Ansel undoubtedly made it his. We can't imagine other actors playing the character—well, technically we can, but we wouldn't have it any other way.
ADVERTISEMENT - CONTINUE READING BELOW
Catch Baby Driver when it hits local cinemas on August 2 with whole-day sneak previews on July 24 and 25 in select cinemas nationwide.
The group has provided assistance to around 248 students so far, and has raised more than P1 million in crowdsourced donations.
She had to fly back to Japan during GCQ.
You can apply to join, or nominate someone you think needs one.
Only 10% of the world population are lefties.
He's practically like Mike Ross (minus all the fraud and deception).
The project was organized in Oriental Mindoro.
Online classes aren't easy at all.
That right about crushes our Joey King and Taylor Zakhar Perez dating dreams.
Try this hack and find the right toner for you.
Sadya or just a pure mistake?
Is law school something you want to pursue?
From The Candy Bulletin Community