When we heard the news that Augustus Waters—JK, we mean Ansel Elgort—was going to be in a heist movie with Kevin Spacey, Jon Hamm, Jamie Foxx, Jon Bernthal, Eiza Gonzalez, and Lily James we couldn't contain our excitement. It feels weird imagining Ansel in this type of film—although he already did some action for the Divergent series.
How we saw Ansel before Baby Driver. He he he.
But when we finally got to see him play Baby (B-A-B-Y, Baby) in Baby Driver, we concluded that Ansel is on his way to making a name for himself as one of this generation's most versatile actors. EVER!
PLOT
Written and directed by Edgar Wright (Scott Pilgrim vs. the World and Shaun of the Dead), Baby Driver tells the story of Baby, a talented driver who works for thieves and how music plays a big role in his life. However, when Bats (Jamie Foxx) threatens his and his loved ones' lives, Baby decides to fight back and fight for them which endangers the world he tried his best to protect.
OMG, YASSS!
That killer opening scene.
ICYMI, Columbia Pictures uploaded the heart-stopping opening scene of Baby Driver on YouTube already. It pretty much sums up what the entire movie is all about—Baby's genius driving skillz and his big heart for great music. 
The equally killer soundtrack.
Who doesn't love great music anyway? This movie is fueled by its amazing soundtrack, which made it even more kickass than it already is.
After watching Baby Driver, we found ourselves singing and dancing to Carla Thomas' "B-A-B-Y," rocking out to The John Spencer Blues Explosion's "Bellbottoms," shaking to Button Down Brass' "Tequila," and getting sentimental over Commodores' "Easy." Ugh, we could play all the songs in the movie over and over and over and over again!
ADVERTISEMENT - CONTINUE READING BELOW
The thrill you get from watching the movie.
If you love some good adrenaline rush, then this is the movie for you. The soundtrack + the heart-stopping scenes + the twists and turns (literally!) will leave you asking for more. Even after the movie's already ended.
Buuut, if you're not a big fan of bank robbery and/or car chase movies, there's still something in here for you. Baby Driver will make you LOL, fall in love, and get teary-eyed, too.
Ansel dancing and moving to the beat.
ICYDK, Ansel studied performing arts at the prestigious Fiorello H. LaGuardia High School of Music & Art and Performing Arts. During his stay there, he sang and danced in musicals—which is why we weren't surprised when he showed off some of his moves in Baby Driver. 
And, finally, Ansel turning into a baddie.
If you think he can only play teenage roles, then you have to watch this! He not only nailed his performance as the quiet, mysterious, fun, and tough Baby, Ansel also showed us he can be a total baddie! To say that we were SHOOKT is an understatement. That vision of him behind the steering wheel and holding a gun to save his loved ones' lives will give you life. We can easily say that this role was meant for him and him alone!
SHOULD YOU WATCH IT?
You better, Ansel says. LOL!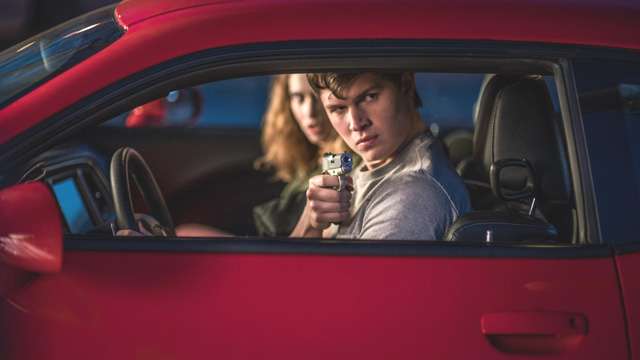 Definitely YES!
Not only will you find yourself loving action-slash-heist films after watching this (TBH, I watched The Italian Job again after watching this, LOL!), but Baby Driver will also awaken the old soul in you with its soundtrack and beautifully-shot scenes. Plus, you'll find yourself wanting to kick ass after finishing the movie just like Baby and Deborah—all for a good cause, of course.
Baby Driver is set to hit theaters and cinemas nationwide on August 2 with whole-day sneak previews on July 24 and 25 in select cinemas nationwide.