OMG, you guys! We got super excited when we read this tweet from 5 Seconds of Summer this morning:
hey everyone.. our 2016 book of stuff is here !! here's the link if you wanna pre-order a copy http://t.co/q2NcmYHUW5 pic.twitter.com/3tkqAJoelO

— 5 Seconds of Summer (@5SOS) August 10, 2015
Out of our excitement, we put together this list of things we'd really want to see in the 5 Seconds of Summer: The Annual 2016 book.
1 A CD of their never-before-released songs.
We're sure that not every song they've recorded were included in their records, so please, please give us a chance to listen to a few (or all?) of them by including a compilation when we purchase the book.
2 And the original lyrics of the songs.
And we're also sure that some of the songs' lyrics went through a lot of editing. We're really curious about the original lyrics and the drafts of the boys' songs, so we want to see the handwritten ones these boys might have done on tissue papers, scratch papers, and even the back of their notebooks.
ADVERTISEMENT - CONTINUE READING BELOW
3 The announcement of their concerts for 2016.
By this, we mean an announcement that they're dropping by the Philippines, too.
ADVERTISEMENT - CONTINUE READING BELOW
4 3D photos of Ashton, Calum, Luke, and Michael.
You know these guys look a whole lot better in 3D.
5 Golden tickets to DerpCon 2016.
We don't know yet whether they're holding another one in the future, but we're crossing our fingers that the 5SOS boys give in to our wishes. Who knows, we just might get one when we buy a copy of their book, right?
READ: 5 Seconds of Summer Performs an Acoustic Version of "Good Girls" at Derp Con
While you're still waiting to have a copy of the 5SOS book in your hands, why don't you grab a copy of the 5 Seconds of Summer Candy fan magazine for now? We have a ton of fun stuff for you in the magazine.
ADVERTISEMENT - CONTINUE READING BELOW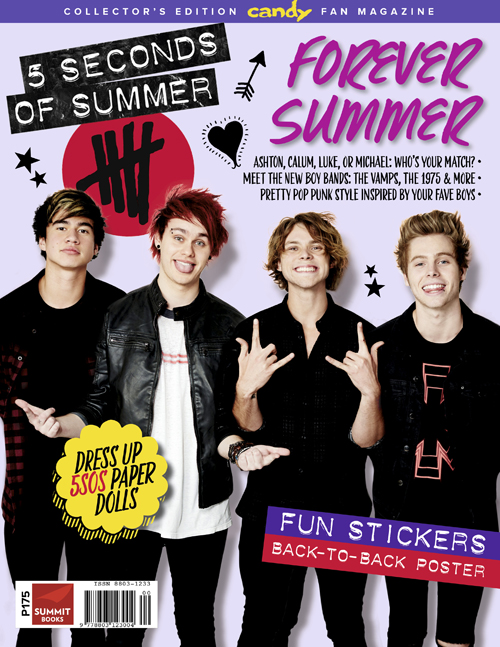 Which books are on your must-read lists this year, Candy Girls? Let us know in the comments or via Twitter @candymagdotcom.