Books have always served as an escape from reality, and this year, young adult fiction fans couldn't have found a better rabbit hole to jump into than Mickey Ingles' Alinam: Diego Domingo and the Mandato Ruiz.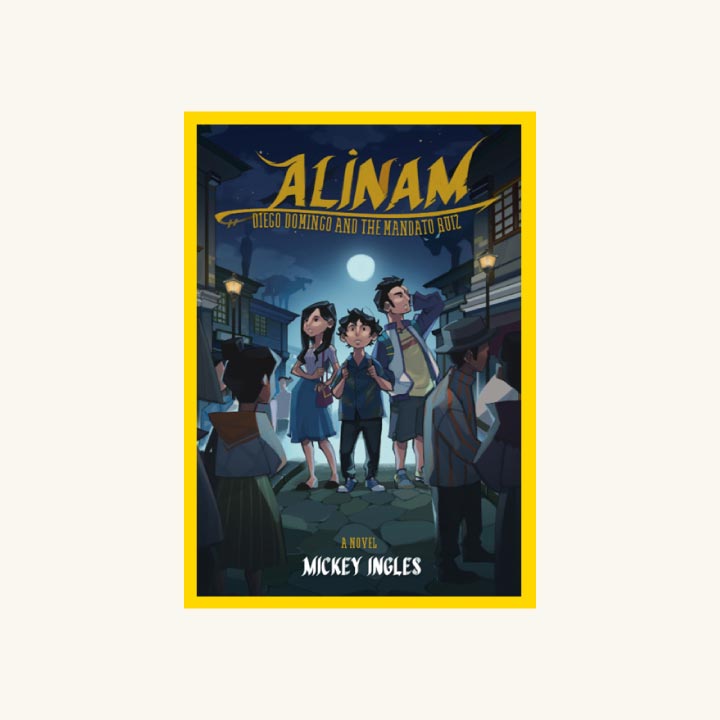 Merging fantasy with historical fiction, Alinam follows the adventures of three high school students who are transported to a different world. Diego Domingo is smart, but shy and awkward; Sophia Madrigal is the quintessential "It" girl who has secrets of her own; and Luis Tolentino is a basketball jock who cares deeply about his friends. As they try to find their way back home, they discover that there's more to each other (and themselves) than they thought.
ADVERTISEMENT - CONTINUE READING BELOW
Book Review: Curious to know more? Here are six other reasons to grab a copy of Alinam
It's set in an alternate reality version of Manila.
Alinam, or Manila spelled backwards, is a version of the city that has retained much of its colonial history. Ruled by a gobernador-heneral, it has cobblestone streets, horse-drawn carriages, and good old-fashioned sword fighting. Locals wear either a barong or a baro't-saya and address each other as señor and señora. At first, the world mirrors what is written in Philippine history books, but pretty soon, you, as well as Diego, Sophia, and Luis, will realize that Alinam is a richly detailed universe that can stand all on its own.
There's a bit of magic involved.
Modern technology as you know it doesn't exist in Alinam, but in its place is salamangka, which is arguably cooler. What makes it special, however, is seeing it in the context of Filipino culture. Not everyone has the ability to practice salamangka, of course, but it's so deeply ingrained in Alinam's world that its presence is everywhere—from magical parchment maps to mysterious Lola Basyang prophecies.
ADVERTISEMENT - CONTINUE READING BELOW
Aaaand a bit of young love, too.
Not to spoil anything, but witnessing the first few buds of romance develop between some of the characters in the book will inevitably bring back memories of your first major crush (the increasing levels of infatuation), those pre-prom jitters (remember when people could still gather together?), and even what it feels like to take risks for the people you love (cause that's what you'd do for your crush, right?).
Curious characters abound.
Almost as soon as Diego, Sophia, and Luis arrive in Alinam, they encounter an akit-akit, a woman who hypnotizes her victims and robs them blind, and a rabid aswang, shapeshifters whose bites are known to be venomous. Both are merely a taste of the variety of interesting characters—human or otherwise—that you will meet along the way.
It encourages you to think critically about the world.
Even though Alinam is a different reality, its problems aren't too far off from those that plague Philippine society today. In between fictional depictions of aswang gangs, historical heroes, and lavish fiesta balls are truths about greed, fear, and power that are all too real—and all too hard to ignore. While the characters have their own perspective on what is right or wrong, fair or unjust, you can't help but make up your own mind.
ADVERTISEMENT - CONTINUE READING BELOW
The artwork is brilliant.
Last but not the least are the illustrations that flank the beginning of every chapter, drawn by up and coming illustrator Rica Alexandra Diaz. Plus, there's a detailed map of Alinam drawn by James John Andres. Both do a wonderful job of helping you envision the world of Alinam and moving the story along.
P.S. Don't read Alinam if you DON'T want to risk developing an obsessive interest in Philippine history. Whether real or inspired, the details mentioned in this alternate Manila will surely have you looking up certain names and events in our own history books, on the Internet, and maybe even your old history notes. You've been warned.
Where to Get a copy of Mickey Ingles' Alinam: Diego Domingo And The Mandato Ruiz
You can get a copy on Shopee, Lazada, and the Summit Books Shop in e-book or print book format for P395.
ADVERTISEMENT - CONTINUE READING BELOW