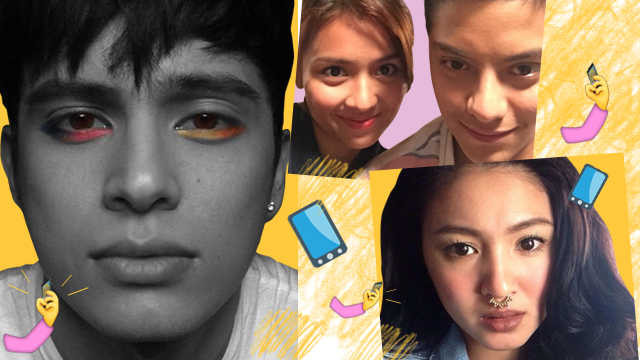 Here at the Candy HQ, we stalk your favorite celebrities on social media every single day. Most of our stories come from looking at our Facebook, Twitter, SnapChat, and Instagram feeds. We like photos, bookmark links, and save a ton of items from our social accounts just so we can remember. So at this time of the year, we look back on our bookmarks and we found these cute selfies from your favorite local celebrities this year. Check out just a few of our faves below!
1 Kelsey Merritt
The stars aligned for our cover girl this year because not only did she go to New York to pursue her modeling career, she also bumped into Jessica Alba while she was out shopping. Lucky girl!
2 Kathryn Bernardo
ADVERTISEMENT - CONTINUE READING BELOW
We're suckers for cute couples here at the HQ, so this selfie from the teen king and queen most definitely makes it to our list. How cute is Daniel trying to imitate his partner's facial expression when taking selfies.
3 Nadine Lustre
Remember when septum rings became a thing (shoutout to Kylie Jenner!)? Well the always fashion forward Nadine was brave enough to try this trend. Looks good on her! P.S. We know it's totally fake!
READ: A Love Letter To Selfies
4 James Reid
Our October cover boy definitely made our hearts skip a million beats when he gave us the finale performance at the #CandyFair2015. And he also took our breath away when he showed us this look at the event. What a cutie! Did you try doing this eye makeup on yourself, too?
5 Yassi Pressman
We just love how supportive the CineGang are to each other. Yassi and Andre Paras showed how much they support James by imitating his pose in this outtake from our cover shoot.
6 Julia Barretto
ADVERTISEMENT - CONTINUE READING BELOW
Julia proved that she's definitely like the rest of us when she shared this hilarious selfie of herself... third-wheeling with lovers Erich Gonzales and Daniel Matsunaga in the background. Totally get you, girl.
7 Liza Soberano
We don't know whether we'll put this under Liza's name or her rumored boyfriend Enrique Gil's name on this list. But because this is shared under Liza's account, we'll put her name instead.
READ: From Our Sister Sites: 22 Beautiful No-Makeup Selfies by Celebrities
8 Sofia Andres
This year, Candy went through a big change. It feels like the redesign happened ages ago when, truth is, it was only this summer that Sofia appeared on the cover of our wanderlust issue where she was styled by Candymag.com's very own fashion and beauty girl Erin Torrejon.
9 Claudia Barretto
Technically, this isn't a selfie but we totally love this photo because we were all excited to share with you the news that Claudia is our prom queen this year. She shared this photo taken at the Summit Studio hours after our shoot. She was probs just as thrilled as we are!
Which selfie was your fave? Let us know in the comments. :)