All Access
9 More What Ifs Inspired by The Vampire Diaries
In honor of the Stelena fanfic on this week's The Vampire Diaries, here are nine more alternate universes to root for.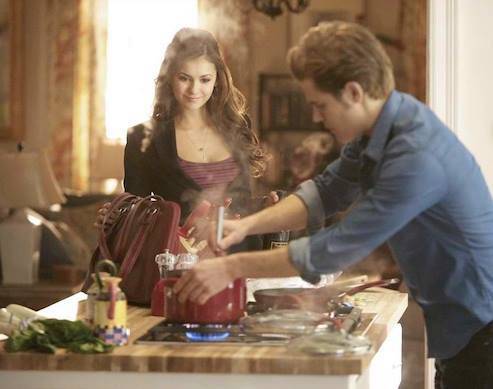 PHOTO The CW/ETC, GIFs Tumblr
Glee. What if Finn didn't die? (RIP, Cory Monteith.) Would he have continued co-mentoring the Glee Club? Would he have attended college somewhere else? New York perhaps? When would he have proposed to Rachel, his "future wife"? What would their kids have looked like? *tears*

[table:0]

Teen Wolf. What if Allison managed to avoid that death blow from the Oni? Would she have gotten back together with Scott, her true love? (Sorry, Isaac.)

[table:1]

The Originals. What if the Originals just went back to Mystic Falls, where they truly belong? As much as I love Klaus, Elijah, and Rebekah, I don't find their separate storyline as compelling as their villain arc on The Vampire Diaries. And frankly, I don't get the Travelers, the new bad guys in Mystic Falls. See, even Marcel agrees.

[table:2]

Arrow. What if Oliver just manned up and got together with Felicity? I know, I know: because of the life that he leads, he thinks that it's better to not be with someone that he could really care about. Then why is he with Sara Lance??? Felicity can take care of herself, too, you know.

[table:3]

2 Broke Girls. What if their cupcake shop actually flourished and made them super rich? Would they have to change the show's title? Harharhar.


via ruanmiller.tumblr.com

Awkward. What if Ming never left? Jessica Lu didn't come back for season four, and Ming's one-liners are dearly missed.

Hart of Dixie. What if Lemon and Wade were OTP? Everyone dates everyone in Bluebell, so why not turn that once fake relationship into a real one and see what happens?

[table:4]

How I Met Your Mother. What if they got the happy ending they all deserved? Amazing how taking out the last few minutes makes all the difference.

Gossip Girl. What if Dan wasn't Gossip Girl? What if Gossip Girl remained anonymous to the end? The show wasn't like HIMYM that needed to reveal who the mother was—in fact, I barely thought about the person behind Gossip Girl. It was just a nifty narration gimmick until they spoiled it with the Dan reveal. I bet if you watched all of the episodes again, things wouldn't add up.
What other "what ifs" can you think of?
\\\\\\\\\\\\\\\\\\\\\\\\\\\\\\\\\\\\\\\\\\\\\\\\\\\\\\\\\\\\\\\\\\
Get the latest updates from candy!
subscribe to our newsletter!
////////////////////////////////////////////////////////////////
From digital art to photography to mixed media, Filipino artists show that creativity is never lost in our people.
Skip a makeup step with these beauty goodies!
Take pretty notes and study effectively with these tips!
Wait for a love like this. A love that is good to you, for you.
Are you up for this challenge?
Can't wait to see the actual gowns!
The up-and-coming musicians and childhood friends talk about their music, creative process, and why it's important to be woke.
Because when it comes to a great lip game, there's really no need to splurge!