All Access
8 Details About the 'To All the Boys I've Loved Before' Movie
According to Jenny Han!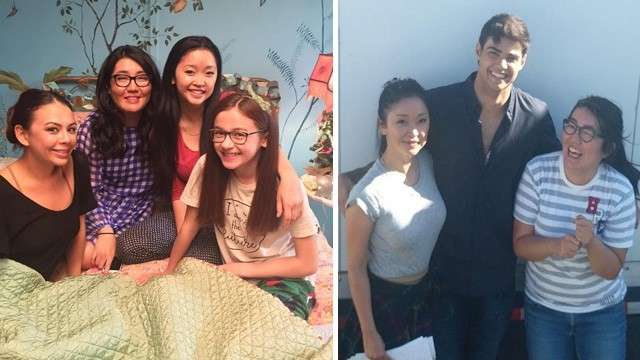 IMAGE Jenny Han | instagram.com/jennyhan
ICYDK, one of our favorite authors, Jenny Han of the To All the Boys I've Loved Before series, is in town to promote the third book of the trilogy, Always and Forever, Lara Jean, as well as the Burn for Burn series with her co-author and friend, Siobhan Vivian. And because we can't stop refreshing our socials for the latest updates about her book's upcoming movie, we went ahead and asked her for exclusive details about the film. Here's what we found out.
On the actress playing Lara Jean.
"I had given them some ideas for Lara Jean but then ultimately, I don't get that final decision on who gets picked. I was really happy about Lana Condor because she's somebody who I had mentioned at our first meeting."
On how involved she is in making the movie.
"I got to read the script and give feedback. I gave notes on the script. I got to visit the set a couple of times—they already wrapped filming, so it's over. I gave a lot of ideas about what the look of the movie I thought is important, like the look of her bedroom and her clothes...I made some Pinterest boards to show how I felt that she should be represented."
ADVERTISEMENT - CONTINUE READING BELOW
On what being on the set of the movie feels like.
"I really got to wander around and talk to people. It was very intimate and like a family."
On Asian-American representation.
"To me, my priority was always to be able to show the life of an Asian-American girl. It's something that you don't really get to see very often in the media. With the book covers, I really wanted them to be photographic because I really wanted her to be Asian on the cover and for people to walk into a bookstore and to see that right away. I was really committed to that throughout. For me, when I watch a movie and I see an Asian person on screen, I'm really excited and I really want to see that. I think it's different if you live in the Philippines or Korea or China where you see people that look like you on TV all the time but in America, it's so rare. You don't get that representation. I was really committed to that...in wanting to show that there are many different ways to look like an American girl—it doesn't look like just one thing."
ADVERTISEMENT - CONTINUE READING BELOW
On how close the movie is going to be to the book.
"The movie isn't going to be the exact same thing as the book. I think there are different formats and there are some things that work in a book that won't work in a movie."
On the actors being fans of the book.
"They were wanting to be careful and not read ahead beyond the first book because they wanted to make sure that they don't want to know beyond what they know as their character."
On the scope of the movie.
"The movie is pretty much just going to be about the first book. It depends on how the first one does. If it does well, they would love to do more."
On what to look forward to the most about the movie.
"I think they should look forward to seeing Lara Jean and Peter's love story on screen. Because to me, it really became real when I saw Lana and Noah acting out one particular scene together and I think that the chemistry was really there and I really felt that heat between them. Maybe once they see it, they'll feel it too because it really brought it to life."
ADVERTISEMENT - CONTINUE READING BELOW
Jenny Han and Siobhan Vivian will be in SM Megamall on September 16, 2pm and the Manila International Book Fair on September 17, 2 pm. Visit National Book Store's website for more details about the book signing tour!
How much should we rely on them to capture our personalities?
Guys, it wouldn't hurt to add a twist to your go-to look!
Shop with an advocacy in mind!
Is IF advisable for a college student's busy lifestyle?
"Planado na, booked na ang trips."
Share your routines, too!
The next Miss Universe Philippines is said to receive the biggest cash prize in the history of Philippine pageantry.
While there is still a long way to go, it's become so much easier to find like-minded people who share the same cause.
It's a game for those who love to play around and break the rules.
Truth is, you don't need to spend a lot to achieve the feed of your dreams or build your portfolio.
Now's your chance to give back.