All Access
7 Ways You Can Pay For Your One Direction Concert Tickets
We all need that one thing, a.k.a. that On the Road Again Tour Manila concert ticket.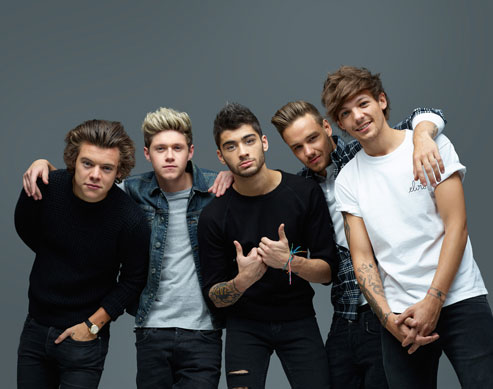 PHOTO SYCO Music/Ivory Music & Video
Of course we're psyched when it was officially announced earlier that One Direction is finally coming for the On the Road Again Tour Manila! And like all of you, we're super worried about the ticket selling on Friday. That means we only have four days (!) to save for our concert tickets! Four days, you guys. So we gathered up a few tips and tricks from fellow fangirls and fanboys on how we can pay for our tickets come Friday. Here are some ideas:
1. Tweet and tweet about the concert until we reach 17.4K, and exchange them for VIP tickets. If only, right?
PWEDE BANG PAMBAYAD SA TICKET YUNG TWEETS COS I HAVE 17.4K TWEETS SO VIP NA 😁😁 #1DMeetAndGreet #OnTheRoadAgainTourManila

— ❤ 1D IN MANILA ❤ (@ZAYNBYTHEBAE) May 19, 2014
2. Beg for money.
COME ON BAMONOS TAYO NA'T MANLIMOS COME ON LETS GET TO IT I KNOW THAT WE CAN DO IT #OnTheRoadAgainTourManila

— UNICORN (@calpalunicorn) May 19, 2014
3. Cry a liter or two of tears and sell them online.
#OnTheRoadAgainTourManila Buti sana kung may bibili ng tears ko for 18k

— Liam Payne (@LirryCakeIsMine) May 19, 2014
4. Sell our souls, in case someone needs an extra.
selling my soul for ticket #OnTheRoadAgainTourManila

— 3/21/15 ❤️ (@candyhxran) May 19, 2014
5. Ask donations or ask our ninongs and ninangs for Pamasko 7 months in advance.
I am now accepting donations for my ticket fund. Any amount is highly appreciated. 😝#OnTheRoadAgainTourManila

— jai (@legalstylesx) May 19, 2014
6. Go to Manny Pacquiao. LOLJK!
Nako kng ninong ko lng si pacqiao ahh VIP ahhhhh i need money badly!!!!! #OnTheRoadAgainTourManila

— @PatrickSoriano (@_patricksoriano) May 19, 2014
7. Just talk to the 'rents. Promise them we'll be good this year, so they'll offer to buy the concert tickets.
Masinsinang pag uusap mamaya with daddy #OnTheRoadAgainTourManila 😭😭😭😭 Lord please last wish na to 😂😭

— Mariah Amurao (@marayeah_) May 19, 2014
Wishing all of us the best of luck for Friday, Candy Girls. Here's hoping we can all secure a ticket!
\\\\\\\\\\\\\\\\\\\\\\\\\\\\\\\\\\\\\\\\\\\\\\\\\\\\\\\\\\\\\\\\\\
Get the latest updates from candy!
subscribe to our newsletter!
////////////////////////////////////////////////////////////////
You know you'll regret it.
You don't even have to leave the house!
From digital art to photography to mixed media, Filipino artists show that creativity is never lost in our people.
Skip a makeup step with these beauty goodies!
Take pretty notes and study effectively with these tips!
Wait for a love like this. A love that is good to you, for you.
Are you up for this challenge?
Can't wait to see the actual gowns!