The struggle is real, Candy Girls. Imagine dealing with knowing that 5 (FIVE!!!) of our favorite Brit musical acts are going to be here next year and trying to come up with a good strategy to save up and watch all of them live! So of course, we went to Twitter to check if we're the only ones feeling like a total mess right now. Good thing we're all in this together!
1. Yeah, we can totes see the future.
British invasion this coming 2015 in MNL!!! #the1975 #bastille #thevamps #edsheeran #1d I'd be a beggar!!! I need donations!!!

— yherra (@flylikeadragon) September 19, 2014
2. We know, girrrrl, we know how you feel.
WHICH ORGAN SHOULD I SELL?! #EdSheeranMNL #TheVampsinMNL

— NIK (@cuddlewith5H) September 19, 2014
3. Despite everything, we still see the silver lining.
And I love the fact that #EdSheeranMNL is a lot more 'budget friendly' than the other concerts.👌

— Wondy (@_wonderwall23) September 19, 2014
4. If only we could have money instead of tears, we'll cry our hearts out for days and weeks and months even.
ADVERTISEMENT - CONTINUE READING BELOW
Lol time to save and cry at the same time #TheVampsinMNL

— FEB 1 FECK (@Tristansxhair) September 19, 2014
5. #CAPSLOCKPARAINTENSE. We're just thinking out loud.
WHAT BAKIT KABILIS MAGBENTA NG TIX LIKE WTH NEXT MONTH AGAD? WOW HA. NEXT YEAR PA CONCERT EH. WTHWTHWTWHTWHW #EdSheeranInManila

ADVERTISEMENT - CONTINUE READING BELOW

— Jessica Vi (@namelessjessss) August 25, 2014
6. WORD!
#EdSheeranMNL #TheVampsinMNL oh okay so everyones coming except the money in my wallet #FangirlLifeIsHard

— Elaine (@blessedeleynie) September 19, 2014
7. Okay, we didn't post this on Twitter, but this is how we reacted when we heard about this British invasion this morning: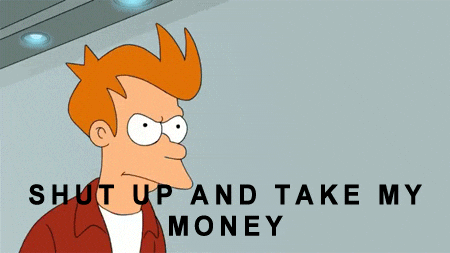 via giphy.com
ADVERTISEMENT - CONTINUE READING BELOW
How are you coping, Candy Girls? Let us know in the comments or tweet us @candymagdotcom. We always love hearing from you. :)