One of the most prominent social media content creators in the Philippines is Angel Dei Peralta. As of writing, she has 720K YouTube subscribers and 624K followers on Instagram and every day, her platform is continuously growing. If you're looking for local travel content or an ate-figure you can get some empowerment from, you should check out her channel.
Want to get to know her more? Here are a few fun facts you might not know about Angel Dei:
Angel Dei graduated from UP
ICYDK, Angel actually graduated college from the University of the Philippines Diliman. She took up BS Clothing Technology, a course where students learn to make their own garments. In an old tweet, Angel mentioned that thanks to her cramming skills, she can make a gown overnight! Impressive, right?
ADVERTISEMENT - CONTINUE READING BELOW
ADVERTISEMENT - CONTINUE READING BELOW
Angel is a certified Ilocana!
Angel Dei was born and raised in Ilocos Norte, where she stayed before moving to Manila for college. She proudly reps her Ilocana roots! If you watch her vlogs, you'll catch her Ilocana accent and even get to watch her speak the local language. You have to see this cute vlog of her talking to her boyfriend, Miguel Echano, only in Ilocano for 24 hours:
Angel owns a swimwear line called Savvy Swim
One known fact about Angel is how much she loves travelling (duh, she's a travel vlogger!) and beach destinations are her favorite. And since she loves soaking up the sun, her closet is probably filled with bikinis—some of which may be from her own swimwear line, called Savvy Swim. The bathing suits are locally made and are very high quality! Angel is a clothing tech graduate after all, so you can rest assured that these pieces are well-made.
ADVERTISEMENT - CONTINUE READING BELOW
Angel Dei is a proud fur mom!
Currently, Angel has four fur babies—a shih tzu named Amaya, and three persian cats named Tuti, Fury, and Tofu. Fun fact: Tofu is actually the child of her first two felines, hence the combined name.
She shares photos of them on her feed every once in a while but if you want to get updated, watch out for her IG stories—she always shares adorable videos of her pets!
ADVERTISEMENT - CONTINUE READING BELOW
Based on her vlog, you'll see that they've gotten closer over quarantine since Angel isn't travelling as much and is always there to play with them. Watch this cute video of a day in her life as a fur mom:
Angel Dei is the queen of body positivity!
Careers in the limelight, like being a social media content creator for example, are notorious for having many critics. Some might even say that it's inevitable for people to pick you apart if you choose this path; meaning, it's inevitable for people to make comments about your life—especially when it comes to physical appearance. And it's so easy to get fazed and fixated on these comments, but Angel Dei is one of the many vocal internet personalities who advocate for body positivity.
Angel has been very open about her journey to self-love. In one of her vlog segments, called #TopicOfTheDEI, she talked about how she gained her confidence. She said that she, too, has her fair share of insecurities, and there are times that her self-esteem gets the best of her. Like the true queen she is, she reminded her viewers that you should embrace your flaws and everyone has their own imperfections—what matters most is how you view yourself.
ADVERTISEMENT - CONTINUE READING BELOW
She's very open about getting her nose done.
And speaking of body positivity, Angel Dei is one of the few local vloggers who are very open about getting cosmetic surgery. She had a rhinoplasty done in 2019 at the Belo clinic and for those who are curious, yes, she vlogged the whole process. She has a three-part series uploaded on her channel—a video on the surgery itself, another on the healing process and big reveal, and lastly, a sit-down Q&A where she answered her followers' most pressing questions about the procedure. In one of her recent vlogs, she mentioned that her nose job gave her a confidence boost and she is more comfortable in her own skin now, more than ever.
She loves showing off her tattoos!
Aside from her fit physique, one thing you'll immediately notice when you see one of Angel Dei's many beach pics are her tattoos. Here are some of them:
ADVERTISEMENT - CONTINUE READING BELOW
The latin phrase "alis volat propriis" inked on her side, which means "she flies with her own wings." According to her, this is a symbol of her independence.
The wolf tattoo on her rib symbolizes her strength as a woman.
ADVERTISEMENT - CONTINUE READING BELOW
She also has an outline of a woman on her tricep.
And her latest ink is a heart-shaped wave that she got during her recent trip to Siargao.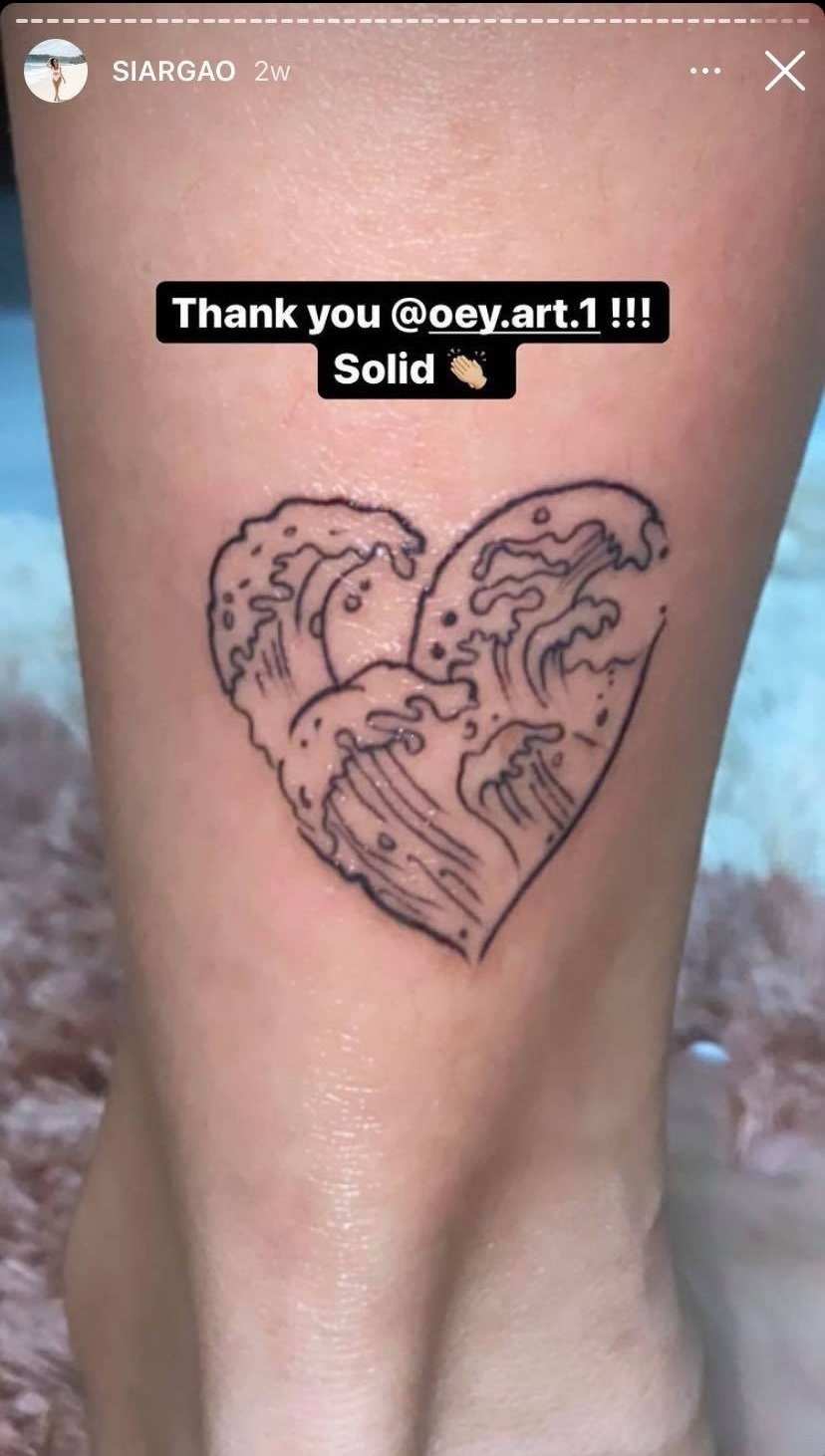 ADVERTISEMENT - CONTINUE READING BELOW
#WATCHCANDY: Subscribe to Candy Magazine on YouTube and follow @candymagdotcom on Tiktok for guides to college life and beyond.