All Access
7 Things We Love About The Fault In Our Stars' "It's A Metaphor" Clip
It was too good to not have its own post. So here.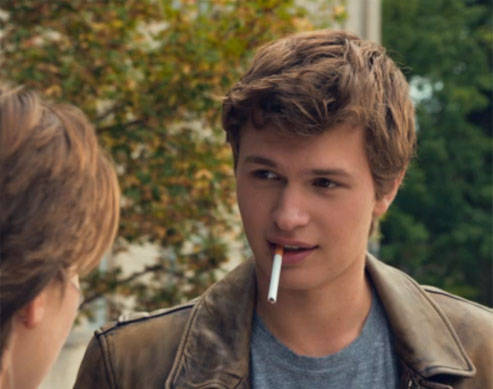 PHOTO 20th Century Fox
Confession: we all just huddled around the computer to watch The Fault In Our Stars' new clip fresh from the MTV Movie Awards. Twice. And if we didn't need to work, we would probably have it on loop. All day.
There are so many things to love about this clip. We get to know a bit more about Augustus Waters (Ansel Elgort) and Hazel Grace Lancaster (Shailene Woodley) in this 1-minute sneak peek and fall in love with their characters all over again.
We love how casually Gus asks Hazel Grace out to a movie. And how he's quite persistent. "No, I mean now." Girl, just say yes!
And can we talk about how adorable he calls her "Hazel Grace." *squee*
That little smirk Gus makes at the 30-second mark when Hazel freaks out about his cigarette. Y SO ADORABLE?
"You just ruined this whole thing." "The whole thing?" "Yes, this whole thing!" "Aww, man." These two are just the cutest! We can't wait to see how their chemistry plays off onscreen.
And you can't help but feel for Hazel, feeling so strongly about smoking and not being able to breathe. It does suck!
That "hmm?" she does with her eyebrows when Gus says cigarettes don't hurt you unless you light them.
And when Gus explains and says at the end, "a metaphor" with his hands, we're already dying. DEAD.
We have no idea how we're going to handle ourselves when this movie comes out, but we already know we're going to be such a mess! We absolutely can't wait to see it and in the meantime, we'll be replaying this clip till then.
The Fault In Our Stars in cinemas June 5th.
She's taking home a lot more than just the crown.
Jack is part of Candy Rookies 2020, a group of influential and aspirational college students handpicked to represent #GenerationCandy in the year to come.
Jocel Ninobla, Aidaine Laxa, and Darius Venerable took home gold and silver medals for the country.
Jihyo, Nayeon, and Jeongyeon dropped hints of a Manila fan meet.
Because we know you can't get enough of him!
Out-of-town barkada trip, anyone?
Sixteen exam takers from UST also made it in the Top 10 topnotchers.
Because sometimes an emoji just won't cut it.
Know that there's a huge difference between being assertive and being bossy.
"Every time I'm on stage, I feel like I'm soaring."
A total of 79 countries participated in the survey.