After watching The Fault in Our Stars today, you probably look like this.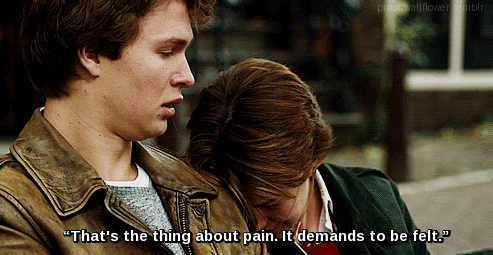 via proud-wallflower.tumblr.com
Or this.
Or, let's be honest, this.
ADVERTISEMENT - CONTINUE READING BELOW
We know because we look and feel exactly the same way. Pain demands to be felt, after all. Here are some words of encouragement that might help you find the rainbow after the rain, as Gus's parents would say. </3
However little their infinity might be, at least Hazel and Gus had that little infinity. Remember what Hazel's mom said? She won't stop being a mom if when Hazel dies—the same way that Hazel won't stop loving Gus (big, fat spoiler alert!) now that he's gone.

How many couples can say that they eulogized each other? Hazel's eulogy for Gus and vice versa had me feeling NOT OKAY the most.


via hqlines.tumblr.com

You endured months of teasers and interviews, and now that you've seen the movie, you don't know what to do with yourself. I say rewatch it at least two times—you miss a lot of things when you're busy blowing your nose or squealing internally.

Also part of your post-TFIOS therapy is reading the book again while snacking on Dutch cheese sandwiches and orange juice. And playing the feelsy OST, of course.


via ianoshea.tumblr.com

Tumblr is there for you. Memes are always good for the soul.

There's still a lot of John Green goodness to obsess about, like the upcoming movie adaptation of Paper Towns. Huge bonus: Nat Wolff, who plays Isaac in TFIOS, plays the lead in this one!

Remember, you can still watch Shailene Woodley and Ansel Elgort together on the big screen when Insurgent and Allegiant come out. Of course it's not the same because they play siblings in the Divergent trilogy, but it's probably the next best thing! Just keep this interview in mind and it's all good.

Shailene: Play my boyfriend or my brother in a movie?

Ansel: Your boyfriend.

Shailene: *cute little but of course shrug*
The Fault in Our Stars is now showing in cinemas.