All Access
7 Sad Quotes from Inside Out
"I'm too sad to walk. Just give me a few... hours?"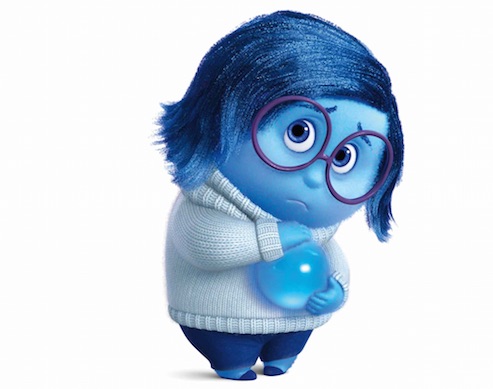 PHOTO Walt Disney Company
It is a truth universally acknowledged that when you go to see a Pixar movie, you better bring tissue because at some point you will be tearing up. It is a truth proven once again in Inside Out, which introduces us to the five Emotions in 11-year-old Riley's head: Joy, Sadness, Anger, Disgust, and Fear. Joy is the responsible—if slightly controlling—leader of the squad, and all she wants is for Riley to be happy. But she and Riley will discover, as we all do, that you can't feel joy without sadness. Without sadness, there's no room to cry and release your frustrations, no room to regroup and take stock of the situation. Without sadness, indifference isn't far behind, and what's sadder than that?
With that in mind, here are some of the best, most relatable lines of Sadness, who has stolen our hearts with her no-filter thoughts.
ADVERTISEMENT - CONTINUE READING BELOW
1 When it gets too much.
"Crying helps me slow down and obsess over the weight of life's problems."
2 When you're just drained from everything.
"I'm too sad to walk. Just give me a few... hours?""
3 When you feel FOMO.
"Bye, friendship. Hello, loneliness."
4 When your best just wasn't good enough.
"Aww, participation award."
5 When you don't feel like talking to anyone.
"Is it all going to be so interactive?"
6 When you feel out of place.
"I don't like it here."
7 When you feel like a broken record.
"Sorry, I went sad again, didn't I?"
There, there, it'll be all right. All together now: "Triple Dent Gum will make you smile / Triple Dent Gum it lasts a while!" (Sorry.)
Inside Out is now showing in cinemas.
Here's a list of amazing, albeit fictional, personalities from another world that inspire us to be our authentic selves.
I will have to say that it is by far one the best decisions I have made in my whole life.
Isa is part of Candy Rookies 2020, a group of influential and aspirational college students handpicked to represent #GenerationCandy in the year to come.
It's the best time to pick up a new hobby and put those notebooks to use.
We can't handle this breakup!
For days when you need an instant outfit inspo that's still campus-appropriate.
It could very well be one of the world's largest volcanoes.
From consistently badmouthing another friend behind their backs to making snide comments sneakily disguised as compliments, here's how to deal with a tricky friendship.
From sisig to bulalo, the North has a lot to offer.
Even college students like us can apply for freelance creative jobs while we're still going for that diploma!
These simple practices, when done consistently, end up being worth a lot.
It can actually *shatter* your cartilage.