1 The Notebook
If you're in the mood for: Nicholas Sparks
No list would be complete without some Nicholas Sparks. Catch Rachel McAdams in the crown jewel of all Nicholas Sparks dramas as Allie, who's love affair with Noah (played by her then real life boyfriend, Ryan Gosling) defied time, dated Southern social norms, and old age. Before Stonefield, there was McGosling and this movie shows their incredible chemistry (which also should have lasted a lifetime).
For more: Dear John features Amanda Seyfried and Channing Tatum to prove that even with speed bumps on the road (more war, more letter-writing, and a Husband For the Mean Time), a solid love will wait for the right time to ripen.
2 Lovely, Still
If you're in the mood for: Cute, but sick old people
Did you love 50 First Dates? Prepare yourself for the sadder and older version of that movie with Lovely, Still. Go "aww' and stifle back sniffles as a husband and wife get to know each other and fall in love over and over because the husband is suffering from Alzheimer's disease.
For more: Away From Her in case you want to see a version where it's the wife who's suffering from the disease. Watch another take on old people fighting to stay in love against it all. Both sad, both beautiful, and a testament to lasting love.
3 Il Mare
If you're in the mood for: Reading subtitles while crying
Don't let the Italian title confuse you; this Korean film was so good it got adapted into an American version. Catch the original to see the time-and-place-defying effects of love that connects the two characters through their magical Lake House. Also, the house is totes pretty.
ADVERTISEMENT - CONTINUE READING BELOW
For more: Remembrance is a German film that spans world wars and lying families. This movie proves that not even scheming moms and Nazi concentration camps can keep true love from outlasting it all.
4 Letters to Juliet
If you're in the mood for: Lots of old-school letter writing
The awesome thing about this movie is you've got two love stories for the price of one! Amanda Seyfried (again!) plays Sophie, who acts as matchmaker to old lovers torn apart, Claire and Lorenzo. As she brings them back together and rekindles their love, she finds herself questioning her current relationship, as well. Watch out for baby Taylor Swift's song "Love Story" featured in the movie.
For more: P.S. I Love You also features letter writing but from beyond the grave as Holly receives letters from her dead husband, Gerry, encouraging her to live on beyond his death and accept life without him. Sounds awful but totally uplifting.
READ: 5 of the Best Breakup Movies You Can Watch For Fun This Month
5 One Day
If you're in the mood for: Love after life with switching points of view
Visiting Emma and Dexter one day every year of their lives, this movie shows how love can start, break down, mend itself and stay on for the rest of their lives. Despite the breadth of years covered, the film still focuses on staying in love in the present, each and every day.
For more: Atonement tells the love story Celia and Robbie, through the eyes of Celia's younger sister Briony. Though their romance may not have lasted very long, it lived eternal in the pages of Briony's book. Bonus points for Keira's amazing wardrobe.
6 About Time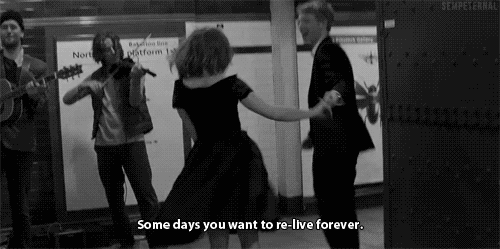 via honeyofmyheart.tumblr.com
If you're in the mood for: Non-scientific time travel
Watch as Bill Weasley Tim travels back in time to repeat or re-do romantic or crucial moments in his love story with Mary only to find out that there are consequences to rewriting history (he should have asked Hermione!). Spot other Harry Potter alumni, Bill Nighy (Rufus Scrimgeour) who plays Tim's dad! Accio tissues for all the crying you'll be doing!
For more: The Time Traveler's Wife cements the fact that Rachel McAdams likes her movies with a time-travel twist. Prepare the tissues as Claire meets her future time-hopping husband Henry as a child and falls in love with him throughout her lifetime.
7 Titanic
If you're in the mood for: #EpicLove
One of the most epic scenes in the film has the lead characters hanging on to a floating door in the middle of a freezing ocean telling each other not to let go. Between chattering teeth and Leonardo Di Caprio being very cute, it's not difficult to see how Rose and Jack could fall in love despite the tragedy that awaits them.
ADVERTISEMENT - CONTINUE READING BELOW
For more: The Curious Case of Benjamin Button has the lead character ageing in reverse, thus making it difficult for the love of his life to grow old with him. Come for the amazing CGI effects, stay for the enduring love.
Which movies have you watched and are you watching, Candy Girls? Let us know in the comments or tweet us @candymagdotcom. :)