1 The Breakup Playlist (now showing)
Trixie is a law student who isn't aware of the musical genius in her; Gino is a long-time musician itching to make a name for himself. He sweet-talks her into becoming a part of his band and his life, but success comes with a price, and insecurities play a big part in almost ruining their relationship. Sarah Geronimo and Piolo Pascual star in this heartbreaking movie by local cinema's own couple peg, Antoinette Jadaone (That Thing Called Tadhana) and Dan Villegas (English Only, Please).
Pitch perfect moment: When Trixie and Gino wrote what would become the band's breakout hit, while melting our hearts with some grade A flirting. Teehee!
2 Nick and Norah's Infinite Playlist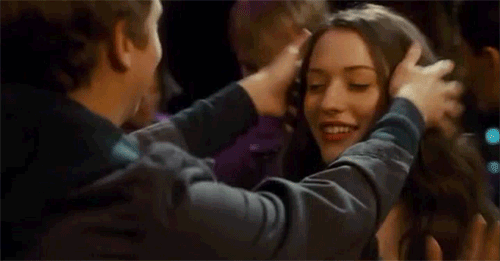 via iamhissunshine.tumblr.com
ADVERTISEMENT - CONTINUE READING BELOW
ADVERTISEMENT - CONTINUE READING BELOW
Norah (Kat Dennings) is the no-nonsense, straight-edge daughter of a big-time music producer; Nick (Michael Cera) is a struggling musician who just got dumped by the love of his life—who happens to be Norah's nemesis. They meet on one serendipitous night, the kind with enough magic to turn a five-minute fake relationship into one for keeps.
Pitch perfect moment: While looking for Norah's missing bestie in a bar, "their song" comes on, resulting in a super cute dorky dance-off capped off by a dance-wich.
3 Once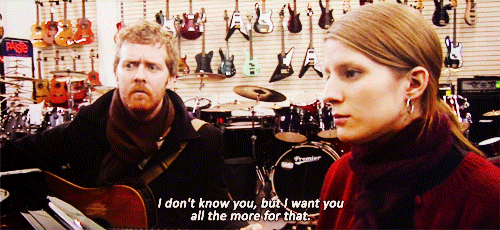 via gifthescreen.tumblr.com
ADVERTISEMENT - CONTINUE READING BELOW
He's a Broken Hearted Hoover Fixer Sucker Guy; she's a flower seller with a broken vacuum cleaner. They soon start making music so raw and real that it's no wonder "Falling Slowly" won an Oscar for Best Original Song, and the movie was eventually turned into an award-winning Broadway musical.
Pitch perfect moment: When he taught her how to play "Falling Slowly" on a borrowed piano and he played the guitar. "Take this sinking boat and point it home, we've still got tiiime."
4 Begin Again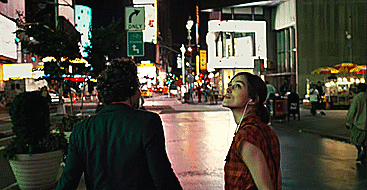 via beginagainmovie.tumblr.com
ADVERTISEMENT - CONTINUE READING BELOW
From the director and writer of Once, John Carney, comes another music-driven love story. Dan (Mark Ruffalo) is a record label exec struggling to keep up with the times; Gretta (Keira Knightley) is an unassuming singer-songwriter, whom Dan signs to his label on the spot.
Pitch perfect moment: When they walked around the city all night and got to know each other on a deeper level by listening to one music player with the use of a headphone splitter.
5 Almost Famous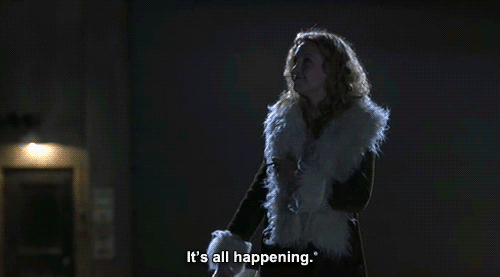 via youreyeslikewildflowers.tumblr.com
ADVERTISEMENT - CONTINUE READING BELOW
William (Patrick Fugit) is a baby-faced high school student who scores the gig of a lifetime: follow the band Stillwater for Rolling Stone magazine. Penny (Kate Hudson) is the queen bee of the Band-Aids, and is in love with Stillwater's guitarist. They share a love for the rock and roll scene, which eventually chews them up and spits them out.
Pitch perfect moment: After a bad night out, Elton John's "Tiny Dancer" breaks the icy tension on the tour bus. Nothing a group sing-along can't fix, right?
6 Music and Lyrics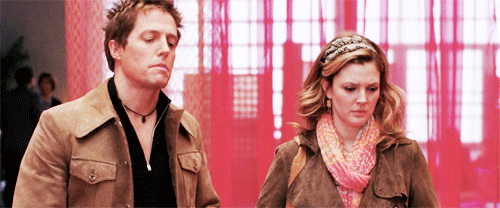 via livingthegifs.tumblr.com
ADVERTISEMENT - CONTINUE READING BELOW
Alex (Hugh Grant) is a washed-up pop star struggling to write a song for a superstar. He finds his savior in lyrically gifted Sophie (Drew Barrymore), who's temporarily watering his plants at home.
Pitch perfect moment: When they record "Way Back Into Love" for the first time and Alex tells Sophie, "Just a little bit louder because this song is intended for humans. Okay?" Haha!
7 Pitch Perfect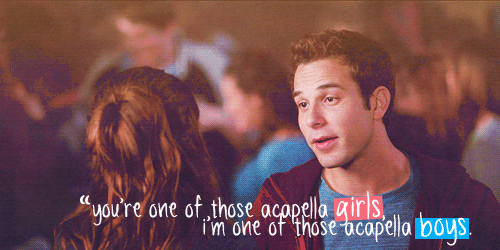 via ice-iss.tumblr.com
ADVERTISEMENT - CONTINUE READING BELOW
Beca (Anna Kendrick) is one of those acapella girls, Jesse is one of those acapella boys, and together they're going to have aca-children.
Pitch perfect moment: It's hard to pick one out of all the aca-moments, but we're going with the riff-off ("Mickey," "Like A Virgin," etc.). The moment Beca started rapping "No Diggity" is probably the moment Jesse fell for her. Go ahead and re-watch that scene and tell us that that face is not the face of a man in love. So cute!