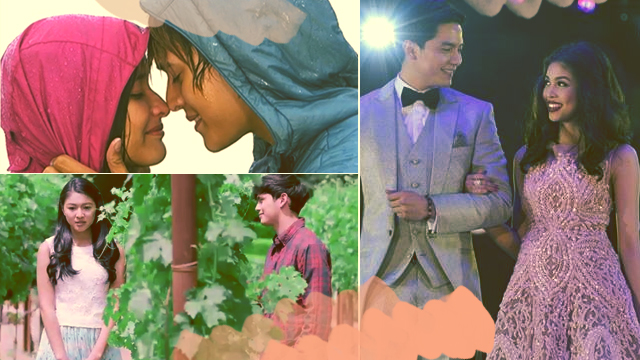 These scenes made us giddy with joy and had our serving of kilig throughout 2015. Apologies to the shoulders and arms we've hurt during those moments when we can't take the kilig anymore.
1. Most Approved Kiss on On the Wings of Love
TBH, we could fill up this whole list by including our favorite OTWOL moments, but then we'll probably reserve that for a different list instead. What we chose to represent the show here is one of its most buzzed about moments. After playing fake husband and wife, the final word is in to prove if Clark and Leah did well with their convincing. And when they got approved, Cleah did a kiss that even surprised the both of them. It's an integral part to the show's storyline and definitely one of the show's most memorable moments. We've probably hit the replay button a thousand times over that out-of-nowhere kiss.
ADVERTISEMENT - CONTINUE READING BELOW
2. AlDub's Ang Tamang Panahon on Eat Bulaga
If this was a scripted series, then this would be its series finale. Everything led up to this moment that historically filled the 55,000 seats of the Philippine Arena last October 24. This event will certainly go down as one of the most memorable in Philippine TV landscape. Not only did it earn the most tweets of any event in the world (at 41 million tweets), the show also featured no commercial throughout the whole special. It might have been the end of them not talking to each other anymore, but it was just the beginning of an iconic pairing that has found its place in Philippine entertainment.
3. Xander's marriage proposal to Agnes on Forevermore
Two years after they met each other again, it's the perfect answer to the question if there really is such a thing called forever. Under the rain in the prominent trademark setting of the show, Xander asks Agnes the million dollar question: if he'll marry her. While she really didn't answer it instantly, Agnes followed it up with a "yes" ending with the now engaged couple in a nose to nose scenario. In that moment indeed, even we believe that there really is a forever.
4. Angelo and Yna met for the first time on Pangako Sa 'Yo
It certainly was a case of a memorable first impression. In the 2015 remake of this teleserye classic, Daniel Padilla and Kathryn Bernardo play the characters of Angelo and Yna respectively. Their first actual encounter involves Yna bumping her head off to a resting Angelo, shocking him, which led to him falling down the raft and losing his consciousness. After Yna rescued him, hers is the first face he sees and the sparks just fly over the roof. Add the fact that this is Daniel and Kathryn's most mature turns yet; thus we really see nobody more fitting to take these roles than the teen king and the teen queen.
5. The last Delena kiss on The Vampire Diaries
It's a bittersweet moment, if ever there was one as we see Delena one last time–dancing under the moonlight, confessing their love, and ending with a kiss. Our feelings are probably more heightened by the fact that we know both Ian Somerhalder and Nina Dobrev's real life history, so consider this a moment we will never forget.
ADVERTISEMENT - CONTINUE READING BELOW
6. Barry and Patty's first date on The Flash
So yeah, we've probably seen Barry being paired with different girls as the show progresses, but the one who clicked with him the most (by far) is probably Patty. Their first date was sort of awkward but definitely memorable–between him not being able to see things clearly, literally that is, and Cisco being a unique third wheel to the scenario. But there's no better ending to that than their innocent kiss to cap off the night.
7. Oliver's proposal to Felicity on Arrow
Christmas is indeed the season of love as Oliver's long overdue proposal to Felicity finally happened. After some initial holdbacks and wrong timings, things finally fell into place. Thus, during the campaign holiday party, Oliver popped the question already and as expected, it's a resounding yes! We don't know what will happen after this, but for now let's cherish this sweet moment that a lot of us Olicity fans waited for quite some time to happen!
ADVERTISEMENT - CONTINUE READING BELOW
What was your favorite TV moment from this year? Share them with us in the comments! :)