Watching too much cheesiness can sometimes be irritating, so we need palate cleanser to make us love the drama again. That's where K-Drama bromances come in and save us!
Those times when they just can't stop bickering and when they look too cute making fun of each other make you think if they're actually the lead couple of the show or not. So we made a list dedicated to all those times the relationship between these guys made us all giggle with kilig!
Goblin's Kim Shin and Wang Yeo
The Goblin and the Grim Reaper may actually be the cutest K-Drama bromance we've ever seen! Kim Shin and Wang Yeo's friendship is definitely the number one reason why this show was a hit. For those times they beat all the squad out there with their ridiculous moments (and fights!) together, we think these two deserve their own comedy show!
ADVERTISEMENT - CONTINUE READING BELOW
Descendants Of The Sun's Yoo Si Jin and Seo Dae Yeong
There's no such thing as space between these two. Well, it's so obvious since the beginning of the drama that Yoo Shi Jin is super clingy to Seo Dae Yeong and no one's definitely complaining about it. ♥
Boys Over Flowers' Notorious F4
This K-Drama gave everyone kilig feels with Jan Di And Gu Jun Pyo's heartfelt moments. But let us not forget the K-Drama's four handsome boys that made us scream our hearts out so much: Gu Jun Pyo, Yoon Ji Hoo, So Yi Jung, and Song Woo Bin. They're not just rich, handsome, and *coughs* arrogant boys. They're also the original squad goals! Sorry, TSwift!
Weightlifting Fairy Kim Bok Joo's Jung Joon Hyung and Jo Tae Kwon
These duo may not always be together because Joon Hyung always wants his alone time with Bok Joo, but they're surely there for each other when things get out of hand. Tae Kwon's always there to back Joon Hyung up when he's in trouble (which is most of the time), and Joon Hyung knows how to return the favor.
ADVERTISEMENT - CONTINUE READING BELOW
You're Beautiful's N.JELL
The K-Drama boy band of all time! They may have been involved in the most unfortunate thing a squad can experience, which is falling in love with the same girl! But luckily, they still maintained their friendship all throughout the drama. Yaaaaaaay!
A Gentleman's Dignity's Squad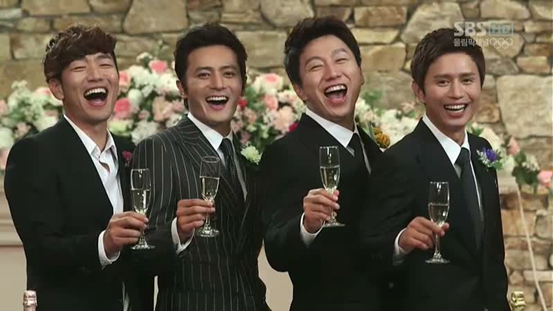 Kim Do Jin, Choi Yoon, Im Tae San, and Lee Jung Rok are the members of the ahjussi squad, LOL! Kidding aside, these four gentlemen are the legendary squad because they've been friends for 20 years. What we love most about this K-Drama is that they entirely focus on the friendship of this squad: they have different personalities, but they just click perfectly. Plus, they're all successful in their on way. Friendship goals, am I right?
ADVERTISEMENT - CONTINUE READING BELOW