All Access
7 Collaborations That Need To Happen ASAP!
It would be a dream come true to have these artists perform as one.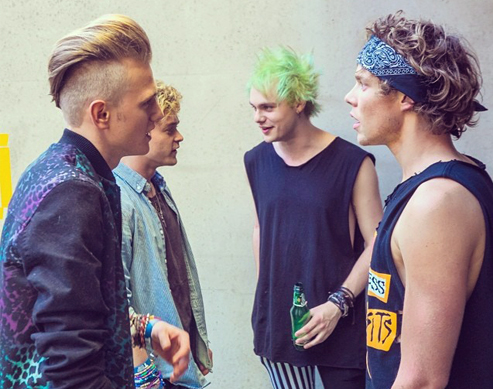 1. 5SOS x The Vamps. We're coming clean, after we saw the photo below on The Vamps' Instagram, we suddenly thought of writing this article. After all, wouldn't it be nice to have bands and artists you love performing together on one stage. So what are these guys talking about anyway? We refuse to believe it was just a "quick chat about hairspray and bearded dragons," as the caption said. Maybe it's about a new song or plans of getting together in the future? Whatever it is, 5 Second of The Vamps should definitely happen! Are we right or are we right?
2. One Direction x 5SOS. The 5SOS cuties have been supporting One Direction for the Take Me Home tour, but wouldn't it be nice to have them actually perform together? Imagine 9 of the world's cutest guys singing for you! *shriek*
3. The 1975 x One Direction. The 1975 guys are writing for 1D, but here's an idea: Why don't they all just record the song or those songs together? We totes think that's a better idea.
4. Ed Sheeran x Coldplay. We just need to prepare ourselves for whatever really sad or heartbreaking song they come up with together. Although we're really up for the challenge of listening to their track, if ever this happens.
5. Taylor Swift x Jason Mraz. C'mon, that "I'm Yours" version they did together was so rad and we can't get enough of it. We hope they do another song, a new song together!
6. Zedd x Ansolo. Why have one handsome DJ when you can have two, right? That would be cooler and that would totes bring the house down.
7. Ellie Goulding x Birdy. Ah, their haunting voices will seriously give us an eargasm if they decide to do a song together, whether it's for a movie or not.
And for the sake of nostalgia, this has to happen: *NSync x Backstreet Boys. These boybands have been pitted against each other, since those days when their songs ruled the airwaves. Frankly, we don't want to choose between them. So why don't they just join forces and do songs and those rad dance moves as one?
Which artists do you want to work together, Candy Girls? Tell us in the comments or tweet us @candymagdotcom!
\\\\\\\\\\\\\\\\\\\\\\\\\\\\\\\\\\\\\\\\\\\\\\\\\\\\\\\\\\\\\\\\\\
Get the latest updates from candy!
subscribe to our newsletter!
////////////////////////////////////////////////////////////////
Skip a makeup step with these beauty goodies!
Take pretty notes and study effectively with these tips!
Wait for a love like this. A love that is good to you, for you.
Are you up for this challenge?
Can't wait to see the actual gowns!
The up-and-coming musicians and childhood friends talk about their music, creative process, and why it's important to be woke.
Because when it comes to a great lip game, there's really no need to splurge!
A different language sheds new light on everyday terms.