All Access
7 Collaborations That Need To Happen ASAP!
It would be a dream come true to have these artists perform as one.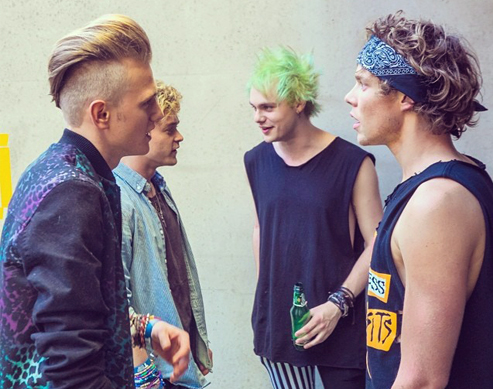 1. 5SOS x The Vamps. We're coming clean, after we saw the photo below on The Vamps' Instagram, we suddenly thought of writing this article. After all, wouldn't it be nice to have bands and artists you love performing together on one stage. So what are these guys talking about anyway? We refuse to believe it was just a "quick chat about hairspray and bearded dragons," as the caption said. Maybe it's about a new song or plans of getting together in the future? Whatever it is, 5 Second of The Vamps should definitely happen! Are we right or are we right?
2. One Direction x 5SOS. The 5SOS cuties have been supporting One Direction for the Take Me Home tour, but wouldn't it be nice to have them actually perform together? Imagine 9 of the world's cutest guys singing for you! *shriek*
3. The 1975 x One Direction. The 1975 guys are writing for 1D, but here's an idea: Why don't they all just record the song or those songs together? We totes think that's a better idea.
ADVERTISEMENT - CONTINUE READING BELOW
4. Ed Sheeran x Coldplay. We just need to prepare ourselves for whatever really sad or heartbreaking song they come up with together. Although we're really up for the challenge of listening to their track, if ever this happens.
5. Taylor Swift x Jason Mraz. C'mon, that "I'm Yours" version they did together was so rad and we can't get enough of it. We hope they do another song, a new song together!
6. Zedd x Ansolo. Why have one handsome DJ when you can have two, right? That would be cooler and that would totes bring the house down.
7. Ellie Goulding x Birdy. Ah, their haunting voices will seriously give us an eargasm if they decide to do a song together, whether it's for a movie or not.
And for the sake of nostalgia, this has to happen: *NSync x Backstreet Boys. These boybands have been pitted against each other, since those days when their songs ruled the airwaves. Frankly, we don't want to choose between them. So why don't they just join forces and do songs and those rad dance moves as one?
ADVERTISEMENT - CONTINUE READING BELOW
Which artists do you want to work together, Candy Girls? Tell us in the comments or tweet us @candymagdotcom!
I will have to say that it is by far one the best decisions I have made in my whole life.
Isa is part of Candy Rookies 2020, a group of influential and aspirational college students handpicked to represent #GenerationCandy in the year to come.
It's the best time to pick up a new hobby and put those notebooks to use.
We can't handle this breakup!
For days when you need an instant outfit inspo that's still campus-appropriate.
It could very well be one of the world's largest volcanoes.
From consistently badmouthing another friend behind their backs to making snide comments sneakily disguised as compliments, here's how to deal with a tricky friendship.
From sisig to bulalo, the North has a lot to offer.
Even college students like us can apply for freelance creative jobs while we're still going for that diploma!
These simple practices, when done consistently, end up being worth a lot.
It can actually *shatter* your cartilage.
Bordeos becomes meat of online talk while helping out in family's meat business.