Passengers (January 4)
Jennifer Lawrence and Chris Pratt find love in the hopeless outer space. Woken up 90 years too early, they have to figure out what went wrong and how to save the other passengers on what is supposed to be a 120-year trip to a new planet.
Sing (January 4)
Animals have got talent in this movie about a singing competition featuring the voices of Scarlett Johansson, Tori Kelly, Taron Egerton, Reese Witherspoon, Seth MacFarlane, and more.
Collateral Beauty (January 4)
What would you do if Love, Time, and Death came up to you on the street to talk about your thoughts and feelings? A father who lost his child faces this peculiar situation in this movie starring Will Smith, Keira Knightley, and more.
Assassin's Creed (January 4)
It's the addictive video game come to life starring your boy, Michael Fassbender.
Incarnate (January 4)
A different kind of exorcism, this "eviction" is led by a scientist who uses science and technology to drive away a demon possessing a young boy's body.
ADVERTISEMENT - CONTINUE READING BELOW
Patriots Day (January 11)
The story behind the Boston Marathon Bombings. Bring tissues.
La La Land (January 11)
After months of waiting, we'll finally get to watch Ryan Gosling and Emma Stone fall in love again in this musical that's got critics singing its praises.
Live by Night (January 18)
Ben Affleck does triple duty as actor, director, and screenwriter of this gangster drama set in the Roaring '20s.
xXx: The Return of Xander Cage (January 18)
A blast from the past starring Vin Diesel with our girl crushes Nina Dobrev and Ruby Rose.  
Split (January 18)
Two's a party, 23's a crowd. James McAvoy plays a man with 23 personalities, one of which abducts three girls.
Supernatural: The 9th Life of Louis Drax (January 18)
A young boy falls off a cliff and is proclaimed dead for two hours. Was it really an accident or not? His psychologist investigates.
Sleepless (January 18)
An undercover cop goes to the dark side when his son is kidnapped.
ADVERTISEMENT - CONTINUE READING BELOW
Monster Trucks (January 25)
Lucas Till drives a literal monster truck because of course he does.
The Great Wall (January 25)
It's Matt Damon and the Great Wall of China vs. supernatural forces.
Bastards (January 26)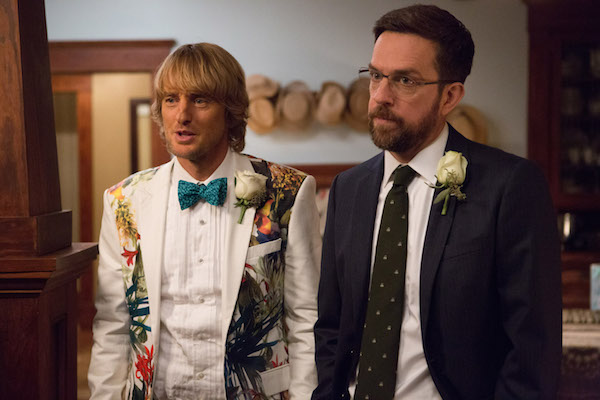 Finding out that their dad is still alive, contrary to their lifelong belief, these twins go on the road trip of their lives to meet him.
ADVERTISEMENT - CONTINUE READING BELOW
Resident Evil: The Final Chapter (February 1)
Alice is back and ready to infiltrate The Hive, where the big bad Umbrella Corporation is gearing up to take care of all the remaining survivors like Alice.
Why Him? (February 1)
A hilarious meet the parents situation featuring James Franco, Bryan Cranston, and Zoey Deutch.
Rings (February 8)
The OG thriller gets an upgrade with the new discovery of a movie within the movie.
John Wick: Chapter 2 (February 8)
Keanu Reeves a.k.a. John Wick resurfaces to settle an old score.
The Lego Batman Movie (February 9)
Bruce Wayne/Batman learns to play nice and team up. Could Robin be any cuter???
A Cure for Wellness (February 15)
Going to a wellness center for work seems like the dream, but this particular center is turning out to be quite the nightmare.
Arrival (February 15)
This thriller about the back and forth between humans and extraterrestrials shows just how important (and hopefully life-saving) proper communication is.
ADVERTISEMENT - CONTINUE READING BELOW
Fist Fight (February 22)
Three words: Teachers gone wild!
God Particle (February 22)
Reportedly part of the Cloverfield series, God Particle follows a group of astronauts fighting for survival and facing the impossible. Yep, it definitely has the Cloverfield vibe.
Hidden Figures (February 22)
Behind every astronaut is a brilliant mathematician, and in NASA circa 1960s, it happens to be a group of female mathematicians led by three African-American women played by Taraji P. Henson, Octavia Spencer, and Mary Jackson.
Logan (March 1)
The return of Wolverine.
T2: Trainspotting (March 1)
Another blast from the past starring the original cast of Trainspotting, including Ewan McGregor and Elementary's Jonny Lee Miller.
A Dog's Purpose (March 1)
Who says only cats have nine lives? Join this sweet dog voiced by Josh Gad as he goes from one lifetime with an owner to another. 
Kong: Skull Island (March 9)
Tom Hiddleston is back! This time, he's got a new, ginormous, mythical playmate.
ADVERTISEMENT - CONTINUE READING BELOW
Beauty and the Beast (March 15)
We can't wait to be the guest at this party hosted by Emma Watson and Dan Stevens.
CHiPS (March 23)
A remake of the '80s cop series starring Dax Shepard and Michael Peña.
Ghost in the Shell (March 29)
Hollywood's take on the beloved Japanese franchise starring Scarlett Johansson.
Smurfs: The Lost Village (March 29)
This new chapter in the Smurfs saga follows Smurfette and her squad to a mysterious village inside the Forbidden Forest.
Going in Style (April 6)
You've seen heist movies, but we bet you haven't seen one led by a group of adorable grandpas who just want their pension back.
The Boss Baby (April 15)
If you have a younger sibling, you can probably relate to seven-year-old Tim who's feeling jealous and suspicious of his new baby brother. But unlike most cases, it turns out that Tim's suspicions have legit basis!
Fast & Furious 8 (April 15)
ADVERTISEMENT - CONTINUE READING BELOW
The gang's back, and this time, the big bad seems to be Dom (Vin Diesel) himself.
Guardians of the Galaxy Vol. 2 (April 26)
We're so excited for the return of Star-Lord, Gamora, Drax, Rocket, and Baby Groot. Or as Baby Groot would say, I am Groot. I! Am! Groot! 
Baby Driver (April 26)
ADVERTISEMENT - CONTINUE READING BELOW
We don't know much about Baby Driver, but we know we'll be watching for the love of Ansel Elgort.
Gifted (May 3)
Chris Evans plays a different kind of superhero: an uncle fighting for custody of his gifted niece. Also: This is the movie where Chris met his girlfriend, comedian Jenny Slate!
Baywatch (May 10)
Baywatch? With Zac Efron and more beautiful human beings starring in this movie, it's more like Baewatch.
Snatched (May 10)
A mother-daughter trip with Amy Schumer and Goldie Hawn? We're so in.
King Arthur: Legend of the Sword (May 11)
Who knew King Arthur had such a wicked sense of humor? This latest take on the legend looks like a riot to watch.
Diary of a Wimpy Kid: The Long Haul (May 17)
Convince the family to go on a road trip to great grandma's, which is near a gamer convention. Sounds easy, right? Not when you're Greg!
Alien: Covenant (May 17)
ADVERTISEMENT - CONTINUE READING BELOW
Director Ridley Scott takes you to a scary new world in this latest chapter of the Alien saga.
Everything, Everything (May 18)
How excited are you for the adaptation of Nicola Yoon's novel? It stars Amandla Stenberg from The Hunger Games and Nick Robinson from Jurassic World.
Pirates of the Caribbean: Salazar's Revenge (May 24)
ADVERTISEMENT - CONTINUE READING BELOW
Captain Jack Sparrow (Johnny Depp) is back for another adventure with a new crew including Kaya Scodelario and Brenton Thwaites.
Life (May 24)
Life, the extraterrestrial, human-threatening kind.
Wonder Woman (June 1)
Finally, the spotlight is on the warrior princess. Hooray for another heroine to look up to!
The Mummy (June 7)
With Tom Cruise starring in this movie and with that airplane sequence, it feels like a Mission: Impossible x The Mummy crossover.
Despicable Me 3 (June 14)
Gru's latest nemesis is a former child star who's hardcore cosplaying the character he played in the '80s.
Transformers: The Last Knight (June 21)
The Transformers franchise introduces a medieval backstory in this movie starring Mark Wahlberg.
Spider-Man: Homecoming (July 5)
Peter Parker gets by with a little help from his friends and Tony Stark.
War for the Planet of the Apes (July 12)
Apes vs. humans, part three.
Dunkirk (July 20)
A story about British troops trapped by the sea; also known as Harry Styles's first movie!
ADVERTISEMENT - CONTINUE READING BELOW
Jumanji (July 28)
Doctor Who's Karen Gillan joins Dwayne Johnson in the remake of a childhood fave.
Annabelle 2 (August 10)
The stuff(ed toy) of nightmares.
The Emoji Movie (August 11)
Ever wonder what life's like for the emojis you use every day? Here's their untold story.
Cars 3 (August 23)
Lightning McQueen tries to keep up with all the fast newcomers.
ADVERTISEMENT - CONTINUE READING BELOW
It (September 7)
Just when you thought clowns couldn't be scarier, Stephen King's Pennywise is an actual, human-snacking monster just posing as a clown.
The Lego Ninjago Movie (September 21)
Two Lego movies in one year? We do deserve nice things!
Blade Runner 2049 (October 4)
Past meets present in this sequel starring Ryan Gosling and Harrison Ford.
Kingsman 2: The Golden Circle (October 4)
Eggsy's a full-fledged Kingsman now, rubbing elbows with their American counterparts called The Statesmen.
Thor: Ragnarok (November 3)
According to the all-knowing IMDb, "the plot is unknown." But according to its cast list, we can expect Doctor Strange, Loki, and The Hulk to come out and play with Thor.
Red Sparrow (November 8)
Jennifer Lawrence reunites with Hunger Games director Francis Lawrence in this adaptation of the novel about a Russian spy living a double life.
Justice League (November 16)
Wonder Woman, Superman, Batman, Aquaman, Cyborg, and The Flash join forces on the big screen for the first time ever. Exciting!
ADVERTISEMENT - CONTINUE READING BELOW
Coco (November 22)
Music plays a big part in life, even in the land of the dead, as you'll see in this charming new story from Disney•Pixar.
The Masterpiece (December 6)
Directed by and starring James Franco, the story behind the cult film The Room features everyone from Dave Franco and Zac Efron to Bryan Cranston and Seth Rogen. 
Star Wars: Episode VIII (December 15)
Last time we saw Rey, she was having an intense, wordless conversation with Luke Skywalker. We're dying to know what has happened since then!
What movies are you excited to watch?