All Access
6 Reasons Why You Should Start Your Day with Ellen
TV columnist Dyan lists down reasons why you should start your day with The Ellen Degeneres Show just like her!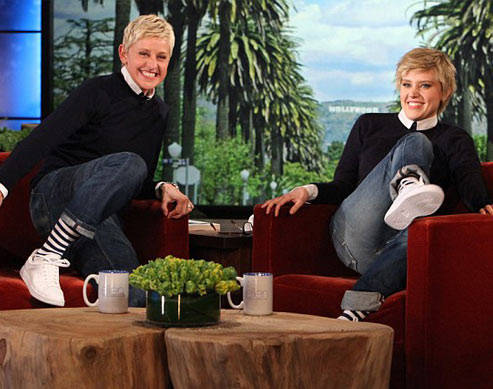 PHOTO Michael Rozman/WBTV/2nd Avenue
For the past few days, my breakfast has consisted of bread, butter/peanut butter, coffee, and The Ellen DeGeneres Show reruns on 2nd Avenue. Here's why I choose to spend my mornings with the funny host.
The guests are such a diverse and interesting bunch of people. One time, SNL's Kate McKinnon did her trademark Ellen impression on Ellen, right beside the host. Hilar! Then there's the little boy with cancer who loooves Ellen, whom she surprised with a trip to Disneyland and a bunch of other cool gifts. Love when she said, "You know, you're my only boyfriend," and he replied, "I love you." I melted all over my peanut butter sandwich.
Ellen gives her guests the cutest gifts. Like the other day, Shakira came on the show and Ellen gave her a custom-made mini version of The Voice's spinning chair for her newborn baby. How adorable is that?
Ellen's brand of endorphins goes well with my morning workout (every other day—I can't believe it either). Sometimes, I just need a break from Jillian Michaels' pep talk (the "last two" is NEVER the last two), so I hit the mute button and distract myself by watching Ellen. And what do you know, I'm done with the cardio sequence just as, say, Kaley Cuoco's saying bye.
You're sure that nothing bloody or icky will ruin your morning appetite. Unlike when you watch Dexter or True Blood or Hannibal—you just never know what gruesome image will pop up.
It's a nice break from local morning shows' frenetic energy, which to be fair, used to be an effective way to wake me up. But I draw the line at the hosts singing and rapping. I mean, what the?
To end, this proven fact of life: Ellen DeGeneres = warm, fuzzy feels and good vibes.
CONTINUE READING BELOW
Recommended Videos
ADVERTISEMENT - CONTINUE READING BELOW
Color coding your notes is also a ~fun~ way to spice your study sessions.
Do you have a favorite student vlogger?
They fit the budget and still do the job.
Mateo graduated high school from the Saint Candida School in Iloilo.
It's a slap in the face when the person who eagerly swept you off your feet suddenly goes floating away.
They've got beauty and brains.
No more need for alt accounts.
Every corner is Instagrammable!
Store the small items scattered on your table in these cute trays!
From The Candy Bulletin Community