All Access
5 Times We Wished We Were A Slice Of Pizza At The Oscars
Or at least the delivery person who handed out the pizza!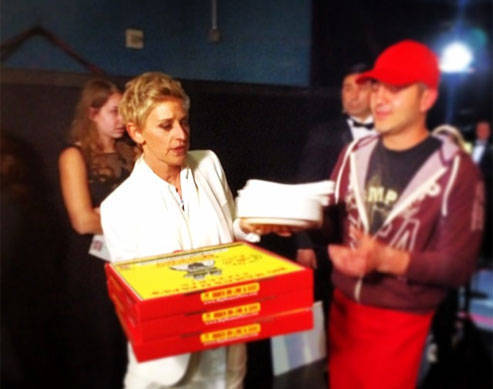 From viewing experience, you know that you go through a bag of chips, a bowl of popcorn, handfuls of various chocolate, and more whenever you watch an awards show. Can you imagine how famished these celebrities get when they have to sit through the whole thing in their slinky gowns and snazzy suits without any sustenance? So when Ellen DeGeneres ordered pizza for everyone, you know that the happy smiles on those celebrities' faces are real and not at all acting!
If you're not as excited about pizza as @kerrywashington is, you're not living your life http://t.co/8BQCSllxxr #Oscars

— HuffPostEnt (@HuffPostEnt) March 3, 2014
Julia Roberts and Meryl Streep both want in on the action.
Oh what's this? Just Meryl Streep and Julia Roberts eating some pizza at the #Oscars. pic.twitter.com/XaBIK4h8Ir

— DailyEdge.ie (@dailyedge) March 3, 2014
Jamie Foxx and his daughter Corinne enjoy a slice with the Tatums.
Thanks @TheEllenShow haha we were actually starving!!! #pizza #oscars pic.twitter.com/yXxfmNseNk

— Corinne Foxx (@corinnefoxx) March 3, 2014
Won an Oscar? Celebrate with a pizza just like Best Supporting Actor Jared Leto—served by Ellen herself!
FACT: The guy who delivered pizzas to the #Oscars is a real deliveryman http://t.co/bnc1XcNV39 @ABC pic.twitter.com/MVd4rrYYp1

— NewsBreaker (@NewsBreaker) March 3, 2014
And before having a slice of his own, Brad Pitt distributes to the ladies.
Brad Pitt handing out pizza to Meryl Streep. Best. Picture. Ever. http://t.co/MnhtCXLbxx #Oscars pic.twitter.com/B75s3CN2oI

— StyleList (@StyleList) March 3, 2014
Then of course he enjoys his own beside his lady.
And now here's Brad Pitt eating pizza at the #Oscars: http://t.co/Udh60AjvCE pic.twitter.com/hCu1qoDkuk

— POPSUGAR (@POPSUGAR) March 3, 2014
Even Harrison Ford seems eager to have a bite.
BEST JOB EVER? The guy who delivered pizzas to stars at the #Oscars was a real delivery man: http://t.co/pRD1zsOSLc pic.twitter.com/Rw1ucKIaNs

— ABC 7 Chicago (@ABC7Chicago) March 3, 2014
Oh to be at the Oscars hanging out with these peeps. Now we just want a slice of pizza, too. Maybe Elsa is giving away some?
via HelloGiggles.tumblr.com
\\\\\\\\\\\\\\\\\\\\\\\\\\\\\\\\\\\\\\\\\\\\\\\\\\\\\\\\\\\\\\\\\\
Get the latest updates from candy!
subscribe to our newsletter!
////////////////////////////////////////////////////////////////
You know you'll regret it.
You don't even have to leave the house!
From digital art to photography to mixed media, Filipino artists show that creativity is never lost in our people.
Skip a makeup step with these beauty goodies!
Take pretty notes and study effectively with these tips!
Wait for a love like this. A love that is good to you, for you.
Are you up for this challenge?
Can't wait to see the actual gowns!