MTV's new show Scream is incredibly self-aware. As its resident film geek Noah says, you can't turn a slasher movie into a TV show because they burn bright and fast, yet here they are doing exactly that. The trick is to develop the characters and make the audience care for them, Noah says, so that when they're inevitably killed off, it makes an impact. It's worked so far with the death of—SPOILER ALERT!—Riley, the sweet, nerdy It Girl who was just starting a relationship with Noah when the serial killer attacked her.
Another thing that the show is aware of is the pop culture landscape, and it enjoys poking fun at it, or just casually mentioning a few names, which helps the show feel current without trying too hard. For example:
1 Pretty Little Liars
As much as we love PLL, Noah asks a valid question: "Where do you shop for all of that?" (At the serial killer surplus store, duh.)
ADVERTISEMENT - CONTINUE READING BELOW
2 The Walking Dead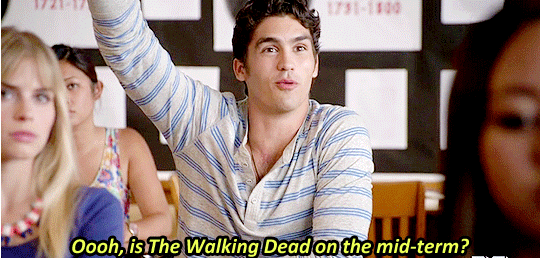 via scream-movies.com
If only! We'd definitely ace that midterm.
3 Lady Gaga vs. Madonna
Though we'd rather have our favorite artists play nice, especially after the recent Taylor-Nicki Twitter storm.
ADVERTISEMENT - CONTINUE READING BELOW
4 Hannibal, another movie turned TV show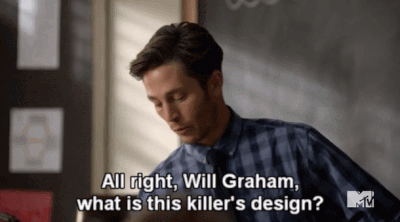 via zombikhaleesi.tumblr.com
This question is directed to Noah, whose extensive knowledge of slasher movies and serial killings might just help them find out who the killer is and what his next move will be.
5 Awkward, Teen Wolf, Finding Carter, and other MTV shows
ADVERTISEMENT - CONTINUE READING BELOW
In this genius promo video, Scream literally took a stab at all your favorite MTV characters. Talk about a killer party!
Catch Scream on MTV.