Shailene Woodley and Theo James excite fans in the latest teaser-trailer of Veronica Roth's Divergent. Aside from releasing a new still of an armed Shailene and Theo earlier, the 10-second teaser focused on fear, showing Tris (Shailene) being attacked by birds and fighting alongside Four (Theo). Watch the teaser below and tell us what you think about it in the comments! Divergent will be hitting cinemas on March 21.

Glee's Lea Michele is beginning the year with a bang! After releasing music videos and singles from her debut solo album Louder, she now has her own book entitled Brunette Ambition. According to the book's cover, Brunette Ambition "is about living the fullest life, no matter what obstacles life puts in your way." Make sure to grab a copy of Lea's book when it hits bookstands on May 13!
My #BrunetteAmbition book cover! I love it so much! Pre-order the book here: http://t.co/izeSxBpxax 💗💗💗💗 pic.twitter.com/GY1nKsgHlx

— Lea Michele (@msleamichele) February 3, 2014
As if we need one more reason to love Emma Watson, a photograph of her self-portrait surfaced online today. The self-portrait was first detailed in Vogue's 2011 article, which said that "her artworks show that she can both paint and draw exquisitely. One picture stands out: It is a self-portrait of Emma holding a camera. The lens is aimed menacingly at the viewer, like the barrel of a gun, a neat illustration of what we had just experienced at the Tate." Doesn't this make you wish you took your art classes seriously, Candy Girls?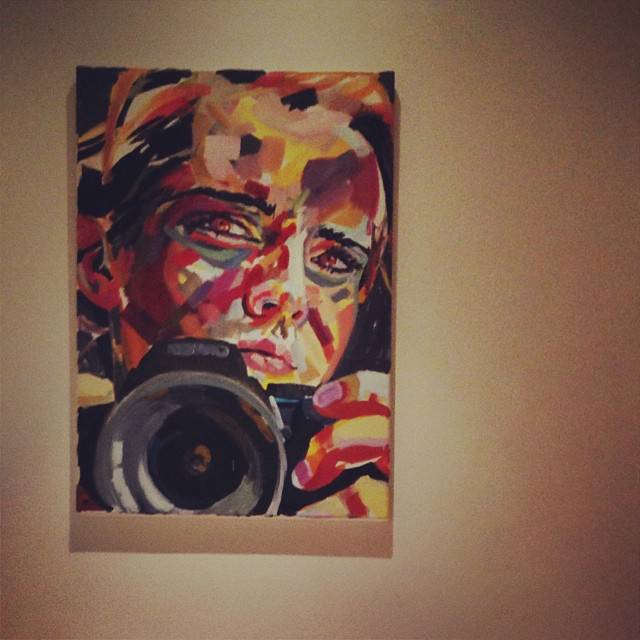 via reddit.com
ADVERTISEMENT - CONTINUE READING BELOW
Still hoping for Jelena to get back together? Looks like that's not going to happen anytime soon. With the recent things happening in Justin Bieber's life right now, his ex-girlfriend Selena Gomez must feel like she doesn't know him anymore. A friend of Selena revealed that the Disney alum is not pleased with her ex's troubles with the law and his decision to spend time with Chantel Jeffries. Sel's just glad she's away from this version of Justin. Isn't that sad? We really hope Justin realizes his mistakes and straightens up soon before things go from bad to worse.
photo via rihannafvnty.tumblr.com
You can say that One Direction's Harry Styles' dating history is something the public is super curious about. And speaking of which, Harry's cousin Ben Selley revealed in The Sun that Harry is really the one who ends up heartbroken when his relationships end. Shocking? Ben said that Harry is just too nice to dump a girl—like in the case of his relationship with Taylor Swift. And what about the real score between Harry and Kendall Jenner? No one really knows. Does this mean they're not together yet or they're just friends? More details would definitely help!
photo via sparkour.tumblr.com
What do you think of today's news, Candy Girls? Got your own goss to share? Tell us in the comments below or tweet us @candymagdotcom!