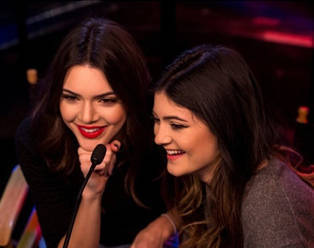 After making big names for themselves in the fashion world, Kendall and Kylie Jenner are now invading the world of books. The Jenner sisters just revealed their newest project, a book titled Rebels: City of Indra. Rebels shows off their creative writing skills as it tells the story of Lex and Livia who embark on a journey, not knowing they are each other's biggest dangers. Set in a futuristic place, the book could pretty much be like Divergent and The Hunger Games.
ADVERTISEMENT - CONTINUE READING BELOW
photo via Instagram
The full-length trailer for Marvel Studios' Guardians of the Galaxy is finally out and it looks exciting and funny! In the movie, Chris Pratt plays Star-Lord, a half-alien rebel, who teams up with Gamora (Zoe Saldana), Drax (Dave Bautista), Rocket (Bradley Cooper), and Groot (Vin Diesel). The team unites to break free and protect the blue orb from Ronan the Accuser (Lee Pace) and Nebula (Karen Gillan). Guardians of the Galaxy will hit theaters on August 1. Watch the trailer below, Candy Girls, and don't forget to tell us what you think of the movie in the comments.
The guys of One Direction reunited for the BRIT Awards today, and dissed Justin Bieber. During the show, the presenter approached the group and asked their opinion on the Canadian pop star. Louis gave the pop star some advice saying, "Keep strong and keep doing what you're doing." Liam later added, "Bizzle," in reference to Justin recently changing his Instagram name to Bizzle, which most people found weird. The whole bit became even more awkward because Niall Horan is rumored to be dating Justin's ex Selena Gomez. Watch Hollywood Life's report about the whole incident below.
During the past months, Lorde and Taylor Swift have become really good friends. They hang out backstage and spend birthdays together, too. It is no surprise then that when the "Royals" hitmaker was interviewed by Capital FM, she revealed that she admires how Taylor covered everything in her latest album Red and would want to trade places with her. Does this mean we can expect a collaboration between the two musicians in the future? We're definitely look forward to that because Lorde and Tay will surely come up with something interesting to listen to if they worked together.
ADVERTISEMENT - CONTINUE READING BELOW
photo via theoliviashow.tumblr.com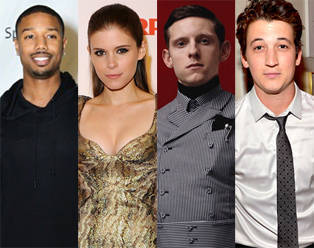 The cast of the Fantastic Four film franchise reboot has been announced! As previously revealed, Michael B. Jordan will star as Storm/TheHuman Torch. The main cast lineup was completed today by Kate Mara, Miles Teller, and Jamie Bell. Kate will play Sue Storm/The Invisible Woman. Miles will star as Reid Richards/Mr. Fantastic. And Jamie will be Ben Grimm/The Thing. Do you like the new cast of the franchise? Fantastic Four is set to be released on June 19, 2015.
ADVERTISEMENT - CONTINUE READING BELOW
photos via tumblr (hellyeahmichaelbjordan, subtleelevation, xoxoqueenblair, and conteudodediario)
What do you think of today's news, Candy Girls? Got your own goss to share? Tell us about it in the comments or tweet us @candymagdotcom!