In just a few months, your fave shows will be back on TV. We can't wait to see their teasers, so we're glad to find New Girl's promo for its 4th season! Any guesses on who's joining them for the upcoming season's pilot episode? Clue: She's related to Justin Timberlake. (Plus, the video thumbnail is a dead giveaway, haha!) Watch the video below and let us know what you think of it in the comments.
Did Jennette McCurdy just diss her former Sam & Cat co-star Ariana Grande in her web series, What's Next For Sarah? In this episode, Jennette's character Sarah undergoes a lot of problems and her therapist wants her to deal with them through juicing. While drinking her juice, a girl in a floral dress comes in singing and talks to Sarah about how great her life is going for her. Familiar? In addition this girl's name is Gloriana which sounds like Ariana. We really hope Jennette's just dealing with the show's cancellation through humor and that she's not really making fun of her former co-star.
ADVERTISEMENT - CONTINUE READING BELOW
The brand new trailer for Robert Pattinson's upcoming movie, Maps To The Stars is out. Directed by David Cronenberg (known for thrillers like The Fly and A Dangerous Method), the film is about a family chasing their dreams in Hollywood while running from their past. Maps To The Stars also stars Mia Wasikowska, Julianne Moore, and John Cusack, and is set to premier during the 2014 Toronto International Film Festival.
Beyonce proves you won't want to mess with her in the new HBO teaser for the On The Run Tour special. The Queen stares at her hubby Jay Z while singing "Bang Bang," which is kind of freaky considering the controversies surrounding their relationship lately. We definitely want to see more of this power couple's tour after watching the teaser! The On The Run Tour special will air on HBO in September, and we're hoping they'll be airing this in the Philippines too.
ADVERTISEMENT - CONTINUE READING BELOW
Good news for fans of the Journey movies: According to reports, sequels are on the way! After Journey to the Center of the Earth and Journey 2: The Mysterious Island, Dwayne "The Rock" Johnson and Josh Hutcherson will be returning for more films. And they also added new writers to the team—Chad and Carey Hayes, known for the horror flick The Conjuring—which could mean more twists for the movies.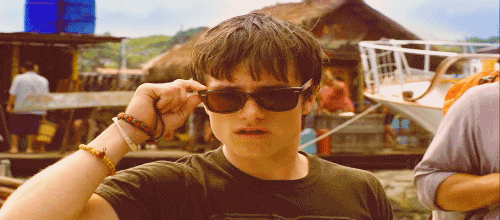 via giphy.com
ADVERTISEMENT - CONTINUE READING BELOW
What do you think of today's news, Candy Girls? Tell us in the comments or tweet us @candymagdotcom.