Did you know that Chloe Moretz learned to play the cello for her upcoming movie, If I Stay? In her interview with Teen.com, the 17-year-old actress revealed that she practiced with the instrument for 2 hours every day for 7 months! Talk about dedication. Meanwhile, you can watch the latest trailer for the movie below while trying to keep your eyes dry. If I Stay is set for release in the Philippines on September 3.
Is a collab between The Vamps' guitarist James McVey and British singer Ed Sheeran brewing? Maybe. In an interview with James, he revealed that they actually have plans of working together. "Me and Ed speak frequently. I mean, I texted him last night! We like to keep up with what we're doing and he's been a great mentor for me personally in the last two months," he said. The problem is both of them are busy: Ed on his new album and James with The Vamps, but we're really looking forward to what they can come up with in the future.
ADVERTISEMENT - CONTINUE READING BELOW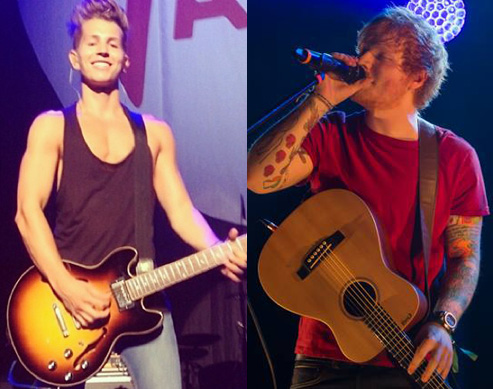 via Instagram (@iamjamesmcvey)/Facebook (Ed Sheeran)
ICYMI, Taylor Swift (or the handler of her Facebook page, at least) left a message for her Filipino fans earlier. According to the country singer, she'll have a special announcement for her fans during her Worldwide Live Stream via Yahoo on August 18 at 5AM! What theories do you have on the announcement she'll be making, ladies? Share them with us in the comments!
ADVERTISEMENT - CONTINUE READING BELOW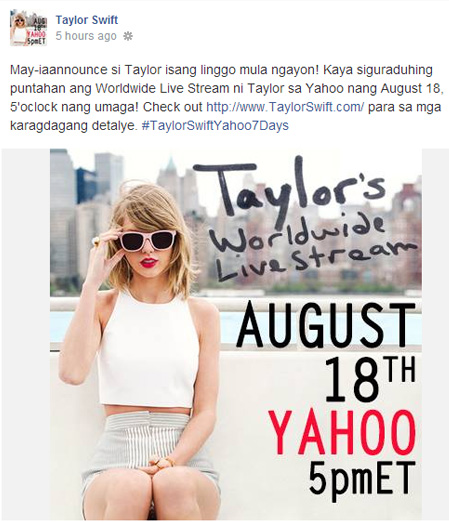 screengrab via Taylor Swift's Facebook page
And speaking of the country singer, Taylor also revealed that she took a cooking class with New Zealand singer Lorde recently. Aww, aren't these BFFs the sweetest?
Another wonderful project is awaiting one of our fave gals, Emma Stone! Emma is in talks to star in the Broadway revival of the famous musical, Cabaret. If ever it'll push through, Cabaret is going to be her Broadway debut!
ADVERTISEMENT - CONTINUE READING BELOW
via emmastome.tumblr.com
Look who's joining Taylor Swift and 5 Seconds of Summer on the list of performers for the MTV Video Music Awards 2014: It's girl group Fifth Harmony! The girls are set to perform their hit single "Bo$$" for the show, which is scheduled on August 24 (the 25th for us!). Are you watching?
ADVERTISEMENT - CONTINUE READING BELOW
Got your own gossip to share? Tell us in the comments or tweet us @candymagdotcom. We love hearing from you. :)