All Access
5 Things You Missed Today (September 9)
Don't miss today's updates on Ed Sheeran's new girlfriend, Harry Styles calling out a dad, Maisie Williams's YouTube channel, Ivan Dorschner's makeup stint for Anna Maria Perez de Tagle, and Tori Kelly's version of Justin Bieber's track.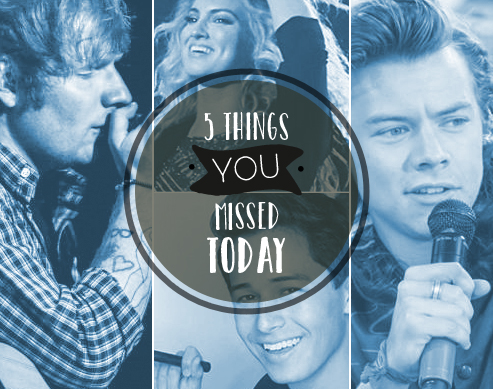 COVER PHOTOS Warner Music, Facebook (Tori Kelly), Twitter (@AnnaMariaPdT), SYCO Music/Ivory Music & Video
Aww, before you read this item on today's roundup, know that everything's going to be okay. E! News just confirmed that British singer Ed Sheeran is dating Cherry Seaborn. The two have been spotted several times already, the most recent one was during the Labor Day weekend when they watched Calvin Harris's set in Las Vegas together. Calvin even shared an Instagram photo with the two. Yay, happy for you, Ed! (via EOnline.com)
You better participate during One Direction concerts, you guys. And tell that to your parents, too. Because if you don't, Harry Styles will really call you out like this dad whom Harold called out because he wasn't putting his hands in the air as he instructed. But yeah, if this is the only way he'll notice us, we probably won't participate too. Also, beware of wearing unofficial merch. LOL! (via Girlfriend.com.au)
Game of Thrones' Arya Stark or Maisie Williams IRL started a new YouTube channel called Random Moments of Madness With Maisie Williams. She started off with Q&A video where she's also celebrating her one million Twitter followers. Follow her on YouTube now and hit the play button below to know a few hilarious things about her. P.S. Spoiler alert: There's another Game of Thrones character making a cameo in her intro vid! (via MTV.com)
ADVERTISEMENT - CONTINUE READING BELOW
READ: This Deleted Scene From TVD Will Make You Feel Emotional Today
Can Candy Cutie Ivan Dorschner ace this makeup challenge with Anna Maria Perez de Tagle? What do you think? Hit the play button on this video from Anna's YouTube channel Anna's Beauty Secrets now to know the answer. (Anyone else missing Ivan like us?)
Loved Tori Kelly's songs about different kinds of heartbreak? Yup, we did too. And as if those songs weren't enough to make us fall in love with her, she performs Justin Bieber's "What Do You Mean" for Capital FM's Instaoke. Click this link to watch the video and let us know what you think about it in the comments. (via MTV.com)
Got gossip to share? Let us know in the comments!
We're so excited to see the sisters BEFORE the wedding!
You favorite childhood sweet is now in cupcake form!
Will your friendship survive the wrath of thesis?
Here are a few things that might help.
Fast cars and dark roads don't mix.
BTS' agency already made the official announcement.
The deep red lipstick shade flatters all skin tones!
The 19-year-old dancer also appeared in the music video and on Jimmy Fallon's show along with her dance crew The Lab!
This is straight out of a teleserye!