One Direction and Little Mix seem to have developed a deeper friendship during the recent Apple Music Festival. In an interview, Little Mix's Jane Thirlwall said that Liam Payne is actually game to write a song with the group. "We definitely want to collaborate with One Direction. We saw Liam at the iTunes gig and he said he wanted to write with us for the next album, so that would be good," she said. Wouldn't it be nice to have these two groups collaborate for a song? (via J-14.com)
ICYDK, Zendaya's Barbie doll finally arrived and we're happy that it's finally out. Based on her Academy Awards 2015 look, the doll also rocks dreadlocks. We also think that this is a very important step because Mattel, the company behind Barbie, is showing us how girls actually look like IRL. Speaking with Teen.com on how important this is for her, Zendaya said, "It's a big part to do with my little nieces who are sitting right next to me. It's so important to think representation is important. Although it's as simple as a Barbie doll, that's a lot of people out there that are like, 'wow.' It's not only a moment for a lot of people that was very powerful or spoke to them personally, but there are a lot of young women with dreadlocks. Like, 'Hey, I have a Barbie.' She's being a part of that voice for me. That makes me really excited." Woohoo! Congratulations, Zendaya! (via Teen.com)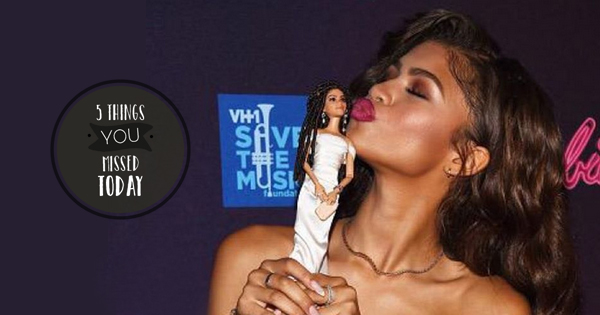 photo via Instagram (@zendaya)
ADVERTISEMENT - CONTINUE READING BELOW
Need a reminder to be nicer both IRL and on social media? Then this post from Gigi Hadid is exactly what you need. Sometimes we are so quick to judge and formulate our opinions about certain things and people. This post from the model is a reminder that we can hurt people with our remarks especially if it concerns their bodies.
Are you a fan of The Vamps? If you are, then try not to cry while watching this video of the band on the making of their album Wake Up. We can't help but feel proud of how far these boys have come. Hit the play button to watch it and make sure you pre-order the album via iTunes, and buy tickets to their Wake Up Tour stop in Manila in January 2016.
In an interview with Elle, Girl Meets World star Rowan Blanchard revealed the worst red carpet question she ever got. Her answer? When she was asked for dieting tips because she's just 13 years old. Of course, being the awesome person that she is, Rowan gave us an answer on why this is just a no-no question for her or for anybody. "I don't diet! I'm thirteen! Nobody my age should be dieting or trying to change themselves because society says so. And seriously, I'm thirteen! The only 'dieting tip' I have is, like, 'if you don't order fries, you'll probably be mad.'" You go, Rowan! We totally agree with her that it really is inappropriate to ask anybody about their weight. (via Elle.com)
Got your own gossip to share? Give us the deets in the comments!