Emma Watson's political thriller Colonia just released its first trailer and it's giving us chills. Her role as a German woman searching for her abducted boyfriend is very different from the ones we've seen her do before. Colonia was released at the Toronto International Film Festival, and we're hoping they give it the worldwide release it deserves so everyone gets to watch it, too. (via Nylon.com)
Geez, this James Reid video where he's singing a part of Justin Bieber's "What Do You Mean" with Jeric Medina is making us go cray. Can someone make him sing the whole thing on video ASAP? We want to listen to the entire song!
WHAT DO YOU MEAN?! 󾠔 What do you mean by this @jaye.wolf @jericmedina ? 󾌧❤️ #MTVPinoy #WhatDoYouMean 󾓯: @jericmedina @vivaartistsagency @vivamusicgroup1

Posted by MTV Pinoy on Monday, 14 September 2015
So how has Zayn Malik been doing with his own music career? Frank Ocean's producer Malay Ho just tweeted an update recently and sounds like he's pleased with the ex-One Direction cutie. Hmm, can't you guys release a snippet of what you're working on for us please? (via J-14.com)
Cat's out the bag, it's no secret we've been working. @zaynmalik is pure genius. An artists' artist. A shining star with a genuine ❤️

— Malay (@MalayHo) September 14, 2015
Aww, Nicholas Hoult and Kristen Stewart are officially one of our OTPs. KStew recently revealed how she dealt with her breakup with Robert Pattinson, and said that her Equals co-star had a lot to do with it and it helped that they were both dealing with breakups at that time. "It was a really good time for both of us to make this movie," she said. "Not all of my friends have been through what I've been through, or what some people have tasted at a relatively-speaking young age, and we were not expected to do anything. Everything that we did was explorative, and a meditation on what we already knew." Plus, their experiences also helped them do the film, giving them something to base their emotions on. Nice to know that these two stars found a friend in each other. (via J-14.com)
ADVERTISEMENT - CONTINUE READING BELOW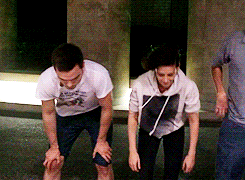 via deadstraighthonesty.tumblr.com
Have you seen the teaser-trailer for the live-action adaptation of The Jungle Book? Not yet? OMG, girl, go ahead and click the link! The movie looks so intense and Scarlet Johansson's voice as Kaa the snake's voice is creeping us out. (via Nylon.com)
READ: Are the 1D Boys Really Releasing Their Fifth Album Soon?
Got gossip to share? Spill the deets in the comments and let's talk!